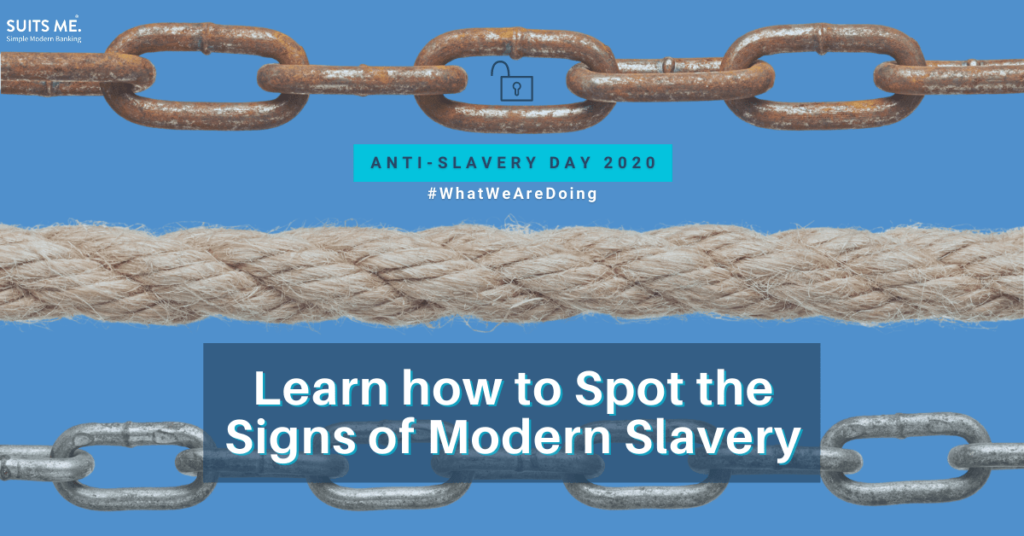 The 18th of October marks Anti-Slavery Day, a movement created in 2010 to raise awareness for the millions of people trapped in modern slavery around the world.
The awareness day aims to shed more light on a crime that is occurring across communities and workplaces and encourage government, local authorities, companies, charities and individuals to do what they can to address the problem.
In order to show our support and help to spread awareness, we've created this blog post to help you spot the key signs that victims of modern slavery may express and explain how you can report any suspicions that you may have within your workplace or community.
What is Modern Slavery?
In the UK, the most common form of slavery is forced labour and it often occurs in supply chains. Forced labour occurs when an individual is forced and threatened to work against their will.
Across the globe, it's estimated that there are 24.9 million men, women and children forced to work for little or no money and often long hours without a break.
Forced labour can occur in any industry, but according to Charity Anti-Slavery International, the most affected include:
Domestic work,
Manufacturing, processing and packaging
Agriculture and fishing
Construction, mining, quarrying and brick kilns,
Prostitution and sexual exploitation and,
Market trading and illegal enterprises
This is due to the nature of these workplace environments, where there are fewer regulations and high numbers of workers. According to Modern Slavery Helpline, there are some signs you should look for in potential victims of modern slavery:
1. Physical Appearance
Appearance is one of the most obvious signs of slavery. Victims may appear to have suffered from physical abuse or show signs that they're in pain. It's not uncommon for victims to appear malnourished, unkempt, neglected or withdrawn.
It's possible they may have untreated injuries and lack suitable workplace protection in manual labour style jobs, or regularly show up to work in the same clothing.
2. Behaviour
Psychological abuse is another way in which gang masters manipulate and control individuals. A victim may appear frightened and avoid eye contact.
Additionally, they might be reluctant to talk to strangers or people in authority and may struggle to open up or confide in people for fear of repercussions. Additionally, they may refuse or look afraid to accept money or tips.
3. Restricted Movement & Travel
In some cases, forced labourers have no identification documents, few personal possessions and have little opportunity to move freely around their workplace or local area and can often be accompanied by another person who they do not seem to be engaging with.
Often some victims of modern slavery have unusual travel arrangements and are often picked up or dropped off in private cars or taxis at irregular times of the day, it's possible there may be more than one worker inside the vehicle. However, some groups of exploited workers may live in the same location, either on the premises or elsewhere.
Report the Signs via the Unseen App
The Unseen UK App, which you can download on any Android, Apple of Windows smartphone makes reporting to the Modern Slavery Helpline even easier.
The app gives users a foolproof guide to spotting the key signs that victims of modern slavery often experience and sheds light on all forms of modern slavery including sexual exploitation, criminal exploitation, domestic servitude and forced labour.
If you suspect that somebody is being kept as a slave across any industry you can also call the Modern Slavery Helpline on 0800 021 700 or if their life is in immediate danger, you should call the police using 999.
How Suits Me® work Hard to Prevent Modern Slavery
At Suits Me® we take a zero-tolerance approach to any form of slavery or human trafficking in and outside of our workplace. We've worked hard to create an effective system to safeguard and educate our employees, suppliers, and customers.
You can learn more about our commitment to preventing modern slavery by viewing our Modern Slavery Policy.
Useful Resources