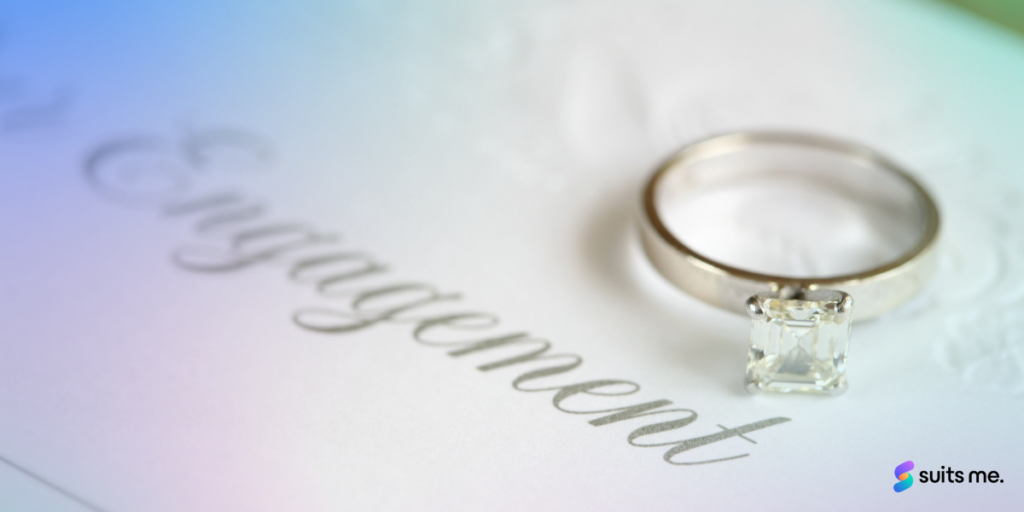 So, the time has come to purchase a beautiful engagement ring for that special someone! Congratulations! But where do you even start when there's so much to consider?
You want your ring to be special, unique, but not cost more than all of your personal possessions combined. You want to make sure that popping the all-important question is a time of excitement and not financial anxiety at the total cost of your purchase.
So, we've put together a quick guide on some of the things you should consider when choosing the perfect ring and how to keep the costs down.
The Cost of an Engagement Ring
It's no lie that engagement rings are expensive. It's not unusual for people to spend thousands on a picture-perfect diamond ring, but did you know the average research conducted by the retailer William May revealed that the average cost of an engagement ring in the UK was £1,471.
A hefty sum, and just under the average monthly wage in the UK (£1,800). Typically, each month we're supposed to save 20% of our monthly income – however, most of us only manage to save a meagre 8.21%, according to the investment management company, Lumio. Most adults in the UK don't save more than £100 each month, leaving many buyers turning to finance to purchase the ring or spending more than they can afford.
If you're ready to purchase a ring, it's worth saving over the next few months to rely less on credit and focus more on purchasing outright. However, if you do go down the credit option, it's important to consider how much you can afford to repay each month.
However, with our cashback partner and largest jeweller in the UK, Goldsmiths, you'll be able to save 12% when you use your Suits Me® Debit card to make that special purchase.
This means if you wanted to purchase a ring for £1,500, you'd make a massive saving of £180 which, coincidentally, would cover the monthly cost (£4.95) of your Suits Me® account for the next three years!
What to Look for in a Diamond Ring
So, this depends on what your partner likes – or dislikes. However, one of the first steps when it comes to choosing a ring is to consider the four C's. This is the global standard for evaluating the quality of a diamond.
The four C's include:
Colour – Diamonds are colour graded from D to Z. Diamonds with less colour are much rarer and more expensive.
Cut – The cut of a diamond is important and reveals how well it reacts to light. The brighter, more sparkly diamonds cost the most.
Carat weight – The weight of a diamond determines the size of the stone, again, the larger carat, the more costly.
Clarity – This refers to whether the diamond has any blemishes or marks that would lower the value.
Here you'll need to find the balance between price and quality, but any good jeweller will be able to advise.
Focus on Your Partners Style
When you're choosing a ring, remember to focus on your partner's style and not your own. An engagement ring is supposed to be worn every single day, if you want to keep your proposal a surprise then it's worth observing what style and colour of jewellery they usually wear.
If she doesn't usually wear rings, perhaps a simple style would be better suited? If your partner usually wears chunkier jewellery, maybe a larger rock is the way to go? Do they usually wear gold, silver, or rose gold jewellery? If in doubt, you can always speak to their friend who may be able to provide some insight.
Know the Correct Ring Size
If you're unsure of your partner's ring size (I mean, who even knows that?!), you still find the perfect ring size in a number of ways:
The easiest way is my borrowing a ring she owns, that you see her wear regularly and trace the inside of the ring on a piece of paper.
Secondly, if your hands are larger, you can slip the ring down one of your own fingers and draw a line where it stops, a jeweller will then be able to measure up to the line to find out her perfect size.
Can't find the perfect ring at Goldsmiths? Well, we're also partners with the popular H. Samuel jewellers.
Here, you can save 7% on that perfect ring! So again, this means if you made a purchase for £1,500 using your Suits Me® debit card, you'll be able to get a huge cashback saving of £105!
Buying an Engagement Ring in Lockdown
So, you already know that you want to find a ring that fits your budget and will suit your partner's style. The only thing missing is the ability to see a ring in person to get a feel for what it's really like, thanks to the pandemic.
Here you will need to rely on online shopping. However, the good news is, that many jewellers (especially the independent stores) have responded to the lockdown by offering one to one zoom consultations, where they can go through their rings and provide you with valuable advice on which one would tick all the boxes.
Additionally, most high street jewellers allow you to view the ring in 3D, where you can rotate a high-quality image of the ring to view it from all angles. Most have a size guide and a model wearing the ring you're looking at, so you have a rough idea of how it would actually look on your partner's hand.
Congratulations! You're all sorted and ready to embark on your next chapter with the person of your dreams – all they have to do is say yes!
Cashback Rewards & Alternative Accounts with Suits Me®
Remember, you can save money on the ring you choose by shopping at H. Samuel and Goldsmiths by using our Suits Me® debit card and taking advantage of our cashback rewards programme.
Here at Suits Me®, we're an alternative solution offering a comprehensive e-money account. Our accounts are personal e-money accounts which work similarly to a traditional bank account, without the overdraft facility. You'll gain access to an online account and our mobile app, where you'll be able to manage your money on the go, 24/7.
We offer a whole variety of banking features including:
The ability to set up standing orders and manage direct debits,
Send money within the UK via a transfer, international transfers are available via a partner in the Suits Me® app,
Gain access to our exclusive cashback reward programme where you'll automatically get a percentage of your money back when you use your Suits Me® debit card with our retail partners.
Opening a Suits Me® account takes 3 minutes and you'll gain access to your online account immediately so you can start managing your money. We don't ask for proof of address or run a credit check. We accept 99.8% of all applicants – so if you're looking for a suitable alternative solution apply today!
Related Posts