Unsurprisingly for many, payday is the best day of each month as all the hard work during the last four weeks literally pays off. But how many of us feel like payday millionaires and splash the cash and what strange things do we splurge our hard-earned pennies on?
To dig into the nation's payday spending, we surveyed 1,000 UK adults on how much of their disposable income was spent on their respective paydays each month, as well as what they were splashing their cash on. This data was then combined with the latest earnings and expenditure data from The Office of National Statistics to show an average of what different areas of the country were spending.
Data from our research reveals that on average across the UK, we spend 21% of our disposable income on payday which averages out as £132 going out of people's accounts on that single day.
The most popular payday treats include a takeaway (41%), drinks out (37%) and a meal out (37%). It would also appear that quite a high number of us like to treat ourselves to a designer item, with three in ten (29%) spending on designer shoes or clothes.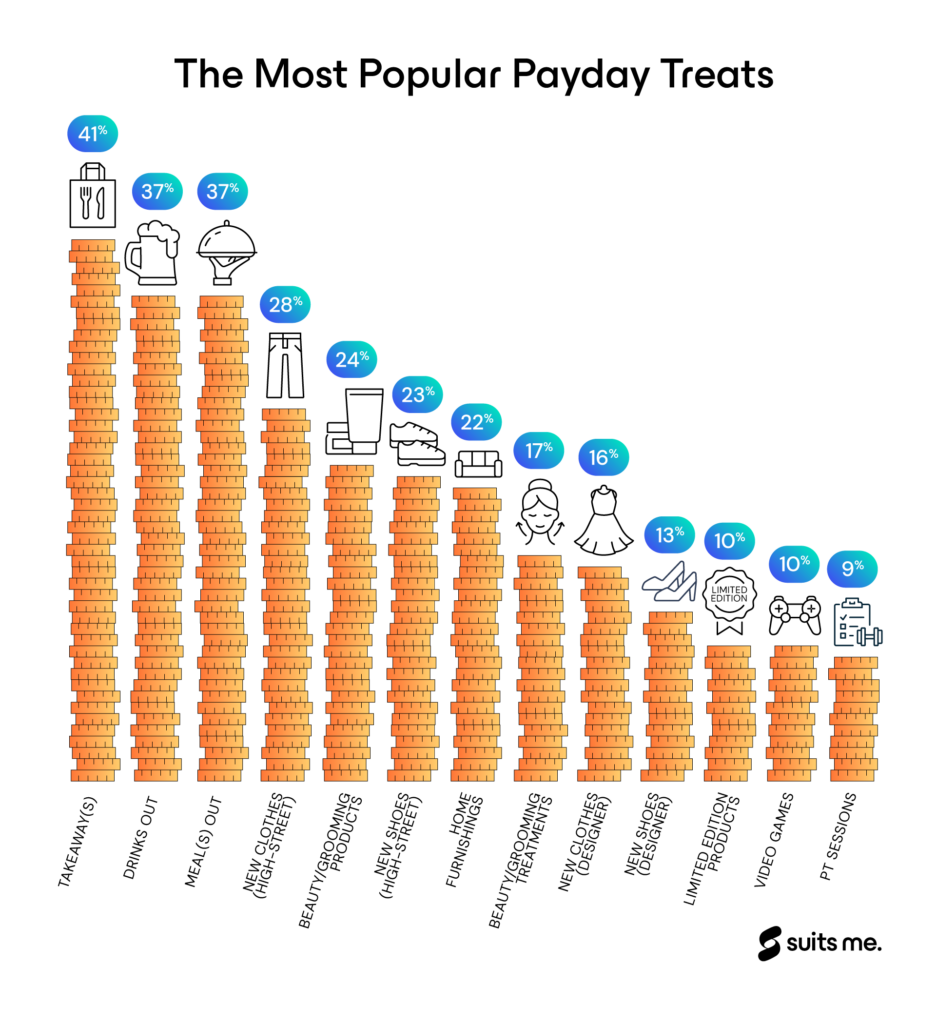 On the opposite end of the spectrum, PT sessions (10%), video games (10%) and limited edition products (10%) garner the least amount of interest on payday as they account for only one in ten of payday treats.
Our research also explored which regions across the UK spend the most on payday? The survey identified Londoners as being the most flash with their cash, spending an average of £162.95, followed closely by the North East with £148.74 of expenditure. The most cash conservative region was revealed to be the South West which spent only £99.49 and the East of England with £109.53.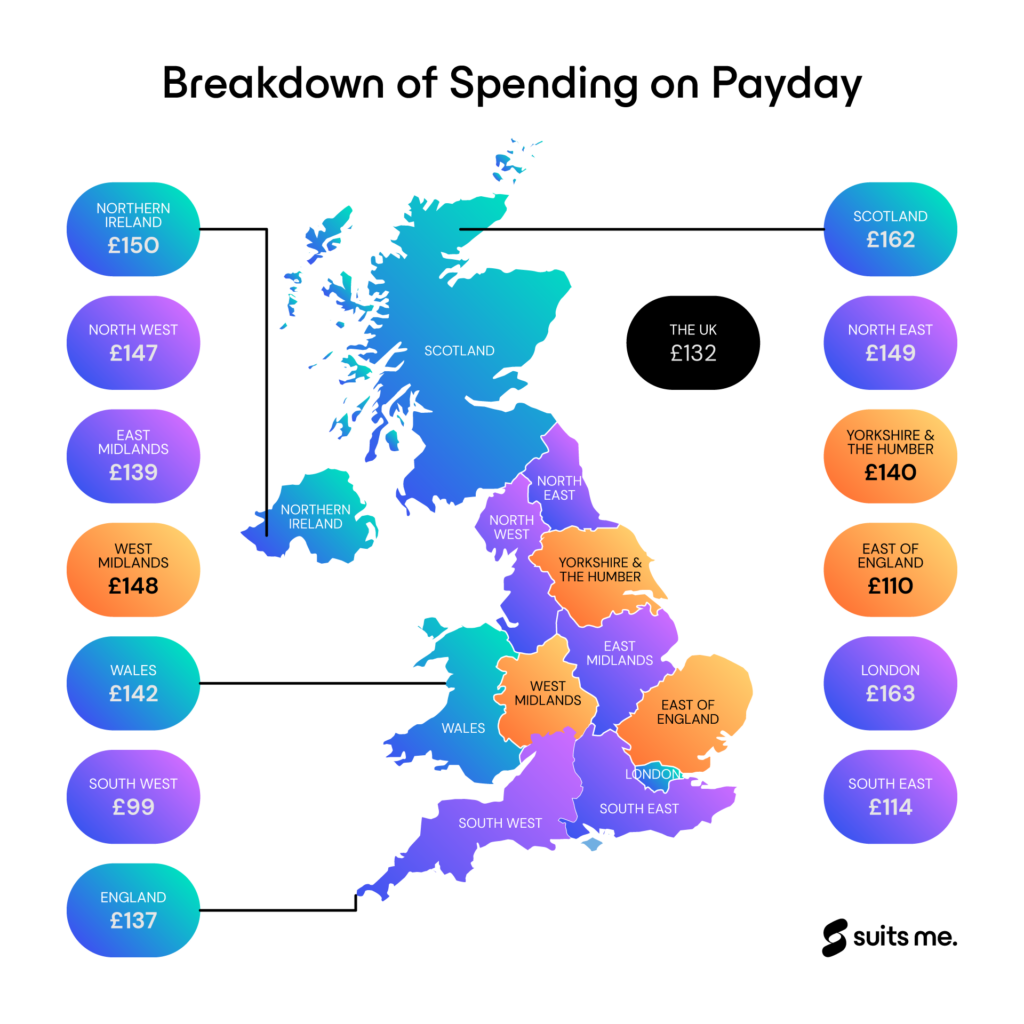 However, looking more widely at the UK, Scotland has been unveiled as the biggest spenders outside of London, with Scots spending an average of £162.17 on payday. A high percentage more than its other UK counterparts; £149.97 for Northern Ireland, £141.97 for Wales and £136.95 for England.
And when it came down to the individuals questioned, the older demographics indicated that with age comes different spending priorities; meals out are preferred over takeaways, skincare takes precedence over home furnishings and new clothes and PT sessions take more and more of a back seat with an increase in age.

One of the most surprising results that went against usual stereotypes was the comparison between male and female spending. According to our research, men (19.9%) spend almost double the amount as women (11.6%) on designer clothing and almost the same (16.9%) as women (17.4%) on beauty products and treatments.

Our survey also revealed the most weird and wonderful payday purchases made by participants. They included:
Adam* treated himself blow up sheep doll for £10
Karen* splurged on a Vatican City Stamp for £500
Keith* finally got round to some laser tattoo removal for £200
Susy* surprised herself with a goose costume for £200
Luke* bought a spider for £300
Josh* finally got that boat for £750
Jessica* got spicy with some sex toys for £350
Owen* got that outdoor bar he'd been thinking about since the start of lockdown for £350
Lauren* was attracted by a pillow with a duck on it for £70
Megan* spoilt her pooch with a dog paddling pool for £36
Jared* didn't believe in the value of gold so instead purchased a lump of silver for £1,500
Lorraine* shocked her other half when a hot tub for £1,200 arrived
Jane* purchased a second hand rocking chair for £60
Luke* felt romantic and booked hot air balloon ride for £500
Harry* bit the bullet and made an appointment for mole removal for £450
Jeanette* couldn't resist a garden Gnome for £10
Do you have any payday purchases that stick out in your memory? Share your favourite payday purchases with us here:
Facebook: Suits Me® Card
Twitter: @SuitsMeCard
*names have been changed