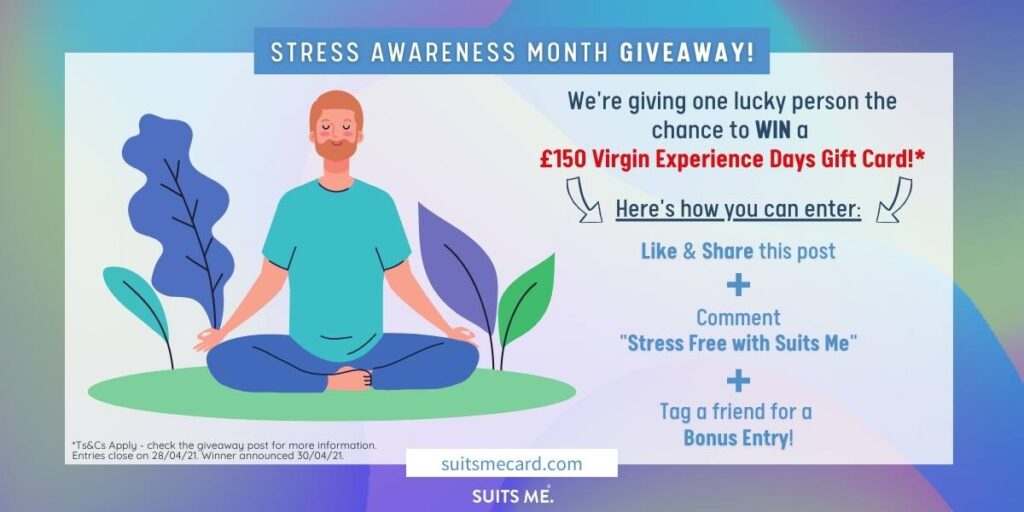 Stress. It's something that affects most of us from time to time and can really have an impact on our mental health.
In fact, according to research conducted by YouGov, 74% of people respondents in the largest known UK study of stress levels, have felt so stressed they have been overwhelmed or unable to cope. Plus, the research also uncovered that 22% of respondents reported feeling stressed due to debt.
So, in honour of April's Stress Awareness Month, we're giving away a £150 Virgin Experience Days gift card to one lucky winner, to be used on any activity or experience that will help you to feel less stressed after, what I'm sure we can all agree has been, a hectic year!
Here's how you can enter our giveaway and the terms and conditions involved:
Entering our Giveaway is Stress-Free!
To be in a chance of getting your hands on our £150 Virgin Experience Days gift card, all you have to do is:
👉 Like and Share our competition post,
👉 Comment "Stress Free with Suits Me®" on the competition post (on either Facebook, Instagram, or Twitter)
👉 Get a BONUS ENTRY by tagging a friend too!
Once you've done that, you'll be entered into our prize draw for this month! 🎉
Stress Awareness Month Giveaway Terms & Conditions
This giveaway competition starts on Thursday 1st April 2021 and ends on Wednesday 28th April 2021 at 11:59pm.
Winners will be randomly selected & announced on Friday 30th April 2021 through our social media channels.
Only one entry per person
All competition entries must be 18+ to enter and be a UK resident.
If the official winner does not accept the competition prize within 72 hours of us contacting them, another winner will be drawn out thereafter.
We reserve the right to change these specified terms at any time, so check this page regularly to ensure you don't miss any changes.
Virgin Experience Days voucher can not be swapped or exchanged by Suits Me® for a different voucher or cash prize. However, we reserve the right (when reasonably required to do so) to replace the stated prize with a prize that we consider to be of broadly equivalent value.
We reserve the right to disqualify any entrant or to refuse or withdraw a Prize, if an entrant or a winner threatens or abuses one of our employees, or otherwise conducts themselves in a manner that Suits Me® reasonably regard as inappropriate, offensive, or unlawful.
This competition is not affiliated with Virgin Experience Days.
Good Luck! 🤞