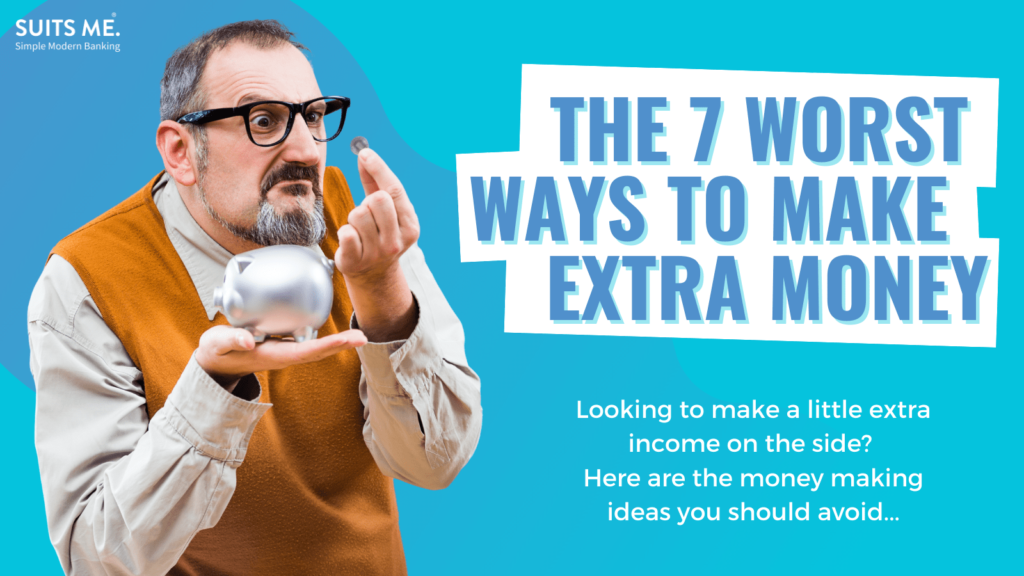 At Suits Me®, we regularly write blog posts about the best ways to save and make some extra money, but with the challenging year we've all been facing and job losses and pay cuts hitting people hard, you may be looking to make some extra money to boost your savings or increase your income.
However, if you need some cash fast, there are certain ways – which may seem appealing at the time – that are just a bad route to go down and will ultimately be more effort than it's worth if you don't have luck on your side.
We've compiled a list with some of the worst, most unreliable ways to make a little extra cash – so you know to avoid them at all costs (yes, pun intended)
1. Medical Testing
Every year, millions of people sign up to take part in medical trials in return for some quick cash and there are some people who solely depend on medical trials to make an income. However, renting out your body for cash can come with certain risks that you need to consider.
It can be hard to meet the criteria to be a candidate, but if you sign up and are selected there may be some nasty side effects you have to deal with, plus some potentially invasive methods of collecting the information about how the drug works. Most studies require blood tests, urine and poo samples, scans and biopsies.
So, you will need to consider if a few hundred pounds is really worth some of the potential side effects that you could experience immediately or later down the line? It's worth researching some of the medical trials that have gone wrong over recent years.
2. Treasure Hunting
Do you fancy yourself as the next Indiana Jones? (minus the grave robbing we hope!). Then treasure hunting may appear to be a lucrative activity – and the best part, you will only need a metal detector, determination, and of course an air of confidence and bravado.
However, the likelihood of coming across the Ark of the Covenant is very low in the UK countryside. It's more likely you will come across old food cans, pennies, and junk metal. You will also need permission from the landowner to detect on private land in England, Wales and Scotland and it's illegal to hunt for treasure on protected heritage sites.
So, if you're looking to hunt for treasure as a hobby then it could be a lot of fun, but if you're wanting to make some extra cash then treasure hunting probably isn't the best way to go.  
3. Internet Surveys
They are everywhere: "Do you want to earn hundreds for filling out a simple survey?" Pfft, yeah right! 🙄 if only it were that simple!
As tempting and easy as it sounds, spending 3 minutes filling out a questionnaire can often only pay a few pennies. Being in a niche or narrow demographic is where the big bucks are at and chances are you won't "qualify" to take part in most. Even then, you will have to spend time searching for surveys that you will actually be eligible for.
In this case, filling out surveys to make some extra cash is not worth the time and effort for such a small payout.
4. Selling Your Body Fluids or Parts…
Firstly, in the UK it is illegal to sell your blood, sperm, eggs or plasma. People are, however, compensated for their donations. For men, becoming a sperm donor can make you around £35 per trip to the clinic but you need to weigh this up against any travel costs, and your time. Additionally, there are some fairly strict guidelines that you need to meet before you can become a candidate.
If you're a female, you can donate your eggs for up to £750 in compensation. However, this can be an incredibly painful procedure and can take a while to recover, so you need to ensure you can afford the time to recover.
Plus, children born as a result of sperm donation can now request access to identifying information about their donor once they reach the age of 18, so bear this in mind if you don't want to potentially meet any of your offspring later down the line.
5. Investment Clubs
Unfortunately, for most people, life is not the Wolf of Wall Street and making money on the stock exchange takes experience, time, and money that you can afford to lose. Since the 2009 recession, the stock market has been incredibly unstable. With the impact of the coronavirus plunging markets into a new low point, even experienced traders have lost millions.
Unfortunately, trading is always a gamble (unless you're into insider trading which is illegal, and something you could end up in prison for) and to make large sums of money fast, you need to take risks as there is no "sure" thing when it comes to the stock exchange.
The saying "you need money in order to make money" rings very true here as if most of us had the disposable cash in the first place, we wouldn't need to invest in the first place…
6. Taking a Gamble
Gambling, in any form, is never going to be a good way of making money. The risks when it comes to gambling are very high and can actually cost you a lot more than what you receive back.
You may be tempted to gamble to make some quick cash, but the odds are always stacked against you and it's a slippery slope, the internet allows people to gamble 24/7 and many people often find they end up chasing their losses and ploughing more money into gambling sites.
If you're worried that you may have a gambling problem, there are many resources that you can turn to for support such as GamCare and Be Gamble Aware.
7. Multi-Level Marketing Schemes (MLM's)
We've spoken about the dangers of multi-level marketing schemes previously but there are very few winners when people sign up to MLM's.
They are based around unsustainable business models where a few high-level members recruit newer members who pay upfront costs to those who enrolled them into the scheme. They involve the sale of physical goods – such as supplements.
In 2019, an MLM called the "Blessing Loom" cropped up across social media channels across the globe and promised people to pay in a little to receive a lot but this didn't happen and left the unsuspecting newcomers looking to make some quick cash, out of pocket as they found it hard to recruit others into the scheme.
A Little Side Hussle can't be too Hard Right?
You may have read through the list and thought "that's not that bad, I could do that" but even with luck on your side, the reality is that with all of these methods, earning money is either incredibly difficult or comes with some potentially serious consequences.
If you're looking to top your income the safest way is to get a second job that tends to differ from the hours you usually work. For example, if you're an office worker – you could get a part-time job in a restaurant during the weekends or evenings. Although this does take willpower and a serious amount of energy, you won't fall short of these dreadful ways to make some extra £££.
Related Posts