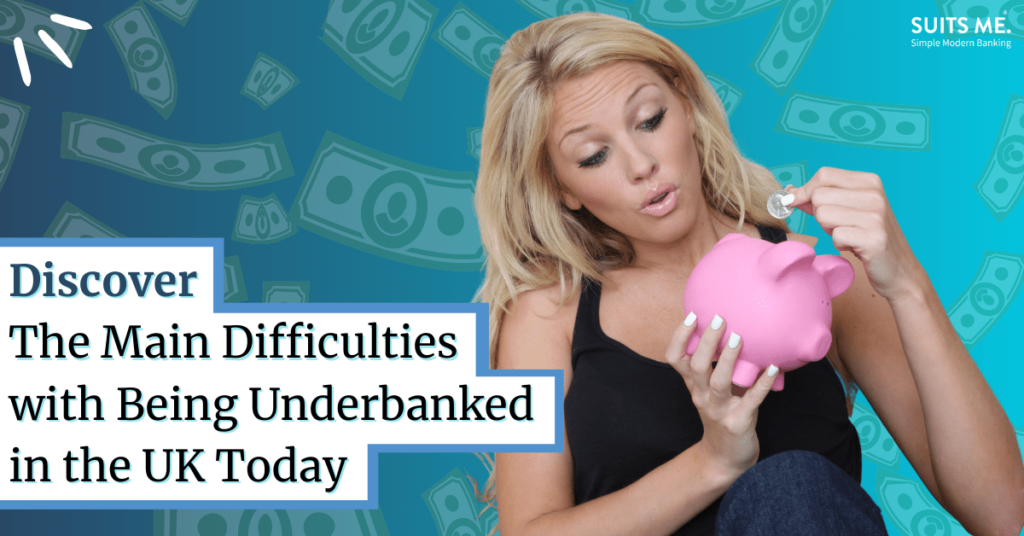 It's estimated that around 1.5 million people are underbanked in the UK. Being underbanked, or unbanked as it is sometimes called, means you are excluded from mainstream financial products such as current accounts, credit cards and loans.
Being underbanked can often trap you in a frustrating cycle as you cannot access the kind of banking solutions which may help to pull yourself out of your current predicament.
Why are People Underbanked?
There can be a number of different reasons why someone may be excluded from access to financial products which the rest of the population can get. These include
Poor credit
If you have a limited or bad credit history, you may find it difficult to open some current accounts and take out things like credit cards, loans or mortgages. Many current accounts involve features such as overdraft and credit cards and if you have shown to have had problems repaying debt in the past, this can work against you.
Trouble Proving Identification
You may need to prove that you are a permanent resident in the UK to open a bank account. Many people such as migrant workers may have difficulty doing this as they may not have a passport or driving licence or even a letter addressed to them at a particular address.
Low Income
Many current accounts require a minimum monthly deposit. In most cases, this is around £500. If you earn less than that, or are on a zero-hours contract or working freelance and therefore have difficulty proving regular income, you may not be able to open a current account
Bankruptcy or CCJs
If you have had a County Court Judgement (CCJ) or been declared bankrupt in the past, you may be excluded from access to certain banking products which involve credit.
The Difficulties of Being Underbanked
For people who find themselves underbanked, restricted access to certain financial products can be a vicious circle. There are a number of problems involved with being underbanked in the UK. These include:
Security
Being paid cash in hand brings security worries. What if the cash is lost or stolen? The likelihood of recovering it is very low. Having wages paid directly into a bank account is a much safer way to look after your money.
Paying Bills
Many utility companies now prefer customers to pay by direct debit or by some other form of regular payment from their bank accounts. Not having a bank account can make it more difficult to pay your bills. Some may still allow you to pay by cash, but financial incentives for those who pay by direct debit mean the underbanked are often paying more than they need to.
Solutions to Being Underbanked
Prepaid Debit Card
A prepaid debit card is one which allows you to load cash onto it. Getting a prepaid debit card does not involve a credit check because there is no borrowing involved and you can use it to pay for goods and services in-store or online. A prepaid debit card will also have a number and sort code, allowing you to set up regular payments like direct debit.
Here at Suits Me®, our prepaid debit card also has a few extra features on offer than your standard prepaid card. We have an exclusive cashback reward programme so you can get money back with our partnered retailers. We also offer an online account or if you prefer, a mobile app where you can set up standing orders or manage your direct debits which allows you to stay in control of your finances. So, if you're underbanked and looking for a suitable banking-like solution – apply for a Suits Me® account today!
Basic Bank Account
These are offered by many banks and building societies but not usually advertised heavily. A basic bank account does not offer an overdraft or credit card, but this means that there are no credit checks involved. They may come with a nominal monthly fee, but the minimum monthly deposit is usually much lower than and conventional current account.
Related Posts