Does the post Brexit immigration policy spell uncertainty on the horizon
Post Brexit immigration plans have been announced by the UK Government. Is this the end of an era to EU labour in 'low-skilled' workplaces within the UK? From the 1st January 2021, the UK is to close its borders to 'low-skilled', low-income workers who cannot speak English.
How has the Immigration Policy been updated?
From 1st January 2021 the UK Government plans to take full control of its borders and redefine the immigration policy. On Wednesday 19th February the Government unveiled plans of an Australian and New Zealand style points-based system. These updates to the UK immigration system will mean that EU citizens will be treated the same as other nationals.
In 2021, people coming to the UK from anywhere in the world will need to meet the skills criteria and the 70 points required to be eligible for a UK work Visa.
Home Secretary, Priti Patel has said how the UK Government wants to "end and reduce the level of numbers of people that have been coming to the United Kingdom with low skills".
Points System
The UK points system that is set to come into effect 1st January 2021.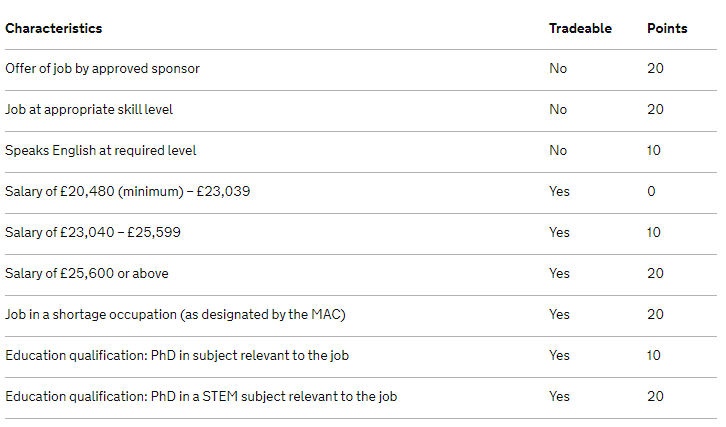 Home Secretary, Priti Patel said in an interview with the BBC News, that the Government wants to:
"streamline the Visa system to make it much more swifter, much more efficient, but importantly now this basically redefines our immigration policy so the brightest and the best people with skills need to come to the UK and we will no longer have the roots for cheap low skilled labor that obviously has dominated immigration and our labor market for far too long in this country"
What's the current UK system?
EU nationals coming to the UK for work, irrelevant of their language, skill level or income, can enter the UK for work due to the European 'freedom of movement' policy.
What does this mean for UK businesses?
The practical reality of this points-based system may affect UK businesses who rely on low-skilled EU workers within sectors such as hospitality, agriculture, warehousing, construction, and food processing.
Suits Me® business partners have expressed their opinions, with many concerned at how this will affect their business.
"We currently provide European workers to various companies in the industrial sector. In terms of automation and technology, it will be extremely difficult to replace the manual process of certain production roles, particularly with some of the contract packing where the manual process can vary with up to 30 different products per day. Furthermore, the fact that some of the largest corporations with the funds to invest in technology and robotics choose not to certainly speaks volumes." – Anonymous
What does it mean for migrants?
From 1st January 2021, people who don't meet the point-based criteria but have skills sectors where there is a demand for the workers, there is still an opportunity to work in the UK. However, sponsorship will be required by businesses and employers.
Feedback
From a panel of affiliated Suits Me® partners surveyed, the following results were found:
Do you feel that this will have a direct impact on your business?
Yes: 30%
No: 10%
Unsure: 60%
How damaging do you feel this will be to the industries you supply staff to?
Significantly: 20%
Marginally: 40%
Unsure: 40%
What percentage of your candidate workforce will be affected by this?
0% -24%: 10%
25% – 49%: 50%
50% – 74%: 30%
75% – 100%: 10%
What specific industries do you think will be impacted?
Agriculture
Hospitality
Healthcare
Industrial and Warehousing
Logistics and transport
Nb. All the above industries had concerns raised around the future proposed immigration policy.
Questions
Do these new rules disregard how many sectors heavily rely on EU national workers?
How will this updated policy affect and impact your business?
Are you a business that currently employs migrant workers? If so, what steps are you putting in place to prepare?
What will happen to companies who rely on what is considered to be 'low-skilled' workers such as farms and food processing? Will they be forced to invest in expensive technologies? Can these companies afford such technology? What then happens to the UK's food production? Will waste increase? Will companies fold?
The hospitality industry relies on migrant workers for various jobs including; cleaning, chambermaid, and kitchen staff. Such roles aren't classed as high-skilled and cannot be automated with technology.
How will companies continue to 'work' without the staff required?
What do you think?
Will this new points system help or hurt the UK economy?
Information and News Sources:
Useful Articles