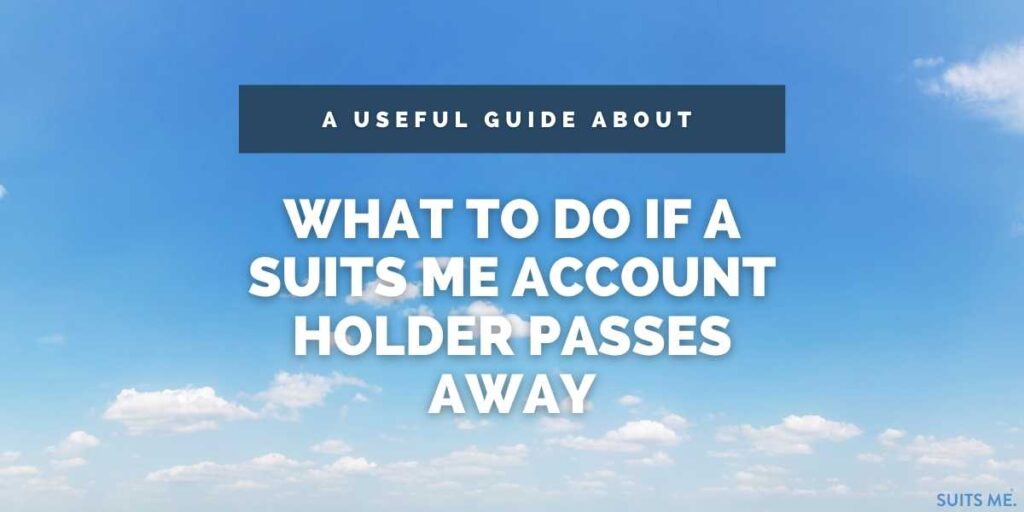 We're Here for You During This Difficult Time
Losing a loved one is hard enough without having to worry about their finances and money or deal with complicated processes involving their banking provider to get everything organised. That's why at Suits Me® we're here to help you in a simple, straightforward way.
This guide will explain what you can expect from us, any information you will need to provide, and what will happen after you've spoken to us to ensure the process is as smooth and easy as possible for you.
What Can You Expect from Us?
So, firstly we want you to know that we're here for you and extend our sincerest condolences. Our customer care team are trained to be able to support you with anything you may need or any questions you may have throughout this process.
We will try to get everything resolved as quickly as possible for you, starting by cancelling the debit card and suspending the account, so you don't need to worry about having to speak to us on multiple occasions.
Is There Anything You Will Need to Provide?
In order to get the process started, you will be asked to provide a number of documents. These will include:
The original or a certified copy of the death certificate or interim death certificate,
Next of Kin information – including full name, address, email address, and phone number. You don't have to be the Next of Kin to call, but we will need to know your relationship to the deceased.
Next of Kin ID and proof of address (if known).
Registration of Bereavement Form
Statutory Declaration form – No Probate for accounts with under £500 or Statutory Declaration form – Probate for accounts with balances over £500.
We will ask you to send these documents by post so we can verify all the information and start the account closure process.
Statutory Declaration and Probate
A Statutory Declaration form will allow the next of Kin or executor(s) of the will to transfer funds from a person who has passed away into their name(s) and provides information in regard to how the money can be split. At Suits Me®, our Statutory Declaration is a short A4 document that you will need to fill out and send back to us.
For balances over £500, you would need to go to probate. This is a legal process that gives a person the legal right to deal with a deceased person's property, money, and assets when they pass away. If your loved one left a will, you'll get a 'grant of probate'. If the person didn't leave a will, you'll get 'letters of administration'.
The Next Steps
Once we've received the documents, we will take it from there and contact the Next of Kin for their account details to transfer any funds over. If you're the Next of Kin, we can arrange a balance transfer to your chosen bank account once you have completed a Statutory Declaration form. If you're unsure who the Next of Kin is, we will send out a Statutory Declaration form (No Probate) for balances under £500 and a Statutory Declaration form (Probate) for balances over £500 to a representative.
Providing Additional Support
Our dedicated account managers will also be able to point you towards a range of charities, who specialises in bereavement and will be able to offer you additional support if you feel like you need it during this difficult time.
However, the charity Care for the Family, offers a wide range of organisations, charities that provide you with specialist advice.