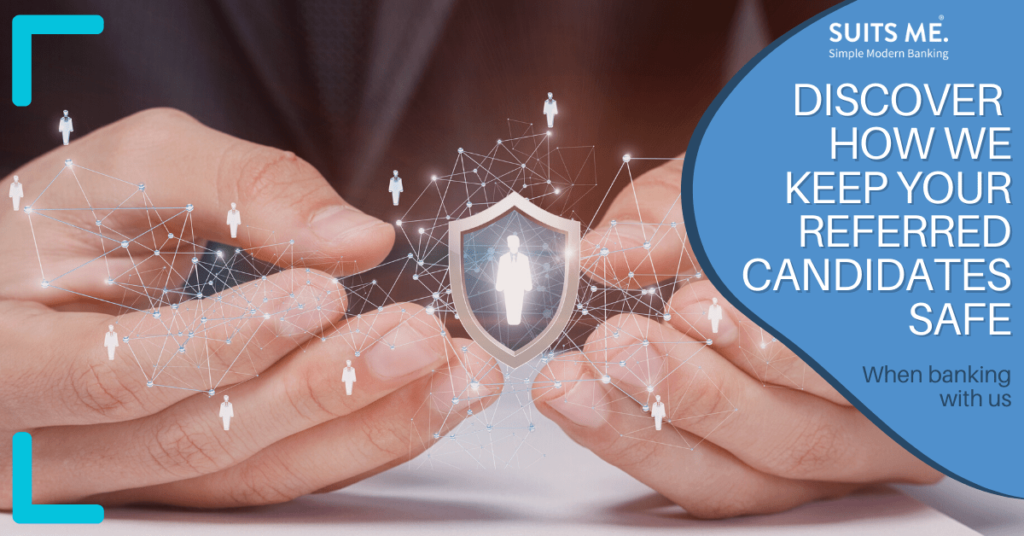 When you refer a new starter to open an online banking account with Suits Me®, you want to know their wages will be safe. You'll also want to know if they'll get a hassle-free service with guidance that they'll find helpful and actually understand.
You should expect the highest level of safety when dealing with modern banking, Suits Me® is no exception. Our company was founded with the ambition to remove barriers that prevent candidates from getting employed without sacrificing any of the security they require.
Here's what we do to keep your candidates in total control of their money and what we do to make sure it's secure at all times.
The Law and Suits Me®
The rigid laws and regulations that govern Suits Me® make sure our accounts focus on customer safety and experience above all else.
First, a short history lesson: Suits Me® was made possible by new rules introduced by the government in the years following the 2008-9 financial crisis. The measures made it easier for a whole host of new financial products to challenge the bigger banks in an effort to shake up the UK financial sector. Financial technology (fintech), as we know it, was born.
Amongst the new rules were the Electronic Money Regulations (2011). They allowed online-only banking accounts into the UK. The rules authorised companies other than banks to issue all-online accounts and gave the Financial Conduct Authority (FCA) strict powers to make sure their customers receive high standards of security.
Opened in 2015, Suits Me® protects our accounts by segregating all customer money. The money your referrals keep with us is separated in a secure bank account that only our account holders can access. This is extremely important in protecting your candidate's money. It means, even in the unlikely event Suits Me® went into administration tomorrow, customer money couldn't be touched by creditors who only have access to company accounts. This measure entrenches our customer safety even in a worst-case scenario.
We would face strict measures from the FCA if we were found in breach of the regulations. Punishments include fines, court cases or suspension of our license. We're happy to say that Suits Me® is 100% compliant with these rules – we take no chances when it comes to where customer money is kept.
Security, our Multilingual Customer Care Team and Red Flags
We're proud of our extensive customer care team and the guidance we offer them. Team members cannot communicate with a customer until they've been through our thorough training process. All contact, whether that be over the phone, by email or using our online chat, only happens after several relevant security checks and once our team has finished looking for "red flags".
Our customer safeguarding method relies on looking out for red flags, small signs that could indicate identity theft or worse. Our team members look for these signs every time they reply to a customer query, even when speaking to customers they speak to regularly. A red flag could be something as obvious them answering a security question wrong on the first go but it could also be more nuanced, such as a short delay between your question and their answering.
Our highly trained team will not divulge any information that could compromise your candidates account until they're satisfied they're speaking to the account holder.
Our customer care team is unique in being multilingual, something we have strived towards to help as many customers as possible. We believe banking in your own language is key to staying in full control of their money. Attempting to make financial decisions in a second language not only means you could make avoidable mistakes, it means the safety of your money is at risk if you can't fully understand security advice.
Our multilingual team mitigates the risk, your candidates will get the exact level of clarity everyone should expect of a financial institution.
GDPR and Web Security
Since GDPR (General Data Protection Regulation) takes precedence in fintech more than most industries, Suits Me® does all it can to remain compliant. Staff in every department, whether than be customer care, our account managers or the sales and marketing departments are told to keep GDPR in mind when doing any task.
The personal information we take from customers is used solely for the purposes of running their accounts, and we go into detail about this in our privacy policy.
Account holder details are protected by Suits Me® when they log in online or via the mobile banking app using the relevant web browser security certificates and details can only be edited with identity checks made by our support team. Web browser security and encryption also protects the employer portal from your end.
Accounts are also protected by complex passwords and usernames your candidates get to choose. We utilise one time passcodes (OTPs) which are randomly generated codes sent to their registered mobile phones that must be entered before they log in. When banking on the go, the Suits Me® mobile banking app is protected by the biometric security available on a majority of smartphones such as face ID or thumbprint recognition.
After all that, they will also have all the security features of a Mastercard® debit card which comes free with every account.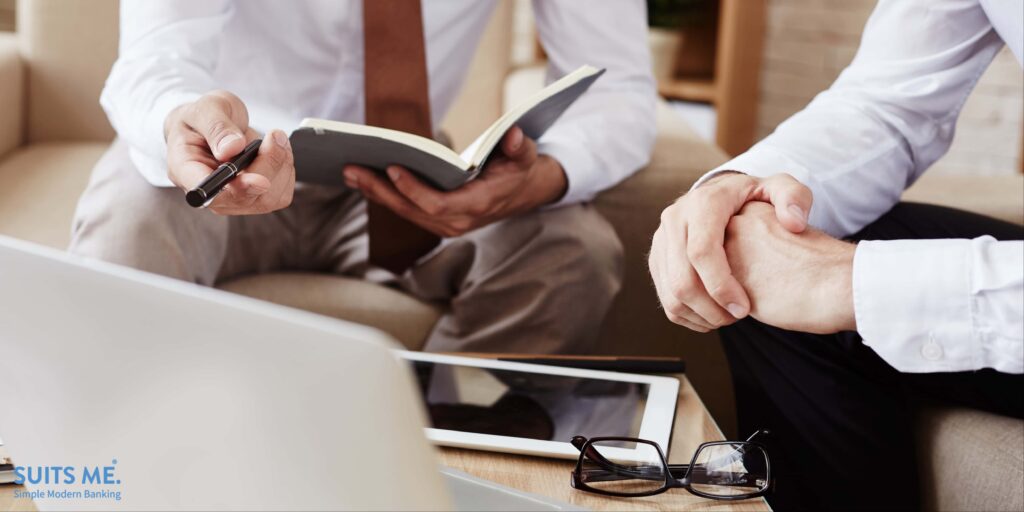 You and Your Account Managers
As a Suits Me® business partner, you shouldn't forget to take full advantage of our account management team. From first opening the Suits Me® employer portal right through to your employees using their debit card on a day to day basis, our account managers and operations team are there to make your referral process run smoothly so if you have any queries don't hesitate to ask.
You'll be assigned an account manager shortly after partnering with Suits Me® and you've probably had your first conversation with them already. After portal training though, we won't just leave you to go on unaided. Your dedicated member of staff can regularly check in with you to make sure your workers are continuing to receive a quality service.
If you have any concerns regarding the safety of your staff member's account or the online portal give our team a call or speak to your dedicated rep. We can resolve the issue remotely or make an on-site visit when safe to do so in line with government restrictions.
The Money Saving Tools Offered by Suits Me®
Security measures aside, Suits Me® comes with a variety of features that, as well as offering our account holders an easier way to perform their banking also ensures they're well educated and informed when controlling their funds.
Either online or through the mobile banking app your staff can streamline their budgeting using our envelope system, letting them automatically allocate funds each month. So, if they've got rent, utilities or other bills to pay, they can set aside money taken from their wages so it's earmarked before they can spend it.
Our site also offers detailed guides and a comprehensive FAQ section that explains how they can get the best from their account, so if anyone comes to you with an issue you can refer them here and the answer should be waiting for them.
So, if you're looking to become a Suits Me® business partner, don't hesitate to get in touch and we can give you a no-obligation demonstration to explain how we could benefit your business.
Contact Us
Phone: 0333 015 1858
Email: info@suitsmecard.com
Related Posts