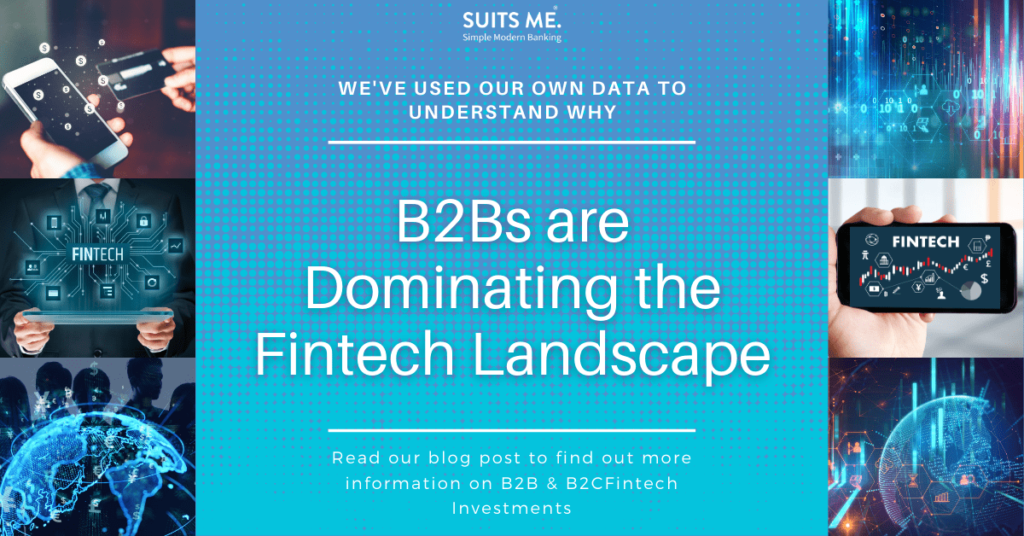 Investment for B2C companies and the focus of European and global fintech has been rapidly outpaced by B2B investments according to new research.
The UK and Europe as a whole has enjoyed B2C fintech success in the last decade, but a variety of factors including the Coronavirus pandemic, innovation in the business fintech world and an increase in investor money up for grabs has seemingly shifted the focus to B2Bs.
Uniquely, Suits Me® helps both consumers and business partners and can serve as a perfect microcosm to explain why attention has shifted and what we've learnt about B2B and B2C fintech over the past few months.
How B2B Companies Have Fared Against B2C
Fintech in the UK and further afield has been dominated by popular online banking accounts. There's been an overwhelming amount of B2C-focused investment, companies offering consumers 'easy to open' accounts, manageable credit and cheap international money transfers being the biggest winners of investment and notice.
Consumer-focused fintechs have made consumer banking genuinely exciting to swathes of investors, something that's taken a long time to occur.
B2B fintechs haven't done as much to capture the imagination of the media or backers, being overshadowed by the flashy consumer market. Popular B2B models include business-orientated currency converters and traders, financial data API providers, prepaid card issuers and client lifestyle management software for financial institutions.
Why Have B2B Investments Boomed?
The lack of excitement for B2B options produced a lag of investment compared to B2C counterparts. However, this is changing. A trend starting in 2019 has shown that investors are becoming more interested in business-focused companies than counterparts in the consumer world.
In India, B2B fintech investment overtook that of B2C by $40 million last year. This could seem like a relatively small amount but is a major development – it's the first time this has happened in five years. Trends have been similar in East Asia and North America.
Significantly, goodwill towards B2B fintech has hit Europe. So far this year, B2B fintech funding is a substantial €1.9 billion ahead of B2C. That's even after recording some of the more ambiguous companies such as Klarna, the consumer credit and payment solutions provider, as a B2C.
Commentators argue the difference in funding in 2020 is down to the coronavirus factor, with the prospect of recession and unemployment leading investors to err on the side of caution and avoid investment in B2C products.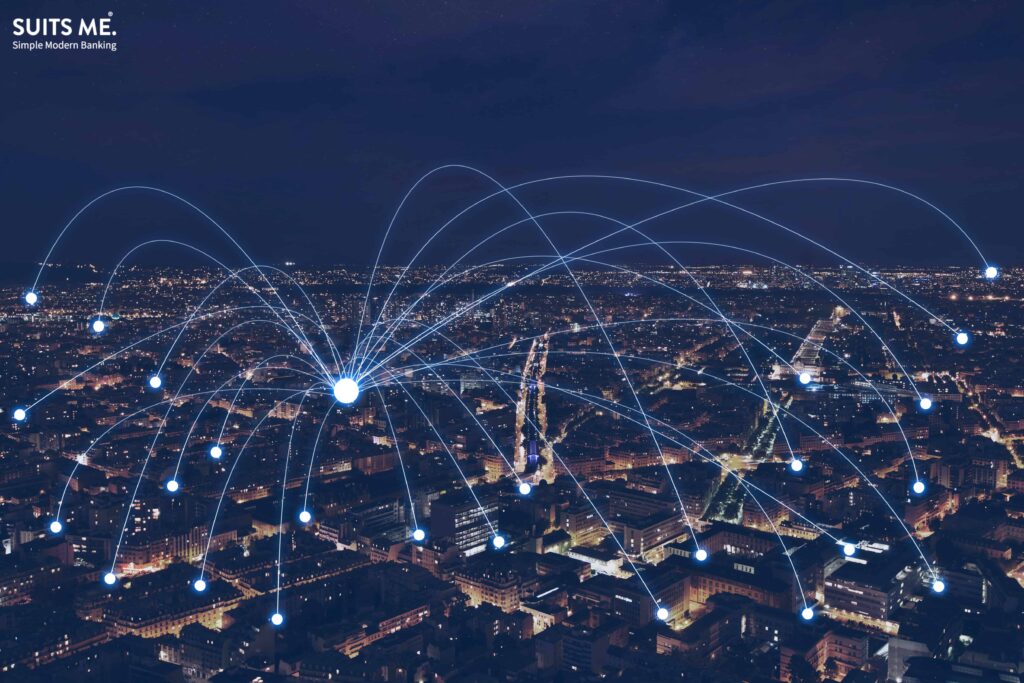 What Makes Suits Me® a Good Microcosm?
Using Suits Me®, we can demonstrate why investors have seen the potential of B2B fintechs an
d are more willing to invest in what some wrongly consider being the less interesting option.
We focus on businesses and consumers, helping our account holders and business partners alike giving us an insight into demand from both sides of the coin.
Today, Suits Me® is a predominantly B2C orientated alternative banking provider. We give our customers an alternative to the high street banks when they've found themselves financially excluded. Our account holders get access to an online banking account with free access to a mobile banking app and a contactless debit card.
But, unlike others in the industry, we have a B2B background. Founded in 2015, Suits Me® was built to help businesses hire potentially brilliant candidates they would otherwise avoid because they didn't have a bank account, causing a headache for payroll departments and further contributing to candidates' bad financial situations.
Business partners get free access to an employer portal where they can create their new starters online accounts within minutes, giving you account details to add to payroll and your workers the security of modern banking.
With both elements working side by side we have an excellent vantage point and can see developments in demand from businesses and members of the public.
How we Compared our B2B and B2C Elements
The easiest way for us to compare the two arms of Suits Me® is by looking at the account creation. We check the difference between accounts created directly by members of the public and those created using our employer portal. These comparisons have been key to our analysis of the pandemic regarding where we diverted our focus when working from home.
For our analysis we compared three criteria:
Total direct account creations (B2C)
Total referred creations from business partners (B2B)
2020 pre-pandemic predictions for all types of account creations
From March 2020, we assumed card creations of every sort would fall significantly as the lockdown was implemented. We expected recruitment in a majority of sectors began to fall and prepared for card creations made by our business partners to fall by well over half. Baring that in mind, we can see how card creations from a business and consumer standpoint compared so far in 2020.
What can we Learn From the Statistics?
A fall in recruitment from March did happen as we predicted, the ONS found this with demand for new starters at its lowest point since around 2014. Accounts created by referral therefore also fell – the lowest point for accounts was in April, where only 55.4% of our predicted number of accounts were opened by referrers.
Considering that statistic was the lowest drop from our pre-covid predictions and was still considerably better than the worst-case scenario, one of the key takeaways from our reporting has been that our business partners demonstrated significant resilience and consistency over the course of the lockdown and the furlough scheme.
We can see why then, across the whole continent, investors have put their trust in B2B fintechs. At a time when things couldn't get much worse, the demand for fintech services from industry has been there.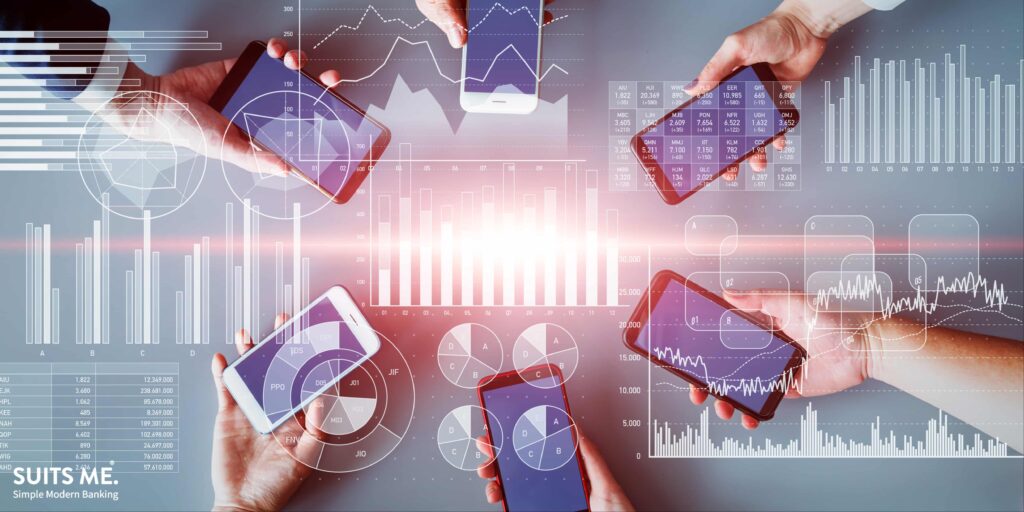 Our Growth Over the Summer
Over the summer we announced record growth and account creation despite the pandemic. The bounce back by businesses was incredible, account creations by referral and were now 51.7% higher than our pre-pandemic predictions for that month, showing the rapid recovery our business partners experienced in the period too.
On the B2C side, coronavirus has had an impact on online banking alternatives like Suits Me®. Other providers announced cuts and disappointing results compared to targets. Specifically, at Suits Me®, our direct card applications have remained consistently high, always above our 2020 predictions. In fact, the lowest monthly growth rate comparing 2019 and 2020 we've found in direct applications is at 285.9%!
We think that the lack of enthusiasm from investors is nothing to do with a lack of trust in the industry's viability because it's plain to see demand is always going up. From our point of view, it's more likely that fatigue has meant investors have chosen newer markets to see if they'll get returns faster. B2B fintech offers them the reliable solution they're looking for.
Demand for B2C Investments is not Slowing Down
Our internal reporting shows demand for fintech as a service remains high despite the pandemic, explaining why investors seem to want to sink their teeth into B2B solutions instead of the tried and tested B2Cs out there.
Many of our partner businesses struggled between March and June this year when the lockdown was at it's strictest, during which time our account management and operations teams continued to offer as much support as possible. The support offered by Suits Me® and a variety of other B2B fintechs is probably one of the many reasons behind the newfound support for this branch of fintech.
Despite the news though, and even if investors seem to have shifted their attention, demand for B2C alternative banking has never been higher. A grand total of €3.1 billion in B2C investment in Europe cannot be ignored.
We're confident in both angles of fintech landscape and believe we'll see the continued success in both streams.
Related Posts