How to Manage your Online Banking Account
You can take control of your money and personalise your Suits Me account as soon as you've opened one.
After customising your account, it can help you keep to a budget, keep you notified about changes to your balance and manage your finances and payments with direct debits and standing orders so you can relax whilst staying in charge of your money.
We've put together a list of the online banking account features and benefits so you can get most out of your account and let it do all the work for you.
My Account
Keep track of your spending and statements from the My Account page.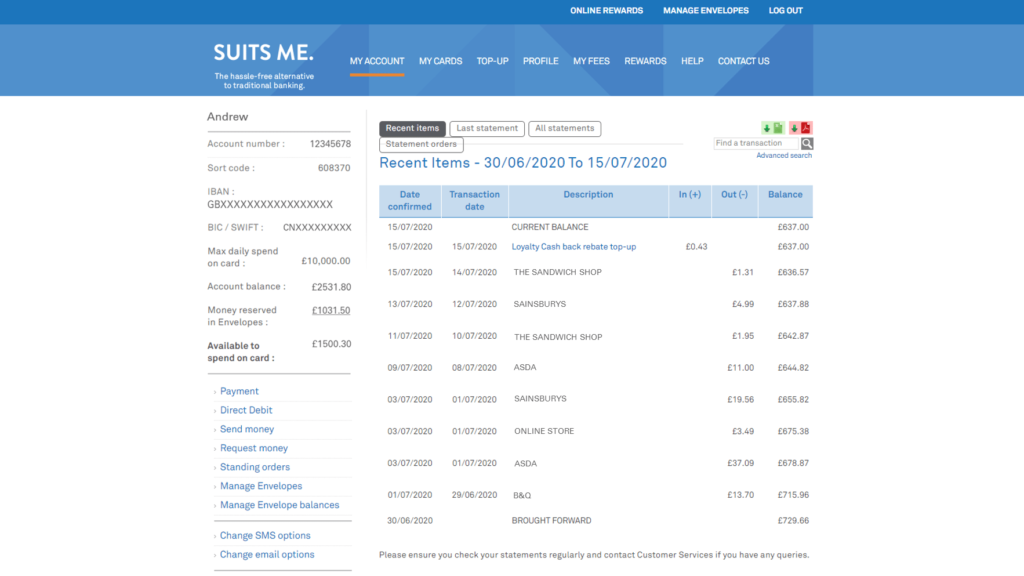 After logging in to your Suits Me account you can view your latest transactions from the My Account page. From here you can access your latest statements as well as a quick summary of your recent transactions from the last 15 days.
From here you can access your Envelopes, standing orders, direct debits and make payments to other bank accounts. You can also change your SMS options from here.
Envelopes
Manage your budget using Envelopes.
Your Suits Me online banking account allows you to set aside money for essentials using our Envelope system.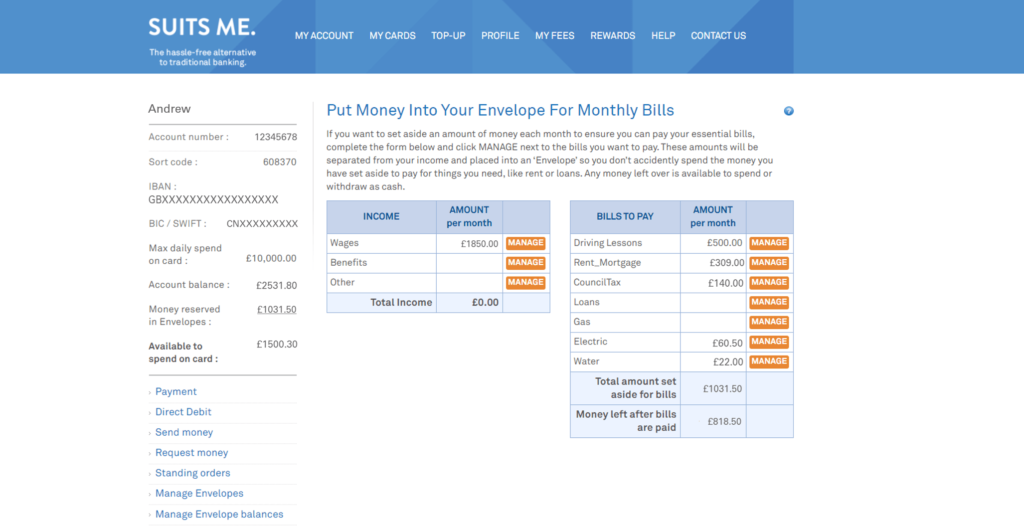 On the Manage Envelope page, you can set your account up so that a portion of what you earn each month is separated from your income and placed into an 'Envelope'. This means any deposited money is kept separate in your account and cannot be withdrawn by a bank transfer or by using your debit card.
Envelopes make sure you always have enough to pay for essentials like rent, utilities or other household bills. Envelopes are also a great saving tool for big-ticket items like holidays. Just set a labelled envelope up to take a small amount of money each month until you've saved up enough to spend.
As soon as you're ready to use the saved up money, go to the Manage Envelope balances page to release it back into your account before you make a payment.
Direct Debits and Standing Orders
As you would expect of any modern banking service, you can quickly and easily set up and manage direct debit payments and standing orders.
You can easily set up for regular payments for things like bills, rent and other essentials will be automatically paid, giving you even less to worry about.
You can easily manage direct debits and set up standing orders from the My Account page.
Cashback Rewards
Stay up to date on new cashback rewards.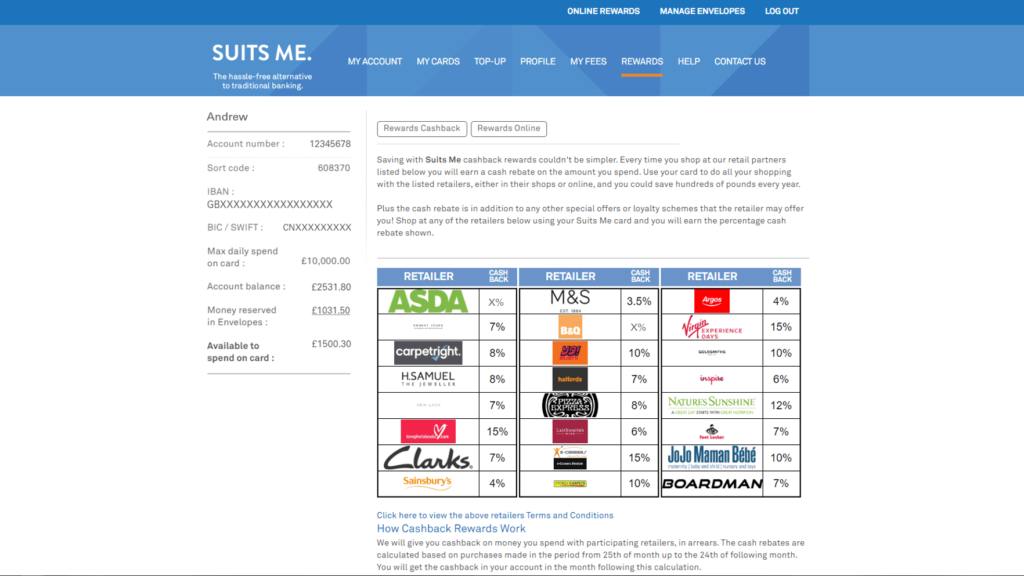 Our cashback rewards mean you to save every time you shop with one of our retail partners, you'll automatically get money back when using your card to pay for goods and services.
When logged in to your online banking account you can view the full list of retails partners and their individual cashback payments so you can find out exactly how much you'll earn back after shopping with them. From here you can also check to see if any new ones have been added.
Set Up Email and SMS Notifications
If you want to know exactly when you're nearing the end of your account's balance, or whenever a large payment has been made using your debit card, we can send you automated notifications customised by you.
You can set up SMS text message notifications so you know exactly how your balance has changed the moment it happens. This feature lets you know about big changes to your account balance without even logging in or using your Suits Me Mobile Banking App.
Go to the Change SMS options page to set up your automatic messaging. You can select what you want messages for, when your receive funds for example, what sums of money you want to be notified about and how you want to be contacted (by SMS or email).
Update your Contact Details and Preferences
You can update your address and contact details straight from the online banking account. If your address or phone number has changed since signing up with Suits Me you need to make sure you update it so we can contact you with important account service updates or send you a new debit card if your previous one is lost, stolen or expired.
Through the website, it couldn't be easier. If you go to your Profile and select the change home address, phone numbers or email address options to amend your details. From My Account, you can use the Change email options page to select your email preferences and choose exactly what messages you'd like to receive. We never share your email address without your permission.
Fees
Know exactly what your fees are.
So you know there aren't any hidden charges, the My Fees page shows you exactly how much every Suits Me service costs.
We are up-front about our fees and know that total transparency is essential to make you feel confident about your Suits Me account. We make sure you know exactly how much you pay and why to give even more control of your money.
Useful Information