Open a UK online account without credit checks with Suits Me®
Unlimited cashback on purchases, fully featured app and a contactless Mastercard® all in 3 minutes.
Open your account
Unlimited cashback on purchases, fully featured app and a contactless Mastercard® all in 3 minutes.
Open your account
For some, opening a bank account in the UK can prove extremely difficult, especially if you have poor credit, bad credit or no credit history. Suits Me® offer a personal e-money account with no credit checks, making us a great option if:
You're struggling to get a account with a high street bank
You've had problems getting any other type of account
You have a poor or bad credit rating 
You have no credit history
You're currently going through IVA or Bankruptcy
You're new to the UK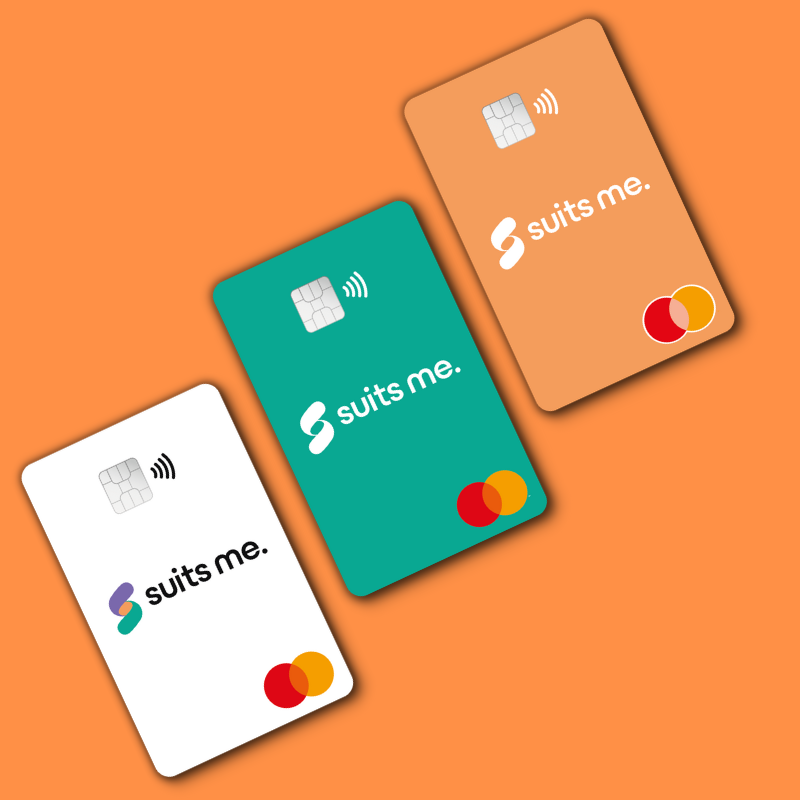 Choose an account
Select your account type and complete the online application in 3 minutes.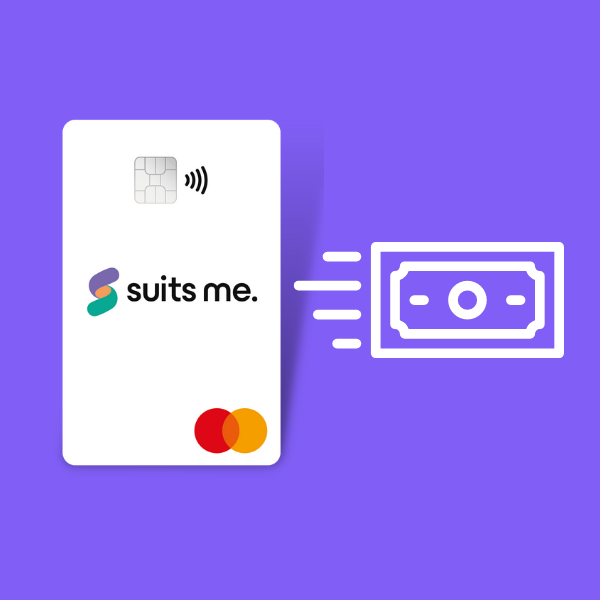 Load your account
Add money via transfer, wages or cash topup.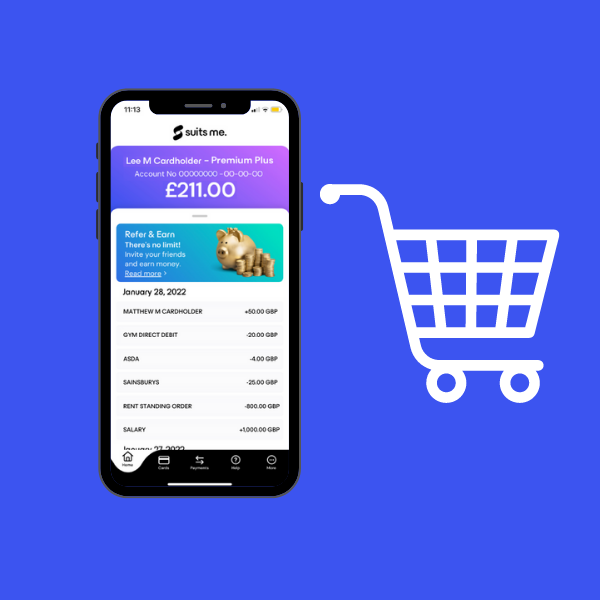 Use Suits Me® everyday
Get cashback on your everyday shopping.
Suits Me® Account Features
Once you open your account you will have access to all of our amazing features:
Current account
Direct Debits
Saving & budgeting
Google Pay (coming soon)
Samsung Pay (coming soon)
Apple Pay (coming soon)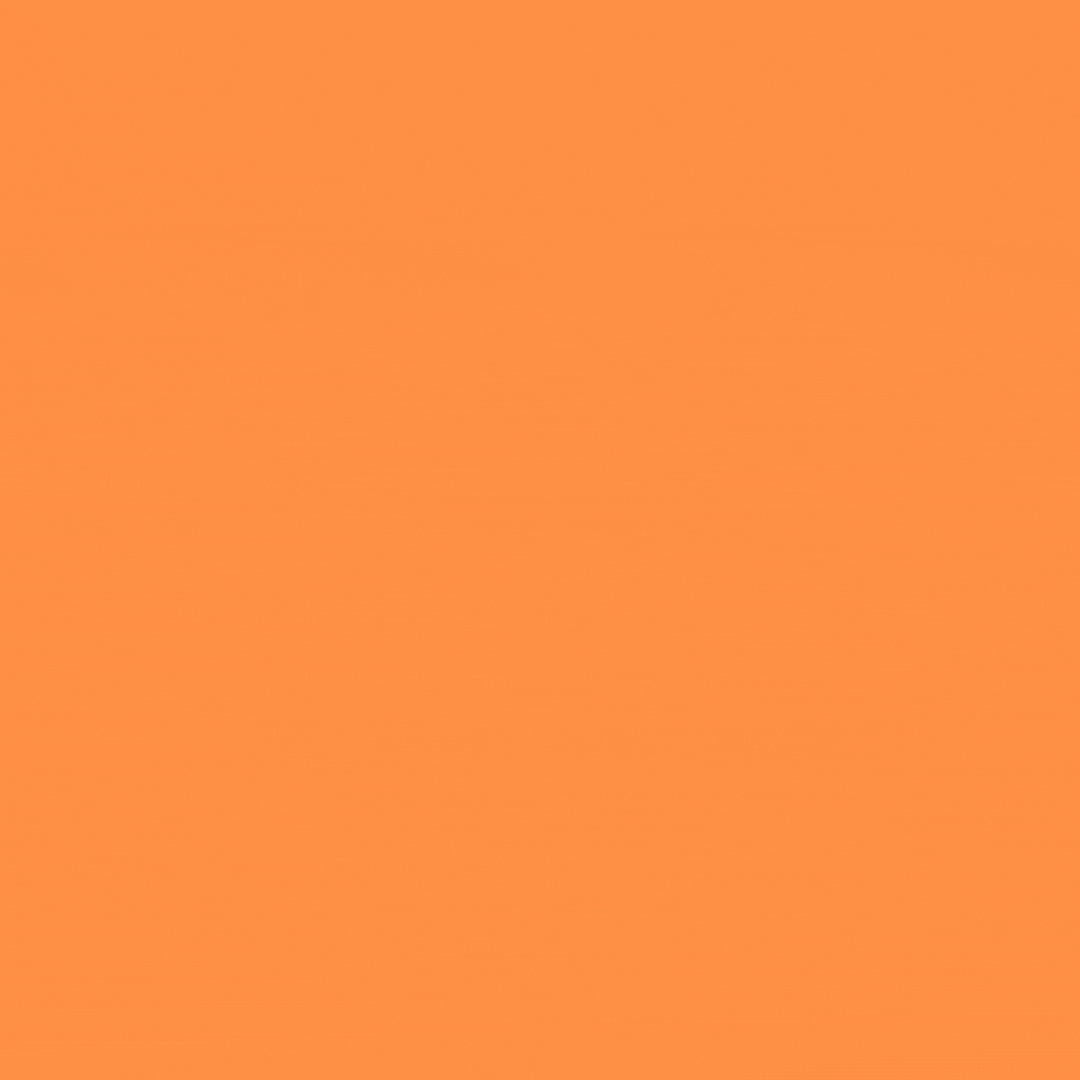 Open a UK e-money account with no credit checks
At Suits Me®, we understand that not having access to an account can prove stressful and can affect how you live your life.
Not having access to a bank account can potentially stop you from:
Getting a job
Accepting Universal Credit payments
Saving time by paying for bills using direct debits and standing orders
Being able to buy products and services online or over the phone
Why banks perform credit checks
Most UK banks perform credit checks which you are required to pass in order to open a bank account with them. This is usually a requirement from a bank as they offer their customers the option of an overdraft facility.
Alternative banking
Suits Me® is a UK alternative to a traditional high street bank account with a contactless Mastercard® debit card and banking features including direct debits, standing orders, UK bank transfers (international are available through our partner in the Suits Me® app) and more.
Suits Me® accounts come with online banking and a mobile banking app in order to safely and securely manage your money.
We strongly believe in financial inclusion and that everyone should have access to a banking account to be able to manage their money and finances. Especially in today's modern society and digital living.
How to open an account without a credit check
Don't worry or stress about your credit history, we are here to help!
Not only do we not perform credit checks on our customers, but we also don't need a proof of address or a National Insurance number to open an account with us.
What do I need to open a Suits Me® account?
To open your Suits Me® account and receive your debit card, you'll need to be 18 or over and have one of the following:
Passport
Driving license
National ID card
Open your UK e-money account today without any credit checks