Supporting clients in welcoming and onboarding International Healthcare workers.
Create an account in minutes prior to your worker arriving.
Partner with us
Our simple to use Portal allows you to create an account in minutes with a UK sort and account number.
Access to a personal account prior to arrival allows your clients to receive any advanced payments safely and easily on day one of their arrival
A Mastercard contactless card will arrive within 24 hours to your specified business address, ready to be received by your client.
The simple and easy account for your staff. Ensure your workers are paid safely and securely into an account that is set up in their own name.
Supporting Your Workers & Business Needs
Suits Me® is a multi-award-winning payment solution that provides your workers with an affordable e-money account that comes with all the essential banking like features. We support numerous business partners in the healthcare sector, who want to give their underbanked employees a modern experience, that keeps their wages safe and streamlines the payroll process as a whole.
The best part? Our service is completely free, so you don't need to pay anything to streamline the process of paying your worker's wages.
Get started today!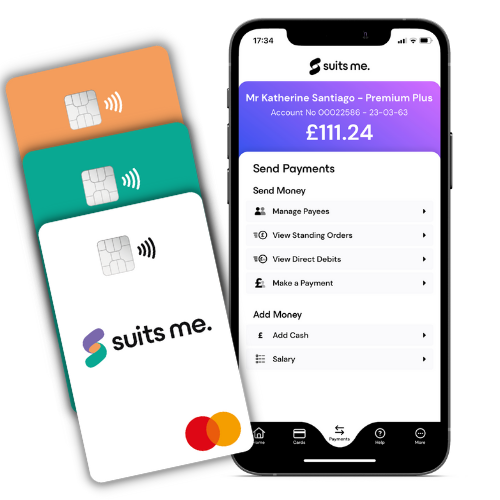 Benefits to you as an employer
Free access to our services
There is no cost to becoming a Suits Me® partner. Partner with us in minutes.
Create accounts for your workers
A guaranteed account if aged 18 or over, live in the UK and have a Passport.
Pay salaries and advance payments straight into individual's accounts
Remove the need to keep cash on your premises, pay by cheque or go to a High Street Bank Branch. Use simple transfers from your business account to your clients personal account in a more auditable and compliant fashion.
Immediate access to a sort code and account number
Instantaneous creation of an account post submitting the registration form. Your employees will receive their Mastercard contactless card the next business day.
Multi-lingual information brochures
Available in 19 different languages so staff are have user information for our simple to use App and online money account.
No hidden fees
We're fully transparent so there are no extra costs
Benefits to your employers
Same features of a high street bank account
Our accounts are filled with amazing banking like features such as ATM cash withdrawals, Direct Debits, Standing Orders, Faster Payments, cheque cashing and Mobile App.
Next day delivery
Your employee can expect instant acess to a UK account with the card arriving the following day.
Rewards
We are always offering a little more, with valueable cashback and discount rewards scheme.
Access to Mobile App
All account holders have access to an online and mobile app, so they can manage their money whenever, wherever.
Multi-lingual customer support
Support available in 19 different languages over the phone or by email.
No hidden fees
We're fully transparent so there are no extra costs
What makes us different?
Suits Me started in 2015 specifically to address the delay and inconvenience that international healthcare workers were experiencing when opening bank accounts. Since then we have grown, considerably, but our core market remains employers and international workers who need an account into which to pay their wages.
Suits Me offers those employers and workers the following:
A simple account creation process.

24 hour card delivery, so available to the account holder upon arrival

An account and a contactless card with banking like features

Unrivalled customer support available to the employer and workers in 19 different languages

And, of course, a great value card and account!
Is Suits Me Good Value?
We've always thought we are and now we're proving it. New Consumer Duty Regulations introduced by the FCA mean that financial services businesses must now be able to demonstrate that they offer fair value, taking into account their fees and the features of their product.
The average tenure of an account holder is over 12 months
1 in 3 would refer a friend
"We have been working with Suits Me® for just over 2 years now. We are a Healthcare Organisation that employs international doctors to work within the NHS and private hospital sites around the UK. Our doctors and us have found the Suits Me® accounts perfect for their arrival in the UK as they can have an account up and running quickly, easily and with additional support for them as and when needed, which is very useful as there are cultural confusions when they are settling in to their roles and life in the UK. Vicky Wickenden has been a great support for any issues or queries we have and always ensure that any issues are resolved promptly. I would recommend Suits Me® for their quick and easy system for the account holders and employers along with the great customer care support you receive, thank you for your amazing service!"

— Daisy, Clinical Administrator, RMO
Become a partner today
Find out more about our FREE business services.