A safe, easy and free solution

The simple and easy account for your staff. Ensure your workers are paid safely and securely into an account that is set up in their own name. Once ID is validated 100% of applicants are accepted with a UK address.
Free access
No cost to becoming a Suits Me® partner. Partner with us in 10 minutes
Free, quick and easy to set up a staff account
A guaranteed account if aged 18 or over, live in the UK and pass our security checks
Pay wages straight into staff accounts
No need to keep cash on your premises or pay in cheque. Use simple transfers
Quick access to sort code & account number
Just 20 minutes from submitting the registration form and your employees will get their Mastercard debit card in 3-5 days
Multi-lingual information brochures
Available in 9 different languages so staff know what they are signing up to
No hidden fees
We're fully transparent so there are no extra costs
Suits Me® is a free, award-winning fully functioning e-money account, designed to support your key workers within the healthcare sector. Our payment solution is simple and allows you the opportunity to employ a wider pool of talented, but underbanked, healthcare professionals from overseas.
Supporting Your Staff & Business Needs
Suits Me® is a multi-award-winning payment solution that provides your staff with an affordable e-money account that comes with all the essential banking like features to manage their money. We support business partners in the healthcare sector, who want to give their underbanked employees a modern experience, that keeps their wages safe and streamlines the payroll process as a whole.
The best part? Our service is free so won't have to try and find room in your budget to utilise our service.
Get Started Today & Open the Door to More Staffing Opportunities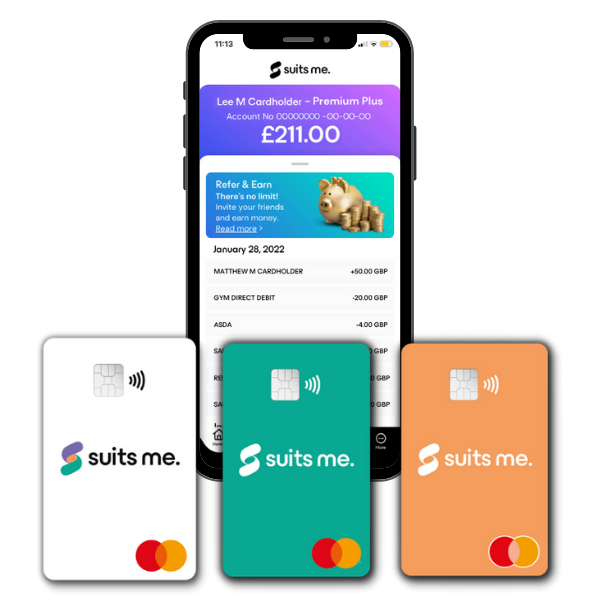 "We have been working with Suits Me® for just over 2 years now. We are a Healthcare Organisation that employs international doctors to work within the NHS and private hospital sites around the UK. Our doctors and us have found the Suits Me® accounts perfect for their arrival in the UK as they can have an account up and running quickly, easily and with additional support for them as and when needed, which is very useful as there are cultural confusions when they are settling in to their roles and life in the UK. Vicky Wickenden has been a great support for any issues or queries we have and always ensure that any issues are resolved promptly. I would recommend Suits Me® for their quick and easy system for the account holders and employers along with the great customer care support you receive, thank you for your amazing service!"

— Daisy, Clinical Administrator, RMO
Suits Me® Supporting Your Business
Since our inception, we've continued to provide our business partners with a trusted payment solution. Here's how we can also support your business.
Say Goodbye to Staff Shortages in the Healthcare Sector
Our free payment solution is designed to address the rising demand for clinical services, and the shortage of healthcare professionals. Our accounts are perfect for skilled foreign internationals who don't have access to a solution to safely receive their wages and navigate life here in the UK.
We Provide Smooth Experience from Start to Finish
From a 15-minute training session on our business portal with our dedicated account managers to creating new accounts for staff members and adding their details to your payroll system, our payment solution is one of the most efficient on the market.
Customer service is at the heart of what we do, so our friendly account managers are only a phone call or email away should need us. Plus, our multilingual customer care team are available six days a week and trained to answer any account queries in your employee's native languages. This includes:
English
Romanian
Bulgarian
Polish
Spanish
Russian
We're Here to Save You Time
With increased pressure from regulators to improve quality and patient outcomes, Suits Me® can get your new staff members up and running with an e-money account, and their account details added to your payroll system, in less than 10 minutes.
"I have been working with Suits Me® for the last 3 years and the level of service has been nothing short than fantastic."

– Mark Kavanagh, Operations Director, MRR Recruitment.
"Suits Me® have provided an excellent service. They help our overseas nurses open a UK money account in a matter of days; enabling them to start work, receive their salary, and purchase things. We are happy to recommend their service."

– University Hospitals of Morecambe Bay NHS Foundation Trust, Furness General Hospital
Partner With Us
Find out more about our FREE business services.