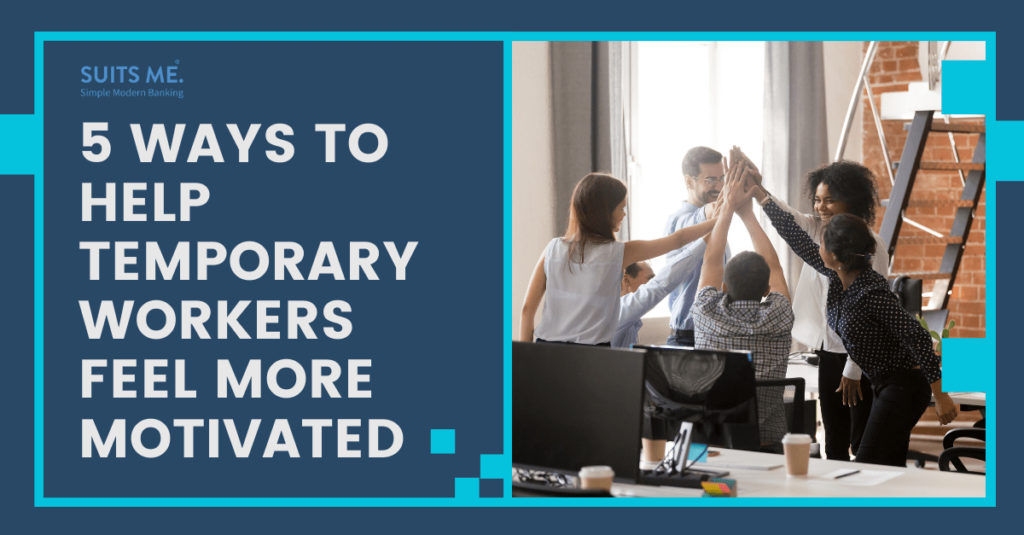 According to the Recruitment & Employment Confederation (REC), one in three people in the UK have worked as a temporary worker at some point in their lives and almost all of these people (28%), have used an agency to get temporary work.
The REC also states that, on any given day, 1.1 million people are placed into temporary work assignments by UK recruiters.
Yet, there is often a workplace divide between temporary workers and permanent employees. Temporary workers can feel like they are not engaged with the office culture, or don't receive the same office benefits. If they don't feel quite as passionate about the business as permanent employees, this can lead to decreased productivity.
When you provide businesses with temporary workers, they need to fulfil business needs, so, how can you make sure that these temporary workers feel as engaged and motivated as their permanent colleagues?
Tips to Motivate and Engage Your Temporary Workers
1. Manage Workers Expectations
If you set expectations at the time of employment, and inform the candidates about the exact duration of the job, it will be easier for temporary workers to feel motivated towards achieving their goals.
It's fair towards the candidate because they know exactly why they are joining a company and how long they'll be there for, and it's beneficial for the business you provide with temporary workers because they will be matched with individuals who know exactly where they stand and what's expected.
It also helps to ensure candidates are kept up-to-date about any more permanent opportunities that may arise with the company they are currently working for.
2. Offer Support When Needed
By matching tasks with skill sets it becomes easier for workers to feel comfortable in their new role.
Offering guidance and support and a place where they feel comfortable to share any concerns or queries can be beneficial to create a mutually advantageous relationship. Workers who feel supported will often be more productive, which benefits the businesses you provide recruitment for.
3. Streamline Business Administration
Temporary workers can face a lot of insecurity, but when they are getting paid shouldn't be one of them.
A good umbrella company can be a great way for your agency to streamline administration and payrolling, and to offer the workers on your books added benefits such as the ability to claim certain tax-free expenses.
4. Opportunites to Learn
Whether it's on the job or through paid or free courses provided by your agency, giving temporary workers the opportunity to grow or finetune their skills can help them to become more efficient in the workplace and motivated to learn new skills. It opens up the door for them to try new placements and become more versatile for the types of roles you recruit for.
5. Offer Help to With Banking
Particularly if you are signing migrant workers from the EU countries, you could consider helping them find suitable banking facility. More often than not, temporary workers from outside of the UK struggle to open a basic banking account which poses issues with being added to the payroll.
This is often due to the fact that their credit score can't be checked or they haven't been in the country for long enough in order to provide proof of address. 
Alternative Banking Solutions with Suits Me®
Suits Me® is an alternative banking solution which can help temporary workers to get on the banking ladder in the UK. With a Suits Me® account, we offer all temporary workers access to a contactless Mastercard® debit card, online banking, a mobile banking app to manage their finances and help them settle into their new role.
Our accounts come with many benefits, like the ability to use their card abroad, send money to another country, access to our exclusive cashback reward programme and set up direct debits and standing orders to pay their bills.
As a recruiter, partnering with Suits Me® will cost you nothing and it's easy to add new workers to your books through our employer portal.
So, if you'd like to know more about the Suits Me® card, or would like to provide your workers with a Suits Me® banking account, then visit www.suitsmecard.com/business or contact us on hello@suitsmecard.com.
Related Posts