Delivering an Easier Way to Pay Your Warehouse Operatives
Our free and innovative payment solution opens the doors to a wider pool of warehouse operatives, gives you an efficient way of safely and securely paying your temporary and permanent staff, and helps to combat the devastating impact of modern slavery in the warehousing sector.
A safe, easy and free solution

The simple and easy e-money account for your operatives. Ensure your workers are paid safely and securely into a current account that is set up in their own name.
Free access
No cost to becoming a Suits Me® partner. Partner with us in 3 minutes
Free, quick and easy to set up an employee account
A guaranteed account if over 18 live in the UK and pass our security checks.
Pay wages straight into employee accounts
No need to keep cash on your premises or pay in cheque. Use simple transfers.
Quick access to sort code & account number
Just 20 minutes from submitting the registration form and your employees will get their Mastercard® debit card in 3-5 days
Multi-lingual information brochures
Available in 9 different languages so employees know what they are signing up to
No hidden fees
We're fully transparent so there are no extra costs
Supporting Your Warehouse Operatives
Suits Me® is a multi-award-winning payment solution that provides your employees with an affordable e-money account that comes with all the essential banking like features. We support numerous business partners, who want to give their underbanked staff a modern experience, that keeps their wages safe and streamlines the payroll process as a whole.
The best part? Our service is completely free, so you don't need to pay anything to simplify the process of paying your employees' wages across your distribution centres.
Get Started Today to Upgrade Your Payroll Methods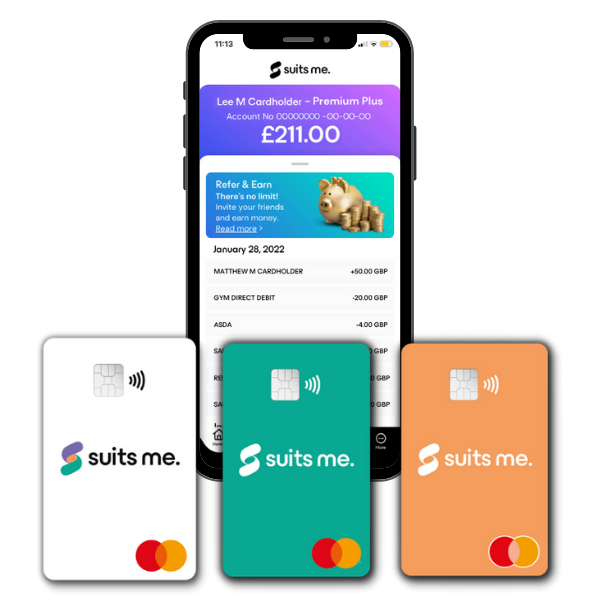 "We have been working with Suits Me® for a number of years now and they have been able to provide a solution so that our agency can pay workers' wages into their own account, reducing any risk! The registration takes minutes, so we are able to provide the agency workers with a sort-code and account number in less than an hour. This is a great short-term solution with many benefits…"

– Paul Kuznecovs, Owner, Baltic Link Services.
We're a Modern Solution for a Fast-Paced Industry
Since our inception, we've continued to provide our business partners with a trusted and scalable payment solution. Here's how we can also support your business:
A Straightforward Payroll Process for You, For Free
In your busy industry, we've made opening a Suits Me® account for your operatives as simple and straightforward as possible. Our partners get access to our free employer portal, where you can create new accounts for your warehouse staff and upload their account details to your payroll system in minutes, eliminating payroll costs by saving you time writing cheques and organising cash.
Our Multilingual Care Team Takes Care of Your Warehouse Operatives
Our multilingual customer care team offers your workers the support when needed, so you don't need to worry about answering account queries. Your employee's can get the guidance and support they need, in the language they're most familiar with, including:
English
Romanian
Bulgarian
Polish
Spanish
Russian
We will also provide your distribution centres with a range of literature tailored towards your staff in multiple languages to explain more about us and save you the time from answering account queries.
We're Here to Help, Whenever You Need Us
We pride ourselves on providing efficient and concise customer service, so when you partner with us, you'll gain your own dedicated account manager who's here to support you whenever you may need. We work around your busy schedule, so, whether it's a face-to-face meeting, phone call or email – we're here to help.
Preventing Financial Exclusion and Modern Slavery
Our experience within this sector has allowed us to notice the link between financial exclusion and the increased risk of modern slavery. We believe that by ensuring your staff have access to a secure account, we can collectively help to combat the abuse, that can so easily go unnoticed within the industry.
Speak to one of our dedicated account managers to find out how we can elevate your payments.
Partner With Us
Find out more about our FREE business services.