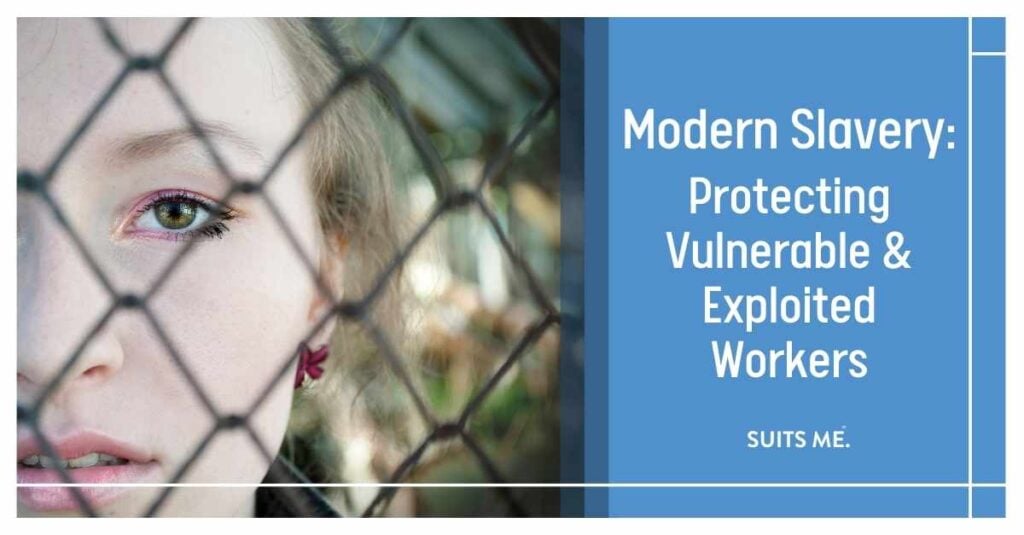 Over 10,000 people in the UK are estimated to be victims of modern slavery, and the number of convictions is growing each year. Victims have their passports confiscated, are illegally trafficked into the country, or forced into jobs under the threat of punishment – and nearly all of them are hidden in plain sight.
In this blog post, we explore how workers in your supply chain are exploited, who's looking out for them, and what can you, as an employer, do to help put a stop to modern slavery?
What is Modern Slavery?
Modern Slavery is where adults and children are exploited for another's personal or financial gain. It's a blanket term that covers any and all examples of slavery, trafficking, and exploitation around the world today.
The usual word "slavery" usually conjures up images of chains, blatant violence, and international trade. Slavery today, however, usually involves the coercion and manipulation of vulnerable people on the back of false promises for a better life or a way to support their families.
The most concerning aspect of Modern Slavery is how widespread it is. Internationally there are as many as 40 million people in slavery, meaning there are more people in slavery on Earth now than were ever involved in the 400 years of the Transatlantic Slave Trade.
How are People Exploited Through Modern Slavery in the UK?
Victims of modern slavery are vulnerable to criminals who trick and trap them in situations where they're stripped of their human rights and freedom. Often baited with promises of work or social security, people are exploited in countless ways. Prevalent forms of Modern Slavery include, but aren't limited to:
Human Trafficking: Unlawfully transporting or coercing people for the profit or benefit of criminals. Victims often face exceptionally dangerous conditions when entering the UK illegally under the watch of border authorities.
Forced Labour: Where people are forced to do a certain service or job under threat of punishment. In the UK this is prominent amongst European migrant workers, but also applies to UK citizens and anyone illegally trafficked.
Debt Bondage: Victims are tricked into thinking they owe their employer or exploiter a debt, who then force them to work for little or no money until it's repaid. They might be threatened if they try to get help or spend the money, ultimately losing any financial independence until the so-called debt is repaid. People traffickers might say that the victims owe them money for their transport, for example. Sometimes it could even be family or friends who confiscate a vulnerable relation's wages.
These methods allow perpetrators of Modern Slavery to force people into lives of crime, domestic servitude, sexual exploitation, and even shockingly common examples of organ removal – in 2007 the World Health Organisation estimated that as much as 10% of global organ transplants performed done illegally.
As you can tell, the breadth and scale of Modern Slavery is massive. Cases of descent-based slavery, where people and their children are treated as an individual's property and forced into an early marriage, whereby people cannot refuse and are pushed into marriages arranged on their behalf, are also exceptionally prevalent.
It's also important to remember that, despite the headline-making atrocities of human trafficking being responsible for numerous Modern Slavery convictions, UK citizens are just as likely to be exploited here, in the UK, and abroad.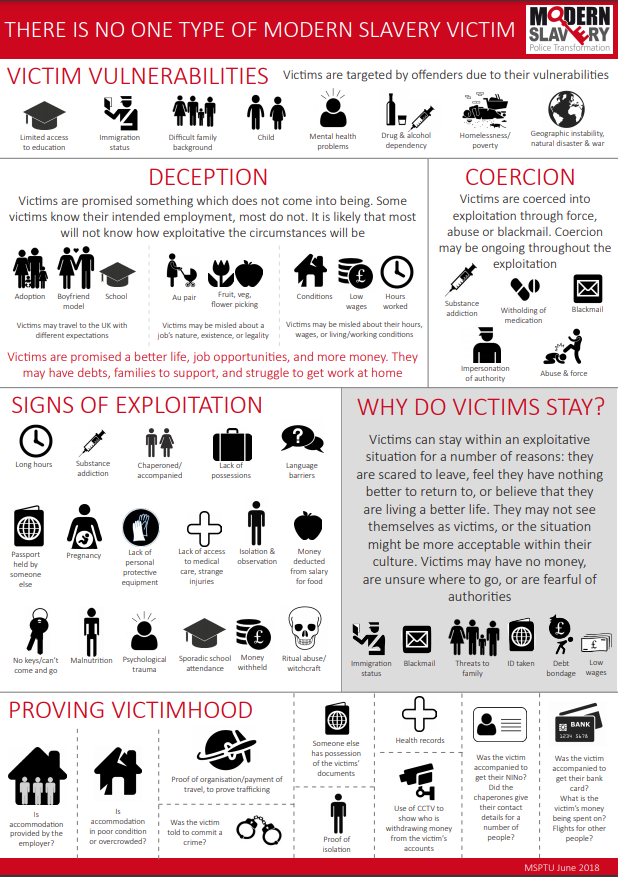 How Vulnerable and Exploited Workers are Protected
The Modern Slavery Act (2015) is the consolidation of all of the UK's Modern Slavery laws. It aims to both ensure criminals receive more significant punishments and that victims are given more access to legally mandated support.
The law has meant courts gained new powers in the event of a Modern Slavery conviction. Perpetrators could be issued with court-ordered restrictions to protect others and could be handed life sentences for incidents of human trafficking and slavery. Victims, meanwhile, were made the responsibility of the relevant secretary of state. They were given access to victim services and compensation using the perpetrator's seized assets.
Businesses of a certain size also had the added responsibility to disclose the actions they had undertaken on a yearly basis to avoid Modern Slavery in their organisation and supply chains.
The 2015 act likely made noticing offences easier, which is what the Office for National Statistics (ONS) said in their statistics on Modern Slavery in the UK. From March 2018-19, 5144 cases of modern slavery were spotted and recorded by the police, up from just 909 over the same period three years earlier. More oversight and a clearer set of definitions of what Modern Slavery is has made it easier to spot, prosecute and, ultimately, keep the country's most vulnerable workers safe.
British businesses, employers and labour providers are held to task by the Gangmasters & Labour Abuse Authority (GLAA). Using intelligence from the public and industry tip-offs or fact-finding inspections, the authority find examples of worker exploitation and help the authorities to disrupt serious crime in The UK.
Who are the GLAA?
The GLAA is the Non-Departmental Public Body, responsible for preventing worker exploitation, protecting vulnerable workers, and tackling unlicensed or criminal activity in the UK. Their responsibilities include inspecting businesses, responding to reports of worker mistreatment and lead vital investigations into allegations of illegal activity and modern slavery.
Whilst the GLAA's remit covers all businesses in British industry, there are some sectors that are more likely to be linked to modern slavery. These sectors are:
Agriculture
Horticulture
Shellfish Gathering
These industry's employ workers who are at higher risk of exploitation – 30% of the farming sector's workers are EU migrants, for example. As such, every business in these sectors, or involved in the packaging and processing of produce, must have their own GLAA licence.
GLAA licensing standards are rigorous and require all workers have safe working conditions, accommodation, be paid correctly and hired using reputable recruiters and above-board contractual agreements. Only once these criteria have been met can a business pass the 'fit and proper' test.
The GLAA have police-style powers in England and Wales to investigate labour market offences. In cases where serious breaches to the Modern Slavery Act is found, or other breaches to laws such as the National Minimum Wage or Employment Agencies Act, the GLAA hands all of their evidence to the relevant prosecutors.
How to Tackle Modern Slavery in the Workplace
Labour exploitation is the most reported kind of Modern Slavery in the UK – more so than domestic servitude, sexual exploitation and organ harvesting combined. It's essential for Labour providers and employers to be on the lookout for warning signs in and around their business.
Whilst certain organisations must have a GLAA license and will be more vigilant than others, each and every business in the country still has an extremely crucial role in stopping exploitation.
It's important to give Modern Slavery prevention the attention it deserves, but to spot it you have to rely on picking up the subtlest of signs:
Do your workers have financial control? Indicators that your workers don't have financial control, like a bank account name not matching theirs or workers appearing to spend their money strangely at work, can be contributing factors or signs of debt bondage and Modern Slavery.
Is your worker's movement restricted? Signs like having their ID or passport kept by others 'for safe keeping' could indicate potential human trafficking or debt bondage.
What's their behaviour or appearance like? The police and the GLAA often find victims of Modern Slavery in terrible conditions, suffering from physical and mental abuse in accommodation not fit for humans, without regular access to medical care. If you think there are worrying signs, for example, if someone appears injured or malnourished, do you think it could be a sign of Modern Slavery?
If you're concerned one or more of your workers are victims of debt bondage, for example, check to see where their money is being paid. If you're paying your workers in cash, do you know that they have full control and freedom to spend that money?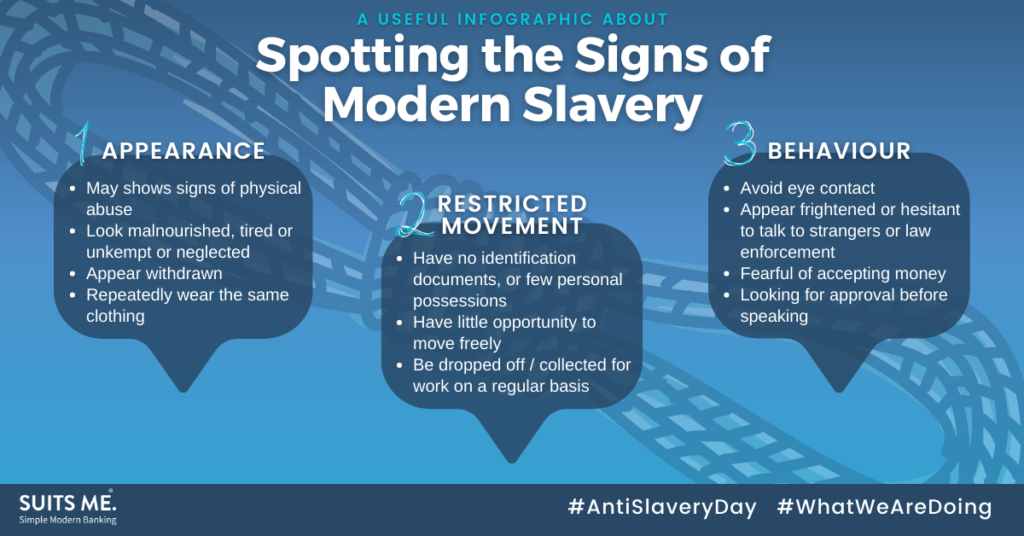 Responsibly Sourcing Your Labour
Labour providers in agriculture, horticulture, shellfish gathering and associated packaging/processing sectors are also regulated by the GLAA, so our best advice is to check to see if your chosen labour provider has their GLAA licence. There's a public register of all GLAA licence holders on their website, type in the company name to see when they were last inspected and their licencing status.
If your labour provider is properly licenced or doesn't require one because they supply workers to other sectors, you still need to ask your provider all the right questions. Check to see if they employ migrant workers, if you can easily access worker's contracts, if they're paid in accordance with the National Minimum Wage.
If you rely on a lengthy, convoluted supply chain you still have to make sure your monitoring process is up to scratch – don't become complacent because you think your labour provider has it all under control. Regular questioning and a thorough self-auditing/inspection process can make sure there aren't labour offences just out of your line of sight.
How to Report Modern Slavery
Anyone – employers, labour providers or individuals – can pass information about modern slavery onto the GLAA for further investigation. You can report issues over the phone, by email or using their online portal.
If you suspect any Modern Slavery related activity within your own business or supply chain your best course of action is to tell the GLAA as soon as possible. Their advice is to contact them and wait for their guidance, do not try to resolve the issue yourself. Attempts to take matters into your own hands could be dangerous for the safety of yourself or your workers.
If it does turn out to be the worst-case scenario and there is evidence of modern slavery, the victims will be removed and taken to a safe location whilst the GLAA and police will take action against their abusers.
In their own information about inspections and prosecutions, if you spot any incidents of labour exploitations or licence breaches within your own organisation quickly and honestly report to them, the GLAA may issue warnings instead of pursuing criminal proceedings. It's always best for you and your workers to get the GLAA involved as soon if you have serious suspicions.
👉 To learn more, check out our full guide on how to spot signs of modern slavery in the workplace.
What Suits Me® Does to Help Tackle Modern Slavery
At Suits Me® we've often noticed the links between financial exclusion – whereby people find themselves locked outside of the mainstream banking system – and the increased risk of worker abuse. We believe that by ensuring everyone has access to secure, modern banking we can help combat modern slavery.
Modern Slavery thrives when there's insufficient oversight in a company's procedures. Allowing practices to go unchecked – whether they be the quality of a workplace environment, workers' personal wellbeing or staff procurement procedures – they can create opportunities for criminals to target workers in a vulnerable position.
Debt bondage, as we discussed earlier, is one of the many ways that victims can be pressured into forced labour. The chances of it can be increased when workers are denied access to or don't know how to apply for a mainstream bank account. Being paid cash wages or sending payments into a third-party account can assist criminals to put more pressure on, and steal from, their victims.
Preventing Modern Slavery Through Alternative Banking
To easily mitigate these risks workers should be paid into their own personal accounts. Because we don't perform credit checks or need proof of address for any of our referred account holders, Suits Me® can provide banking services to the most vulnerable workers who, in many cases, have never had full financial security or don't usually reside in the UK.
If you're hiring workers who come to you without their own banking account, Suits Me® can open one, and provide you with their payroll details in minutes. Referred workers get their own online banking account and debit card, in their name, with their own account number and sort code. Plus, they'll gain access to all the banking features required to successfully manage their finances.
They get full, personal control of the account so you can be more certain their wages are being moved and accessed without outside interference. So, you'll have the peace of mind that their wages are going exactly where you expect them to, and they'll have all the benefits of an FCA regulated service that is there to help anyone on their financial journey.
Becoming a Suits Me® partner gives you a unique log-in to the Suits Me® employer portal. You can upload online account applications in bulk via CSV files or open individual ones as and when an employee is in need. Through the portal, you can view the progress of all worker applications and which can easily be tied into your pre-existing payroll system.
Related Posts