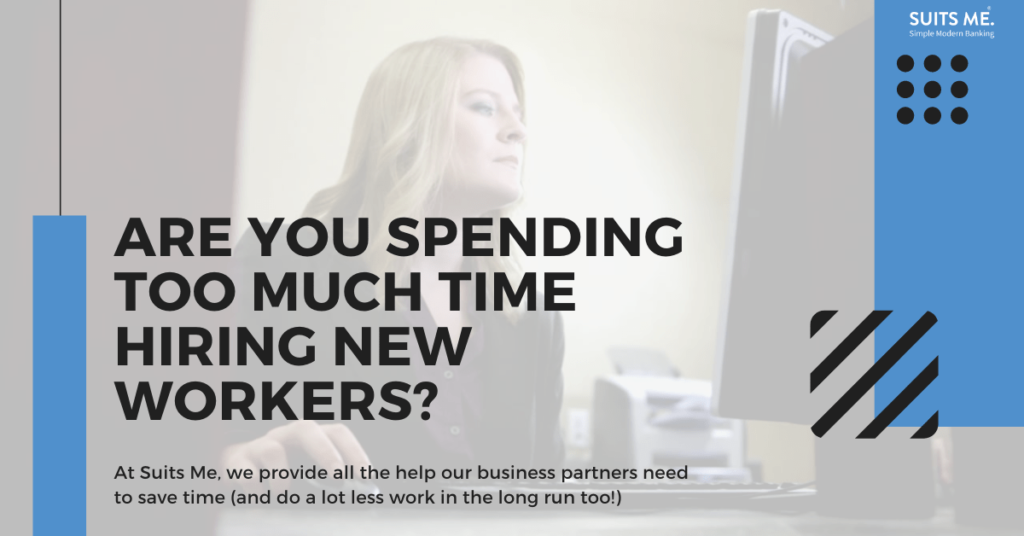 At Suits Me®, we provide all the help our business partners need to save time (and do a lot less work in the long run too!).
Hiring for any role can be tedious, even when everything goes according to plan. But when a candidate doesn't have a bank account to pay into, it can make a bad situation worse and you spend huge amounts of time trying to fix something, time employers can rarely afford.
Here's how we can help to eliminate that problem right off the bat:
What Issues are Costing You Time Right Now?
Employment and enrolment are typically lengthy, maybe even arduous tasks that we've found were they not essential and many businesses would rather not think about. Once you've filtered through applicants and selected the best candidate for the job you then need to think about how you're going to pay them.
Then, depending on your workforce, you might have to overcome language barriers, disputes, and arguments over their personal financial situations that you're specialised in resolving.
From our experience, here are the most common sources of gridlock we've seen.
Hiring Someone Without a Bank Account
Does this seem unlikely in 2020? It might surprise you that a large minority of people within Europe do not have access to mainstream banking, including well over a million UK residents. In fact, it's an issue impacting over 31% of the world.
If you're hiring substantial proportions of temporary labour workers from across the continent (we're almost certain that you've encountered this before) and they don't have a bank account it can make integrating them into your payroll system challenging and you might end up turning down the candidate. This is the case for many companies we've spoken to.
All the time and effort put into speaking to them would be wasted if not having a banking account is a limiting factor.
Cash or Cheque Payments
If you'd still like to hire those without a standard bank account or it's something you do anyway, you might want to pay by cash and cheque instead. This might seem like a quick fix but can quickly dissolve into a weekly or monthly nuisance you could do without – it simply adds too much time onto an already difficult process.
Cash payments could raise security concerns if your business has to regularly store large quantities of money on your premises, and the simple process of writing out checks is an old-fashioned activity that should have been made redundant long, long ago.
In fact, we've written a whole article on why cash payments are dying out.
Language Differences
Depending on your sector, a decent-sized group of your workforce might not speak excellent English and as such payroll discussions can't be easy. Out of the companies we work with we know that the migrant workforce is absolutely essential and that 70,000 migrant workers are hired each year in agriculture alone, so it's an unavoidable and laborious issue.
Suits Me® found that out of our account holders over a third (34.27%) preferred speaking Romanian and over a quarter preferred speaking Bulgarian or Polish. This, combined with what we've heard from our business partners tends to make us believe you'll have a big (and probably lengthy) task on your hand suitably translating all of your answers to a standard which helps everyone.
As we said, you can't and probably shouldn't avoid hiring those whose first language isn't English.
Regular Support
Once you've decided whether or not to hire someone without a bank account thought about if paying them with cash or cheques is worth it, and finally scaled the language barrier, you then need to consider the amount of time it takes solving all the issues you're likely to encounter.
If your employees have questions about their wages, saving, spending or any other topic on the financial spectrum it would fall to you to answer everything meaning, even if you don't have the answers, you'll have to prepare yourself to invest a lot more time trying your best to help.
Putting your employees to one side, you're usually alone too, trying to use whatever software or other tools alone when optimising your payroll leaving you up to your neck in user manuals and customer service queries that aren't tailored to your personal situation.
What Suits Me® Does to fix These Problems
If you've read the above and you've had flashbacks to very similar, stressful and above all long-winded problems, here's what we do for our partner businesses to essentially eliminate all of those concerns.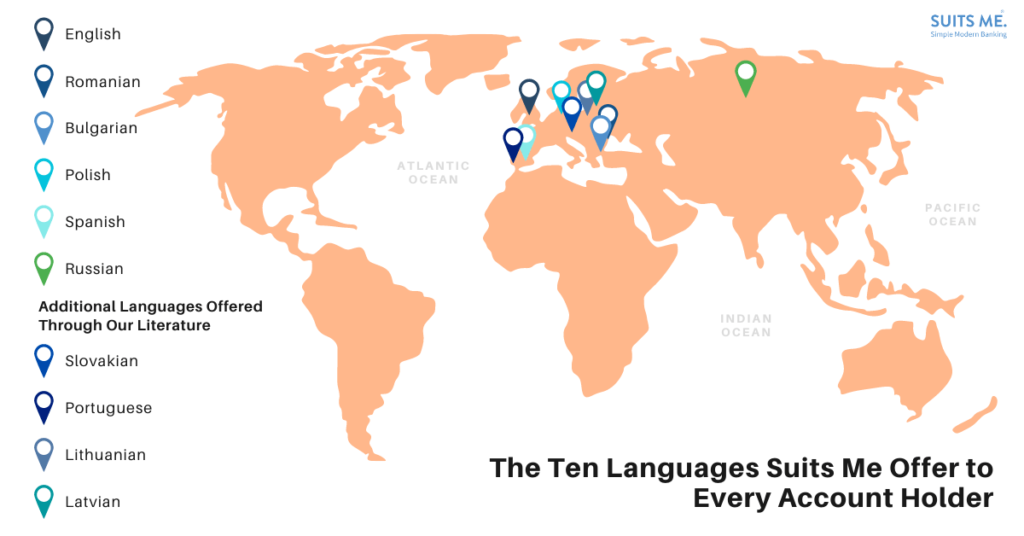 Payroll Cards Open to Every Worker
Suits Me® gives our partners the tools and knowledge to give their staff an easy to use and load payroll card. These are debits cards tied to an award-winning Suits Me® online-only banking account.
Any worker signed up gets an account their own account number and sort code for you to easily integrate into payroll and swathes of modern banking features they'd expect of a high street alternative. We don't require proof of address or carry out credit checks so, no matter your worker's background, they can have an account.
The Suits Me® employer portal makes this process streamlined, it's free to use and, significantly, doesn't add time onto enrolment. You just need to enter their name and contact details, something you'll get from them anyway, wait for the accounts to be created and add them to your payroll system.
Then they'll get instant access to their new online account and a debit card will arrive in the post three days later. Meaning your cheques and cash-based payroll can be thrown out of the window (figuratively only, of course) and you don't have to start all over if you discover your candidate is unbanked.
Multilingual Support Taking the Stress Off You
We make sure none of our account holders are at a disadvantage, so our growing customer care team has English, Romanian, Spanish, Bulgarian, Russian and Polish speakers. When talking about money-matters, total understanding and control are essential if you want to trust your banking provider. We believe the easiest way to do that efficiently is to do it in your own first language.
If you're staff have any concerns regarding their banking situation, when their wages should reach their accounts or how to effectively use their new banking account send them our way and we'll do our very best to help them. If you think a simple leaflet or starter guide will do, we'll post as many of our professionally translated reading material as you need – completely free of charge.
So, stop wrestling with Google Translate and let us do the hard work for you. We've also written a full blog on multilingual support too.
Our Dedicated Accounts Team
What separates Suits Me® from a regular high street bank partner is our dedicated, regular support. Our team of account managers are there to help you sort out all things Suits Me®, we don't sit back and let you do the rest on your own.
Your personal account manager is there to provide on-site employer portal training and is your port of call if you have any questions regarding your service. If anything crops up with the employer portal you don't understand, give them a call.
If your workers all have the same questions about how their Suits Me® account works, speak to your account manager and they can help to support all your employee needs.
They're there to help, but mostly they're there so you can save as much time and effort as humanly possible.
Banking on Suits Me®
Have we got you thinking about all the time we could have saved you already?
Get in touch with us today by emailing info@suitsmecard.com with your contact details and we will get back to you as quick as possible!
Related Posts