Looking for a Prepaid Card?

Open a Suits Me account online in under 10 minutes and get your free contactless prepaid Mastercard® card.
No credit check or proof of address
A free prepaid Mastercard® debit card
Current account with mobile and online banking
Get Your Free Prepaid Card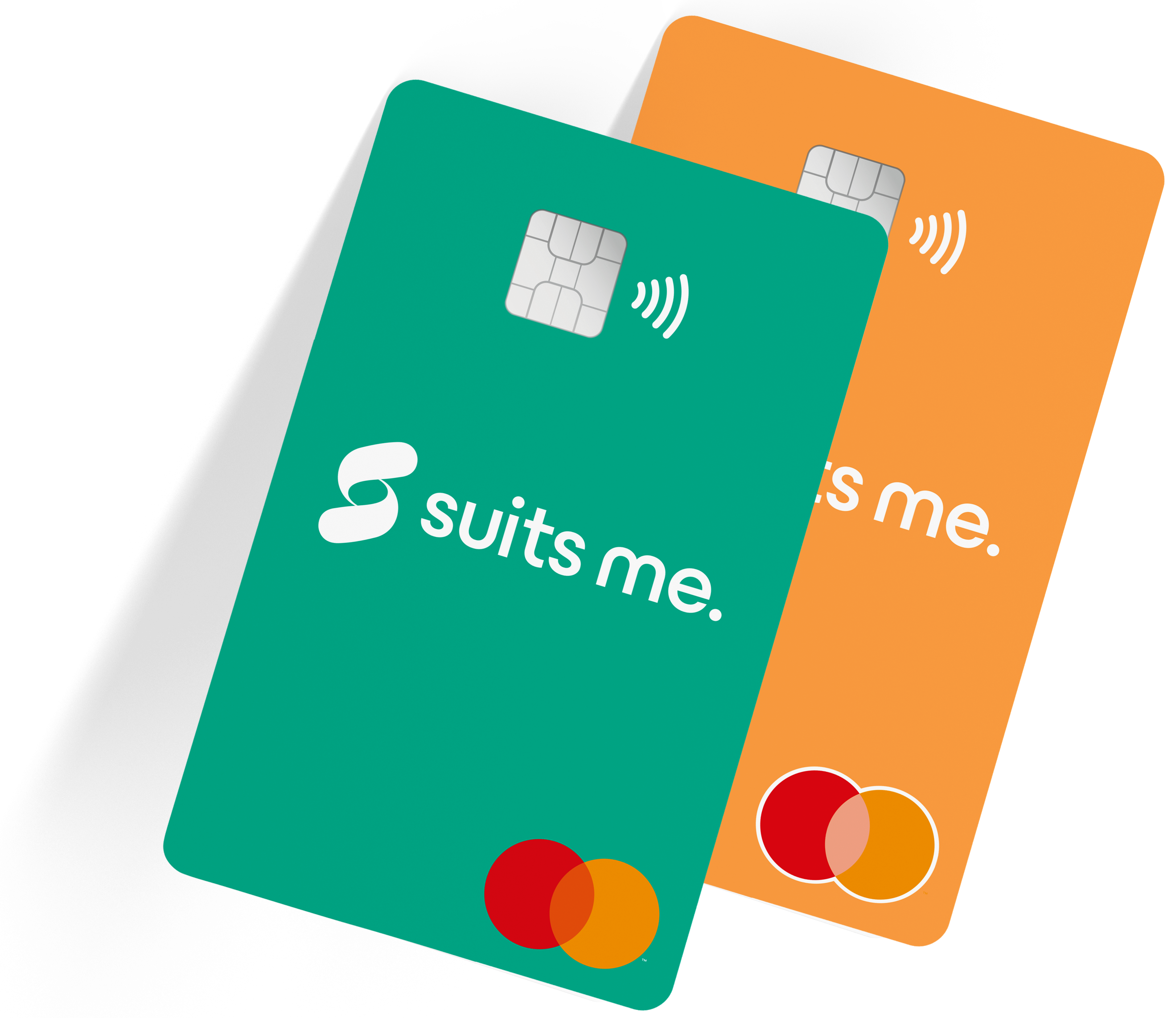 What is a Prepaid Debit Card?
A basic prepaid debit card is a payment card that isn't linked to a bank account in the traditional sense. They're usually basic 'top up and go' payment cards that can be loaded with money at a Post Office or PayPoint store. They're called prepaid cards because you have to add money before you can use them.
Unlike a credit card or a debit card with an overdraft attached, you can only spend as much money as you add to a prepaid cash card.
Suits Me is More Than a Basic Prepaid Card
Basic prepaid cards don't come with extra banking features including Direct Debits, standing orders and bank transfers. But our prepaid Mastercard® debit card does – and lots more. It works similarly to a traditional debit card linked to a bank account.
As well as being able to top up with cash, you'll get an account number and sort code that you can give to your employer to have your salary automatically paid in. You can also receive bank transfers using these details.
You'll make payments in the same way you would with a bank card too – for example, using chip and PIN or tapping for contactless payments. You can also use our prepaid card to pay online or over the phone, withdraw cash from ATMs, and set up automatic payments for bills.
And just like a regular debit card, you can see your prepaid Mastercard® card balance and recent transactions through online banking and our handy mobile banking app.
What are the Benefits of Our Prepaid Debit Cards
Our prepaid money cards are great for lots of different people, from foreign nationals to freelancers and those who simply want to manage a budget. Here are five reasons to get yours:
Accessible: Unlike a traditional bank account, you can get a Suits Me prepaid card with no credit check or proof of address. You'll just need one form of ID, a selfie and less than 10 minutes of spare time!
Great for budgeting: Prepaid cards only allow you to spend as much as you add to them, so you can't go overdrawn.
Secure: Prepaid debit cards are safer than carrying cash. Your money is protected by your unique PIN, and it's easy to block and unblock your card in our app or online if you lose it.
Easy to top up: Adding money to your card is quick and easy. Top up with cash at over 28,000 UK PayPoint locations, get your wage paid in automatically, and receive UK bank transfers.
Easy to use: Use your prepaid Mastercard® card to pay in-store, online or over the phone. Add your card to Google Pay or Samsung Pay for contactless mobile payments. Withdraw cash securely from ATMs wherever, whenever.
Where Can I Use a Prepaid Mastercard® Debit Card?
You can use our prepaid cards in lots of places, just like regular debit cards! We use the Mastercard® payment network, which means you can use it wherever you see the Mastercard® symbol. That could include:
Your favourite shops, restaurants, cafes and bars
Websites for online shopping
Mobile apps, for booking taxis or ordering food, for example
ATMs for cash withdrawals
Lots of public transport services, including Transport for London buses and on the London Underground
You can use your card for both chip and PIN and contactless payments.
The Suits Me Card and Prepaid Account

Your Suits Me prepaid card will be linked to one of our current accounts. So not only do you get a free contactless Mastercard® debit card, but you'll also have online banking and a mobile banking app to manage your finances. Plus, you'll get access to bonus Suits Me features including great cashback rewards!
And while many other prepaid cards come with set-up fees, our account, mobile banking app and Mastercard® debit card are completely free to set up with no delivery charges!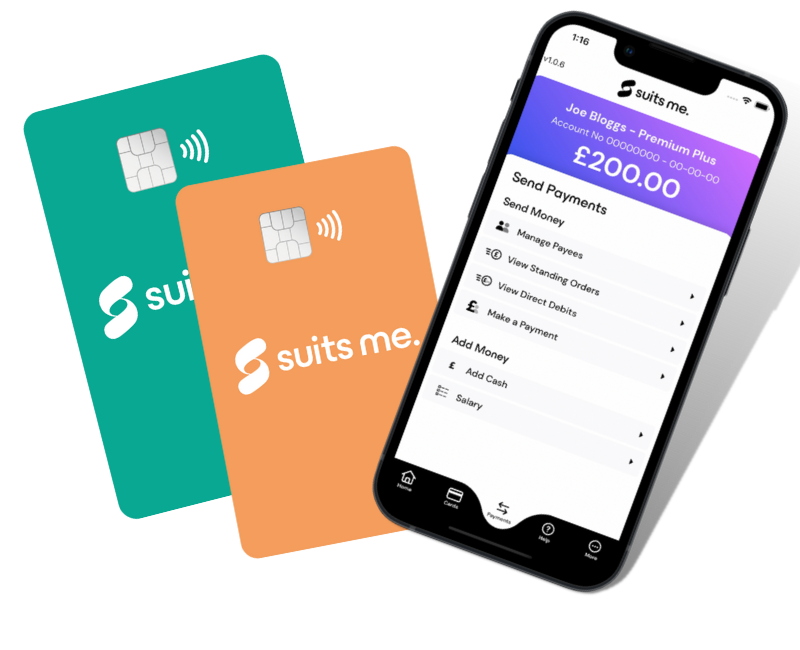 Suits Me Prepaid Account Features
Once you've opened a Suits Me prepaid account you'll get access to lots of great banking features that can help you spend, send and save your money easily. Select a feature below to learn more about how it works and why you might want to use it.
The Difference Between a Suits Me Prepaid Account and a Traditional Bank Account
Suits Me isn't a bank, it's an electronic money institution. But we offer prepaid cards online and lots of features that are similar to, or the same as, those offered by banks.
We aren't as strict when it comes to opening an account either, so we're ideal for people who struggle to access traditional banking services. Key differences between a Suits Me prepaid account and a traditional bank account include:
1. No High Street Presence
We're an online banking solution. We don't have physical branches – but we do have a multilingual customer care team. You'll manage your e-money account via online banking and our mobile banking app.
2. No Credit Facility (Overdraft and/or Credit Card)
We don't currently offer credit like a separate credit card or overdraft facility. Having no credit available could be helpful if you've struggled with managing money in the past.
3. No Credit Checks or Proof of Address
We don't ask for a perfect credit history or proof of address to open an account. We aim to offer high-quality financial services to people who are often excluded by high street banks.
4. No Credit Facility (Overdraft and/or Credit Card)
Our money isn't protected by the Financial Services Compensation Scheme (FSCS) – but we keep yours safe in a protected bank account that we can't access. We follow Financial Conduct Authority (FCA) requirements and The Electronic Money Regulations 2011 too.
How Much Does a Prepaid Contactless Card Cost?
From transaction fees to inactivity charges, prepaid cards can come with a range of different fees that might catch you out, so it's smart to research the terms before signing up. We're fully transparent with our costs so you'll never pay more than you expect.
We offer two prepaid accounts – Premium, and Premium Plus – that come with slightly different fees. Here's how our Premium Plus account works:
£9.97 monthly fee
Free prepaid Mastercard® debit card delivered within 3-5 working days
4 free UK ATM withdrawals per month
£0.50 + 2.6% fee for cash top ups
Free online banking account
Free mobile banking app
One-off first money loading fee of £9.97
Visit our costs page for a full breakdown.
How to Add Money to Your Prepaid Account
Got your card in the post? You can add money to your instant-use prepaid debit card as soon as you've activated it. Choose from three quick and easy ways to add money.
Get Your Wages/Salary Paid in
Our prepaid card comes with an account number and sort code. Give these details to your employer and get your wages paid in automatically on payday. If you receive benefit payments, you can have them paid in too.
Top Up with Cash
You can add cash to your card instantly at over 28,000 PayPoint locations across the UK, including convenience stores and off licences.
Transfer from Another Account
Transfer money from another bank account. UK bank transfers are usually instant. You can also transfer from abroad with our partner available in the Suits Me app.
There are limits to how you add money to your prepaid card, including a maximum balance of £10,000. Read more about our prepaid account limits.
Are Prepaid Debit Cards Secure?
Prepaid cards are a safer and more convenient option than carrying large amounts of cash or small change around. We'll keep your Suits Me card and account secure in other ways too, though:
We won't send your prepaid debit card PIN by post
You'll access your mobile banking app using a 5-digit PIN or your unique fingerprint
Enjoy secure online banking with full account encryption and site-wide HTTPS protection and SSL certification
Block and unblock your prepaid card instantly through online banking or your mobile banking app
We follow FCA guidelines by keeping your money in segregated bank accounts we can't access
In the unlikely event we go out of business, your money will be protected by the UK Electronic Money Regulations 2011
Who Can Get a Prepaid Card with Suits Me?
We don't have the same strict criteria as some high street banks and we don't offer credit facilities. That means we can offer prepaid debit cards for migrants, people with poor credit history and those who've been recently bankrupt.
Basically, anyone who might otherwise be financially excluded can get a Suits Me prepaid card online! All you need is:
To be aged 18 or over
To have a UK address so we can post your prepaid card (you don't need proof of address documents to open an account)
To have one form of ID such as a UK driving licence, passport or national ID card
Get Your Suits Me Card in 3 Days

Open Your Account
Open your Suits Me prepaid account online in minutes with no credit checks or proof of address and gain instant access.
Get Your Free Prepaid Card
You'll get your free prepaid Mastercard® debit card in the post after 3-5 working days.
Enjoy the Benefits
Start spending, earning, and saving with your prepaid card and account.
When Can I Start Using my Suits Me Prepaid Card?
You can start using your Suits Me prepaid Mastercard® card as soon as you've received it in the post and activated it. Activating your card is quick and easy, whether you do it over the phone or through your online bank account.
You don't have to wait for your card to arrive to set up your account and start managing your money either. You'll get your account details right away, plus instructions on how to set up online and mobile banking.
Why Open a Prepaid Account with Suits Me?
Suits Me is a happy midway point between a basic prepaid card and a high street bank account. We're perfect for those needing a quick and simple banking solution and more than a basic top-up-and-go-style prepaid card.
We're inclusive too. We offer a banking solution that is available to everyone, including:
Financial Inclusion
For various reasons, sometimes people struggle to get a bank account with a traditional high street bank and become financially excluded. At Suits Me, we're driven by our belief in equality and financial inclusion.
Cashback Rewards
Our prepaid account holders get fantastic benefits including cashback rewards.
With our cashback programme, you get a percentage of purchases back with our partners when using your prepaid Mastercard® card to make payments. Those partners include Asda, Sainsbury's, Argos, B&Q, Halfords, Pizza Express, and Yo! Sushi.
You'll find a full list of our partners within your online banking account and mobile banking app, which you'll gain instant access to once you've opened a Suits Me account.
No Credit Checks
No credit checks or proof of address and 99.8% of applications are accepted within minutes.  We're the ideal alternative banking solution for the unbanked and underbanked. And because we don't carry out credit checks on applicants, your credit score won't be affected.
This also means you won't be discriminated against if you've not lived in the UK long enough to build a credit history.
Customer Care
Our friendly multilingual customer care team speaks English, Romanian, Polish, Bulgarian, Russian and Spanish. So if you're not a native English speaker, we can help you in a language you feel comfortable in. Our customer care team are available 5 days a week and can be contacted using any of the details below.
Email: hello@suitsmecard.com
Phone: 03330 151 858
Live Chat: Positioned to the bottom-right corner of our website
Open Your Suits Me Prepaid Account Today
Struggling to open a bank account? Looking for something more than a basic prepaid card? Not sure how you can manage your finances with bad credit or no address history? Our e-money current account could be the perfect solution!
5 Facts About Prepaid Debit Cards
Useful Information
Got a question? You might find the following articles and guides useful. You can also check our full FAQs.
Prepaid Card FAQs
We also have lots of FAQs relating to our prepaid debit cards.
Open Your Prepaid Account Today
Get your FREE prepaid Mastercard® contactless debit card in 3-5 working days with no credit checks!