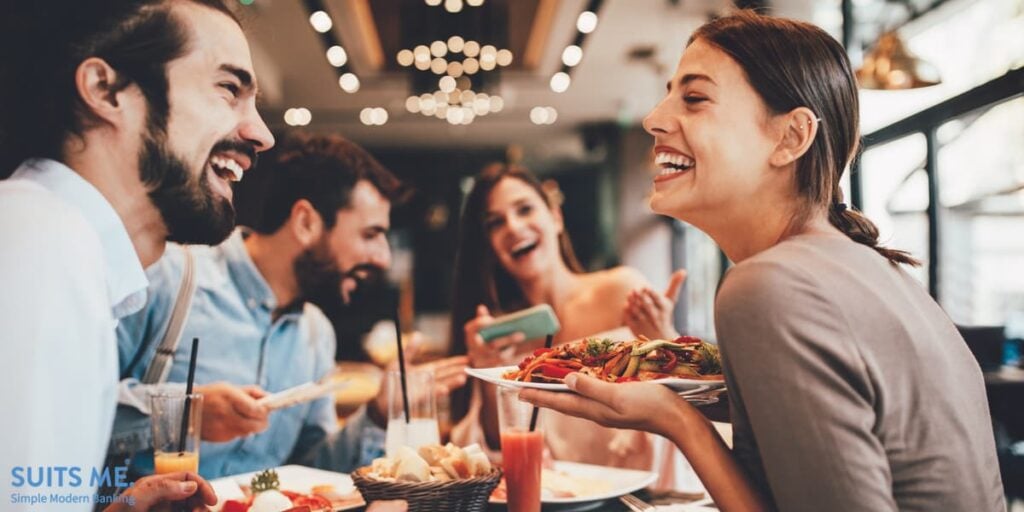 With Suits Me®, you can get an extra discount on top of the 50% off when you take advantage of the Eat Out to Help Out scheme which ends next week!
You can get 8% money back with Pizza Express and 10% back with YO! Sushi when you pay using your Suits Me® debit card as part of the Suits Me® Cashback Reward Scheme.
The Eat Out to Help Out Scheme allows you to get 50% off your food and non-alcoholic drink when you eat in at participating stores every Monday, Tuesday and Wednesday until the end of August. Just ask for the discount when you pay and you'll get 50% off. Anyone can redeem it and you can do it as often as you want!
To add to that, Suits Me® customers can receive an extra discount when you pay for your discounted meal if you eat with a Suits Me® cashback retailer, you can expect your cashback percentage to be deposited back into your account at the end of the month.
One of our partners is Pizza Express, a familiar sight on the UK high street, and you'll get 8% off your bill after your 50% off has been applied. If you want to use your Tesco Clubcard vouchers or your TOTUM or UNIDAYs student discount you can, with your extra cashback when you pay with your Suits Me® card too!
If pizza's not your thing and you're in the mood for a Japanese-inspired meal why not try YO! Sushi, where you'll get 10% back off your bill. Also participating in Eat Out to Help Out, you'll receive your Suits Me® discount as a percentage of how much you spend in-store.
YO! Sushi has been gradually reopening their stores over the last couple of months and has more than 70 restaurants in the UK.
After opening a Suits Me® account you'll be entitled to exclusive cashback rewards whenever you use your Suits Me® debit card. You won't only save when you eat out, you can earn cashback when you shop with Asda, Sainsbury's and M&S during your weekly shop or when going out for an adventure with Virgin Experience Days.
Your cashback is added up and deposited into your Suits Me® account at the end of each month. If you've already opened your Suits Me® account, look out for your "loyalty cashback rebate top-up" on your next statement.
Notes to Editor
Suits Me® are an alternative banking solution that offers an e-account with a mobile banking app and a contactless Visa debit card. Suits Me® began in 2015, helping customers who needed a banking account quickly and are looking for an alternative to using a high street bank.
Many of our customers do not fit the profile of a typical 'high street bank customer' but want all the features the accounts have to offer, such as a contactless debit card, a mobile banking app, setting direct debits and managing savings effectively.
Contact
Kim Roberts
Marketing and Communications Director
Phone: 01565 745 647
Mobile: 07855 503 443
LinkedIn: Kimberley Roberts