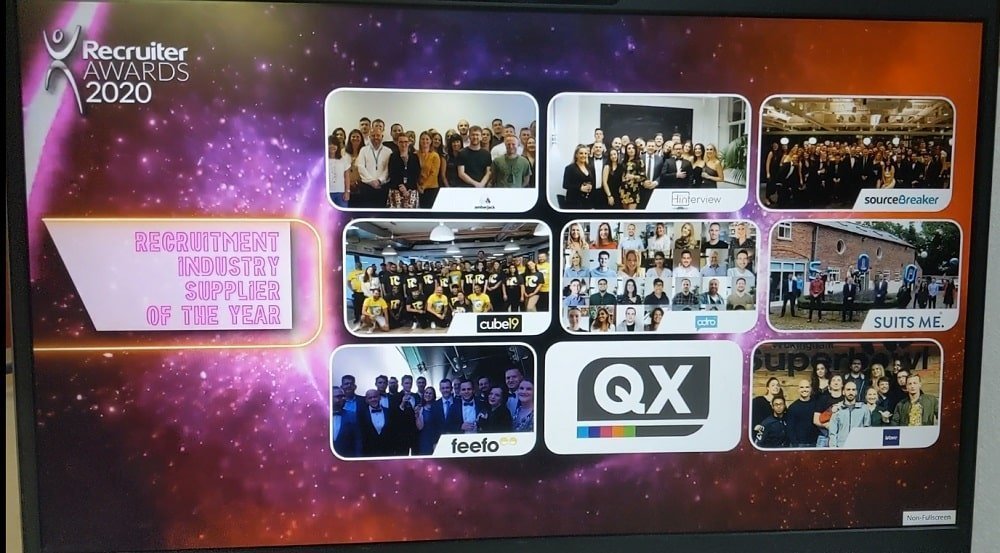 (24th September) The winners of the Recruiter Awards 2020 were announced virtually today, Thursday 24th September. As part of the Supplier Awards, Suits Me® were nominated for the Recruitment Industry Supplier of the Year. Among key players in the recruitment industry, Suits Me® were up against the likes of Wave, Sourcebreaker and Feefo.
The banking solution, which provides a current account to people currently residing in the UK, shone through against others in the category for its hassle-free solution. Recruitment agencies can easily pay their workers straight to their Suits Me® account, even with no UK proof of address. The unique offering means banking and money management is inclusive for all workers.
Although the event was streamed online, companies showed up to make it as memorable as previous years. Social media was rife with pictures and speeches, showing where winners were watching from. Including social distanced office spaces and make-shift home awards tables.
The Recruiter Awards are recognised for being the most prestigious honours in the recruitment industry. They recognise best practice and celebrate the great work and achievements from in-house, agencies and individuals.
Kim Roberts, Marketing and Communications Director for Suits Me® said:
"It was an honour to be shortlisted for the recruitment supplier of the year award. We work closely with all of our recruitment agency partners and value the relationship we have with them. Without this partnership, we would not be able to help set up current accounts for workers that need them the most"
Sue Weeks, tech writer at the Recruiter congratulated all shortlisted in the category, saying:
'This was a strong category and thanks for all applying. Well done to the Recruiter for bringing us all together in tough times!'
Other categories in the awards included Socially Responsible Agency Award, which was a new category this year, Recruitment Technology Innovation of the Year and Most Effective Recruitment Marketing Campaign.
Congratulations to all this years' winners.
About Suits Me®
Suits Me® are a hassle-free alternative to traditional banking, offering a current account with access to online banking, a mobile banking app and a contactless debit card. Suits Me® was founded in 2015 to provide a current account to customers who may have poor or no credit history, no proof of address or struggle to open an account with a traditional bank. Currently operating in Cheshire, UK, Suits Me® gives people an alternative solution to a high street bank. Suits Me® do not perform credit checks, and provides exclusive cashback rewards.
Contact
Kimberley Roberts
Director of Marketing and Communications
Email: kroberts@suitsmecard.com