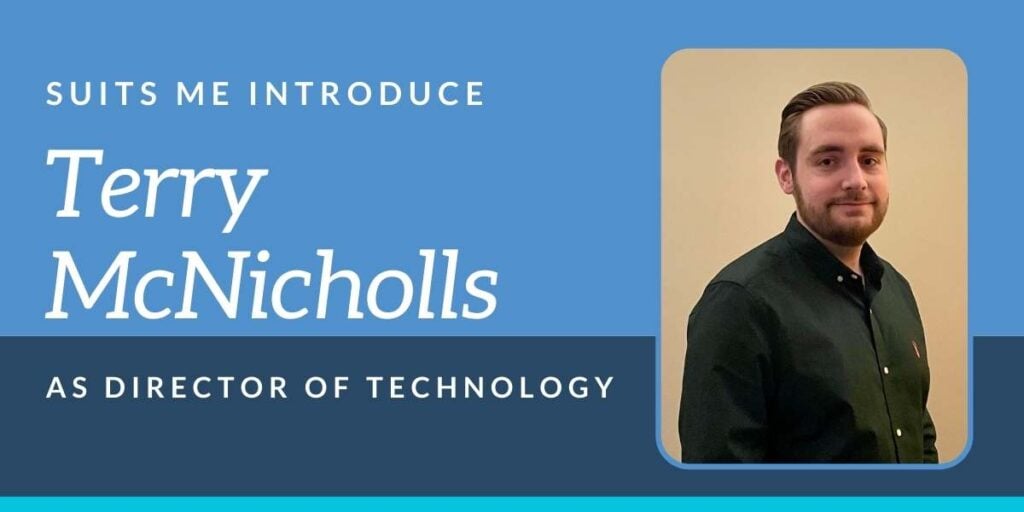 The alternative banking solution, Suits Me®, welcomes Terry McNicholls as the new Director of Technology, bringing with him a wide range of experience and knowledge.
(Feb 15. 2021, Cheshire, UK) Terry will be responsible for the development of Suits Me®'s IT offerings, helping to develop and deliver the company-wide digital strategy. He will be leading and growing an in-house team of developers, supporting them to build an industry-leading product.
Joining the Suits Me team after 6.5 years at the highly rated, flexible lending provider, Buddy Loans, where Terry served as Head of Development. In this role, Terry managed a team of developers and helped to grow the company from a start-up to a market-leading loan origination platform.
Richard Lynch, Managing Director, said: "We are very excited to welcome Terry to our team at Suits Me®. Not only will he help to deliver high-quality software requirements, but his vast industry experience will also bring creative new ways of developing both our internal and external IT infrastructure to further support our growing business needs."  
With over 12 years of experience in the tech industry, Terry couldn't be joining Suits Me® at a better time as they work on expanding their digital services and applications in order to provide an industry-leading, seamless experience for all account holders.
On starting his new position, Terry shared some of the areas of his new role he was most looking forward to.
He said: "I'm delighted to be taking up this new position and I'm looking forward to helping drive the next phase of Suits Me®'s evolution and growth. The opportunity to take ownership of the business' IT offering at this stage and shape the companywide digital strategy is hugely appealing and exciting." 
Terry plans to build a team that is as passionate as he is about delivering quality software, particularly in ensuring that the company remains agile and able to respond to changing business and market requirements. Additionally, he hopes to identify opportunities where Suits Me® can introduce new technologies and services to create a best-in-class customer experience.
###
Notes to the Editor:
Snapshot of an Average Suits Me® Account Holder
65% of account holders are male
Average age: 25-34
Nationality: English, Romanian, Bulgarian and Polish
Customer Values: Transparency, Honesty, Integrity, and Reliability
Links  
Link to Suits Me®: suitsmecard.com  
Contact  
Kim Roberts  
Marketing and Communications Director  
kroberts@suitsmecard.com  
07855503443 
About Suits Me®:  
Suits Me® are a hassle-free alternative to traditional banking, offering a current account with access to online banking, a mobile banking app and a contactless debit card. Suits Me® was founded in 2015 to provide an account to customers who may have poor or no credit history, no proof of address, or struggle to open an account with a traditional bank.   
Currently operating in Cheshire, UK, Suits Me® gives people an alternative solution to a high street bank. Suits Me® do not perform credit checks and provides all their account holders with access to their exclusive cashback reward programme.   
For more information, go to suitsmecard.com or follow us @suitsmecard on Facebook, Twitter, Instagram, and LinkedIn.