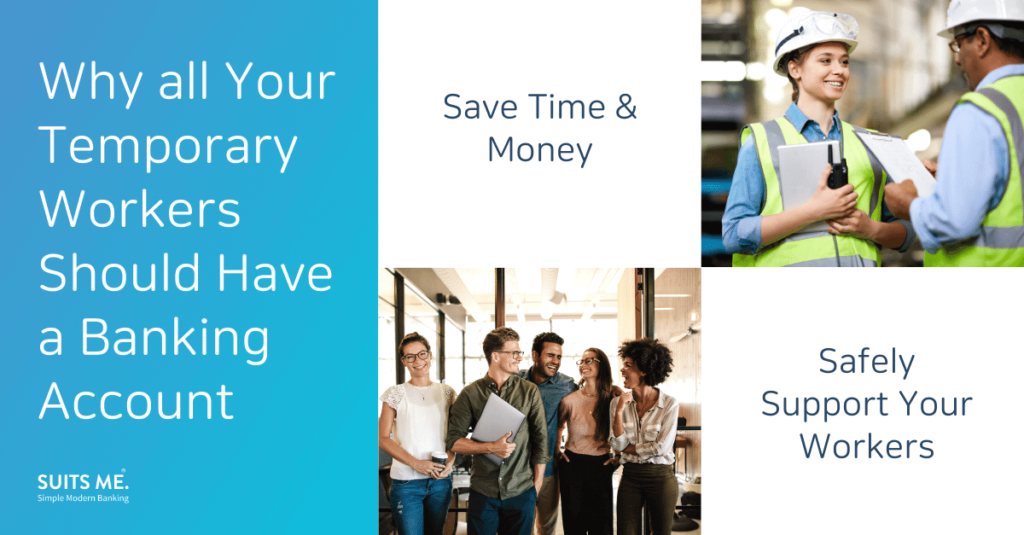 Even in these days of online shopping and cash-free living, more than 1.3 million people in the United Kingdom don't have access to a bank account. This can be a big problem for temporary workers and migrant workers, particularly if they have recently immigrated, as they often get declined for standard bank accounts due to a lack of credit history or no proof of address.
As an agency, you could make both your life and the lives of all the temporary workers on your books a lot easier by automatically signing up all your staff to a payroll card. Discover some of the benefits of payroll cards within this blog post:
Why all Your Temporary Workers Should Have a Banking Account
Membership of a payroll card can save you time, resources, and admin costs that you would normally incur when employing workers without a bank account.
You eliminate the need to print and distribute checks, for instance, as well as the time you would have to spend chasing timesheets and payments. This means you save instantly, but also in the long term.
Worker Retention Through Additional Benefits
Your workers will enjoy added benefits, such as a cashback rewards scheme or the ability to send money abroad.
These benefits are likely to lead to a happier workforce that is more loyal to your agency and clients as your workers are benefitting from a – plus a good agency reputation can never hurt to gain you more business in the future.
Helping Your Workers Make Ends Meet
Similar to the point above, temporary workers are likely to feel more secure and at ease when they are given the opportunity to manage their own money.
Having an e-money current account means that workers are able to take control of their funds. They can set up direct debits, buy items online, and withdraw cash at ATM's which will provide them with a better idea of where their money goes on a monthly basis.
Safely Supporting Your Workers
Providing your workers with a banking solution means that you're doing your bit to fight financial exclusion – ensuring your workers don't have to rely on cheques or deal with a large amount of cash on payday.
Suits Me® accounts do not require proof of address, or credit checks, meaning any worker in genuine need can get access to banking to manage their money.
Alternative Banking with Suits Me®
Here at Suits Me®, we offer much more than just a basic payroll card. Our accounts are personal e-money current accounts which work similarly to a traditional bank account. Your workers will gain access to online banking and our mobile banking app, where they will be able to manage their money on the go, 24/7.
We offer a whole variety of banking features including:
Becoming a Suits Me® partner is free, without any hidden fees. If you become a partner you can create a current account for your employees in seconds and their card will be sent to their registered address 3-5 days later. You'll get access to our employer portal where you can bulk upload the details of your employees and get an account number and sort code back for each in moments, saving you time, money and effort.