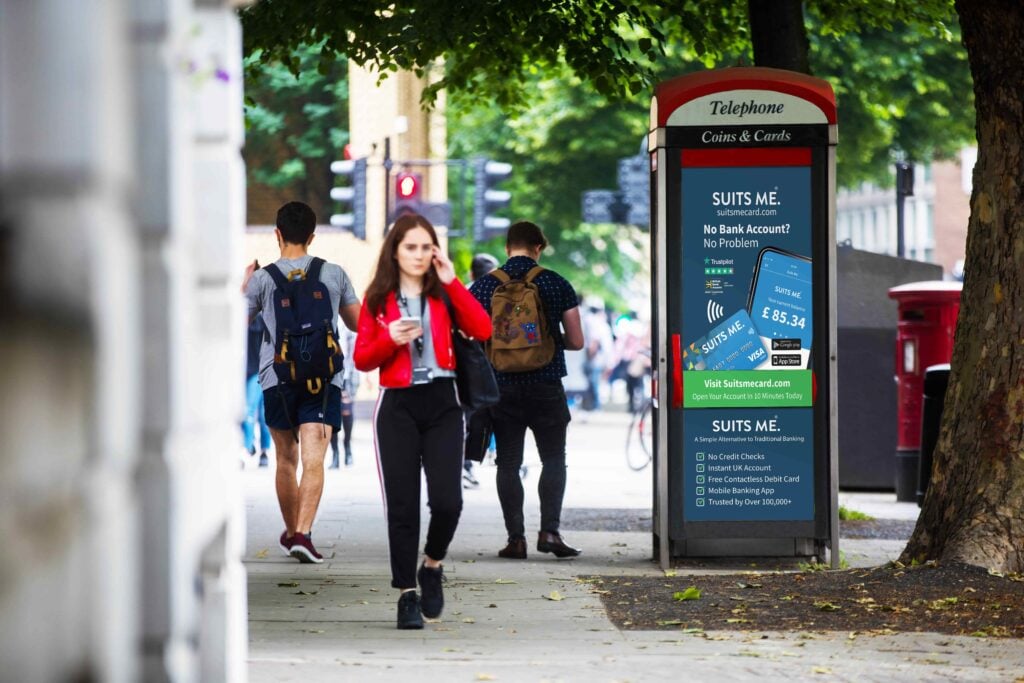 Suits Me®, an alternative banking solution for the underbanked, has unveiled a new promotional campaign on over 300 phone boxes across Greater Manchester.
(Cheshire, UK, 2. Feb) From the 25th of January to the 31st of March 2021, telephone boxes around Greater Manchester and surrounding areas will feature Suits Me® advertisements, aimed at capturing underbanked individuals in need of an alternative, yet modern banking solution to easily manage their finances.
Suits Me® worked closely with Media Clarity who are experts in buying advertising across all forms of media on this regional campaign. The adverts will cover an area ranging from Stockport in south Manchester to as far north as Bolton.
Kim Roberts, Marketing Director, explained the reasons for embarking on this campaign: "Just around the corner from Suits Me® HQ, Manchester allowed us to target areas of the city which typically have a higher percentage of people without access to banking and are often excluded from mainstream banking products due to their financial position, credit history or inability to meet the required criteria."
According to the Financial Conduct Authority (FCA), in the United Kingdom alone, more than 1.3 million people do not have access to an appropriate banking facility to manage their day-to-day spending and long-term financial objectives.
Therefore, Suits Me® realised how important it is to highlight the alternative banking options available, not only through digital marketing platforms but also through print-based advertising, in order to reach those in need of a banking solution and tackle financial exclusion.
Kim Roberts continued, "With this campaign, we hope to show underbanked individuals around Manchester that you can manage your finances successfully without needing a high street bank account, a good credit score, and proof of address." 
Alongside the phone box campaign, Suits Me® has launched a competition to win a range of Amazon vouchers by 'Spotting, Snapping and Sharing' a picture of the advert to any of their social media channels, including Facebook, Twitter, and Instagram. There are three prizes to be won, including a £150, £100, and a £50 voucher.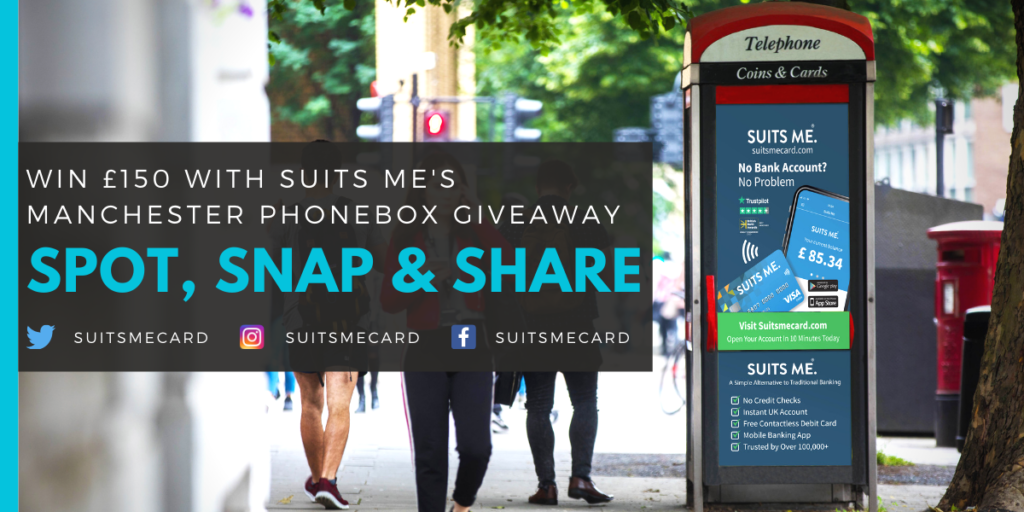 ###
Notes to the Editor:
Snapshot of an Average Suits Me® Account Holder
65% of account holders are male
Average age: 25-34
Nationality: English, Romanian, Bulgarian, and Polish
Customer Values: Transparency, Honesty, Integrity, and Reliability
Links  
Link to Suits Me®: suitsmecard.com  
Link to Media Clarity: https://www.media-clarity.co.uk/    
Contact  
Kim Roberts  
Marketing and Communications Director  
kroberts@suitsmecard.com  
07855503443 
About Suits Me®:  
Suits Me® are a hassle-free alternative to traditional banking, offering a current account with access to online banking, a mobile banking app and a contactless debit card. Suits Me® was founded in 2015 to provide a current account to customers who may have poor or no credit history, no proof of address, or struggle to open an account with a traditional bank.   
Currently operating in Cheshire, UK, Suits Me® gives people an alternative solution to a high street bank. Suits Me® do not perform credit checks and provides all their account holders with access to their exclusive cashback reward programme.   
For more information, go to suitsmecard.com or follow us @suitsmecard on Facebook, Twitter, Instagram, and LinkedIn.