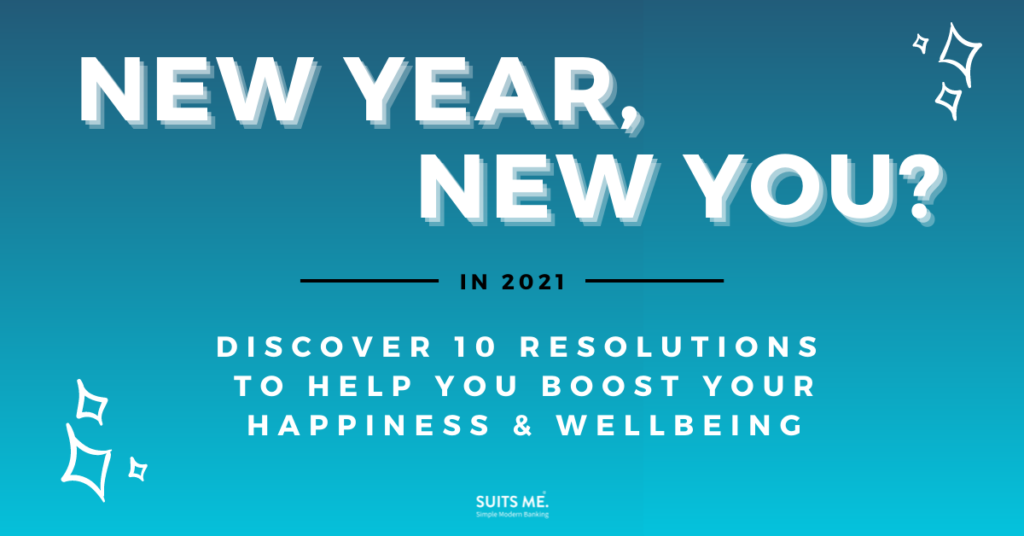 When it comes to New Year's Resolutions, we all have the staples that come to mind – like cutting out sweet treats and committing to a gruelling workout routine. But after a chaotic, COVID riddled 2020, choosing resolutions that also boost your happiness and wellbeing should be a priority.
You may be wondering where to begin with this, well don't worry, we've got covered with some unique and practical resolutions to add a bit of positivity to the uncertainty and help you achieve a healthy body and mind.
So, take some of that "new year, new you" inspiration and kickstart your 2021 the right way.
1. Build Yourself a Better Budget
Not only will this give you peace of mind (especially if you worry about money) but it will help you to see exactly where you stand with your finances and exactly how much money you can save or spent. Plus, it will be beneficial in the long run because once you've got the basics you can keep adding and adapting to accommodate any changes to your income or outgoings.
Set yourself a monthly reminder to make any changes or review your financial position – if you use a mobile banking app, it can help to keep an image of your budget on your phone, so you know exactly where your money needs to be distributed on payday.
2. The Gratitude Challenge
This one literally takes 30 seconds to complete but will help promote some positivity at the end of the day. Plus, there have been multiple studies proving that this activity increases mental well-being.
All you need to do is think about the top three things that you're grateful for – it can be anything at all, big or small, the choice is completely yours. Simple. As. That.
3. Spread Kindness (Not COVID)
Ever looked at a co-worker or someone you're passing in the street and loved their outfit or hairstyle but not mentioned anything until the moment has passed? Us to.
Expressing appreciation every day to a person is a simple pleasure in life that will not only boost your mood but also the receiver of your kind words. These little social interactions, especially if it's a person you see regularly, can help to break down barriers and form lasting friendships.
4. Put Your Family on Display
Agreed… this one sounds weird but decorating your home with photos, trinkets, or memorabilia from your favourite family members – especially if you're self-isolating, shielding or living apart from your family – can really have a positive influence on your mental health.
5. Commit to Taking a Break BEFORE it Gets too Much
The daily grind of life can really take its toll – especially if you're constantly juggling a million things in your work and personal life.
Research has found that by overstretching yourself you're at increased risk of burnout, mental fatigue, sleep issues, aches and pains, anxiety, and depression – which isn't going to get your new year off to a good start.
Take some time out of your day, whether it's ten minutes in the morning or an hour in the evening – set it aside just for you without any distractions. After all, it's easy to get caught up in the drama and stress of daily life but easy to underappreciate the positive encounters or experiences.
6. Dedicate Your Time to a Cause You Believe In
Even if it's just an hour a week, volunteering your time towards something you believe can do wonders for your pride, wellbeing and will help to give you a sense of purpose in this difficult time. All you need to do is make that call.
7. Veggies are Your Friends – So, Eat Them Regularly
Sometimes it's easier to reach for a pizza or throw some chips in the oven but vegetables not only help your physical health but also your mental wellbeing.
Fruits and vegetables contain a lot of vitamins and minerals required for a healthy head and heart. A study published in the European Journal of Epidemiology revealed that eating a Mediterranean diet (containing fruit, veg, legumes, beans, nuts, fish, and unsaturated fats) led to an improvement in cognitive function amongst participants.
So, set yourself a conscious target of eating ANY five portions of fruits and veggies a day – whether it's five apples or raw carrots and peppers, choose your favourites and add them to your weekly shopping list so you don't forget.
8. Donate Old Clothing to Give You Freedom
See-ya, ripped t-shirts and good riddance, tight-fitting jeans. Enough is enough – all these clothes which don't A) Make you feel comfortable and B) take up an unnecessary amount of space need to go.
Donate them to your nearest charity shop or sell them online, whatever is easiest for you, just got them out of your wardrobe and out of your life. This will help you to save time in the mornings and will help you to feel better about your appearance.
9. Invest in a Good Skincare Routine
Nope – this isn't just for the ladies; men can also benefit from some skincare TLC. Now, you don't need to spend hundreds, but a good face wash, exfoliator and moisturiser can do wonders for your skin and can actually help to lower levels of stress and anxiety as a daily routine can help to create a sense of stability and control – exactly what's needed in the midst of a pandemic.
10. Be Kind to Yourself
Possibly the most important change you can make in 2021. It's so easy to focus on the negative, all the things you should have done or said. Criticising your appearance or clothes. Enough is enough. You ARE good enough and you can certainly learn to love every aspect of yourself.
If you're serious about making changes to your lifestyle or looking to improve your mental wellbeing, then you need support – not a negative influence from your inner critic.
If you make a mistake, show yourself some compassion to help soothe any pain or embarrassment you may be feeling. Learn to forgive yourself and resolve to do better from now on and on those days where it's difficult to appreciate yourself think about your good qualities – everybody else does.
Show 2021 Who's Really Boss
Keeping our heads up and our mental health in check is incredibly important. We're all living through a global pandemic so it's vital you look after yourself and others where you can. The brain takes just 21 days to rewire and forge a new habit, so be consistent to begin with, and your resolutions will become second nature in no time at all.
Happy New Year!
Related Posts