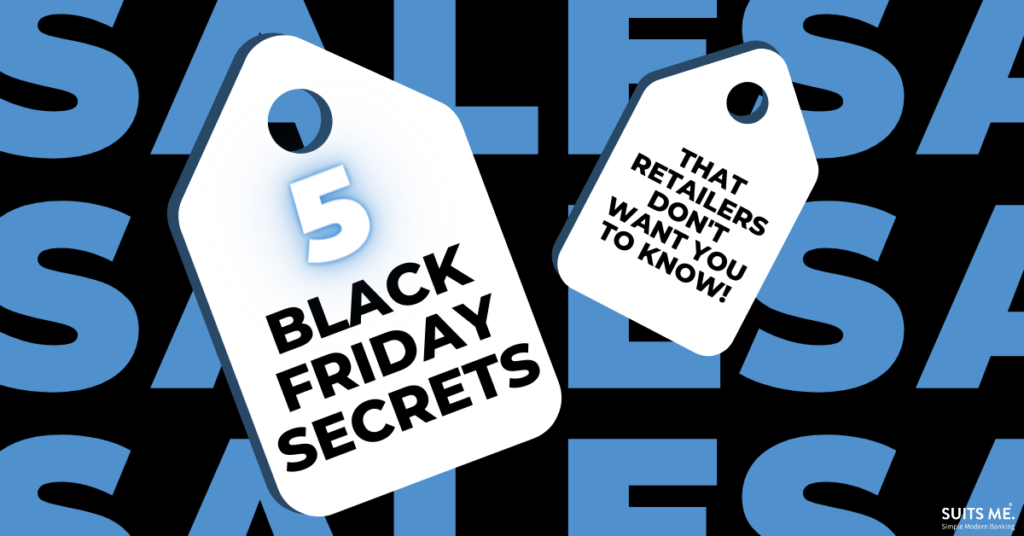 It's Black Friday! A time for snapping up the best seasonal deals. We've all had an incredibly challenging 2020, so whether you're looking to treat yourself or save some money on Christmas presents, there will be plenty to take advantage of this year.
So, these 5 secrets will help you to stay ahead of the annual Black Friday mayhem, avoid problems down the line, and shop like you've never shopped before!
Beware of Inflated Discounts
Here, research is key. It's not unusual for retailers to inflate their prices in the lead up to Black Friday to make their discounts seem bigger and better than they are.
A lot of stores will have an item on sale throughout the year but will only compare the Black Friday discount to the original retail price – even if the price in the store has always been below this.
In this case, it's important not to give too much notice to the actual percentage of discount and take notice of the products based on their sale price compared to what the item price is at other stores. This is will enable you to see if the discount you're getting is actually worth it before you make a purchase.
The Same Products Won't Necessarily Be the Same Price
It's always worth making a list of retailers or stockists selling the products you're interested in as the level of discount may not be the same across all the websites.
Additionally, it's not uncommon for the Black Friday rush to cause websites to crash and run incredibly slowly. If this happens when you're at the checkout it can sometimes lead to your payment being taken twice or the products in your basket disappearing and then being out of stock.
Take Advantage of Price Match Promises
Some retailers will match prices on Black Friday deals which is perfect if you find the same product sold cheaper elsewhere. It will take some leg work to get the difference refunded but it could save you a lot of cash.
If a store doesn't offer a price match option, they may offer to refund the difference if you notice a product you've purchased dramatically drops in price soon after.
The Fine Print is Important
Even if you've found a deal that's perfect, there could be more information that you need to be aware of in the fine print – making some Black Friday deals difficult to claim.
Certain shopping apps have something called "limited quantity deals" whereby only a small number of the item is offered at the discounted price and the first number of transactions that are processed will only get this discount and you will be notified by email if you were successful usually within 24 hours. If not, you will then get a refund.
This can leave many shoppers at a disadvantage as the Black Friday sale would have passed and they may not be able to find the same level of discount.
Additionally, some Black Friday clearance discounts can be non-refundable, or charge a fortune for returns if the product is not for you. It's always worth checking this before you purchase so you're not left out of pocket later down the line.
Plump up Your Discounts with Cashback
If you're due to spend a fair amount of money this Black Friday, it may be worth topping up your savings through cashback. There are many cashback providers you can use, from apps to cashback cards, which will give you money back on the money you spend.
Some apps such as Quidco, are incredibly useful in saving you cash but it's worth noting that the discount can take a while to arrive in your account. It's also worth checking that it's actual cash you're getting back rather than vouchers of reward points.
Additionally, at Suits Me® we have an extensive cashback reward programme where we've partnered with some top retailers to give our account holders the best cashback rewards possible.
We're partnered with retailers including Argos, Foot Locker, Virgin Experience Days, New Look and many more. All you need to do is use your Suits Me® debit card online or in-store with one of our retailers and we'll do the rest.
At the end of each month, we'll calculate all the money you've spent at our partner stores and work out how much discount you'll earn. We'll then automatically pay your discount into your Suits Me® account for you to spend, save or withdraw in cash. The choice is yours.
Related Posts