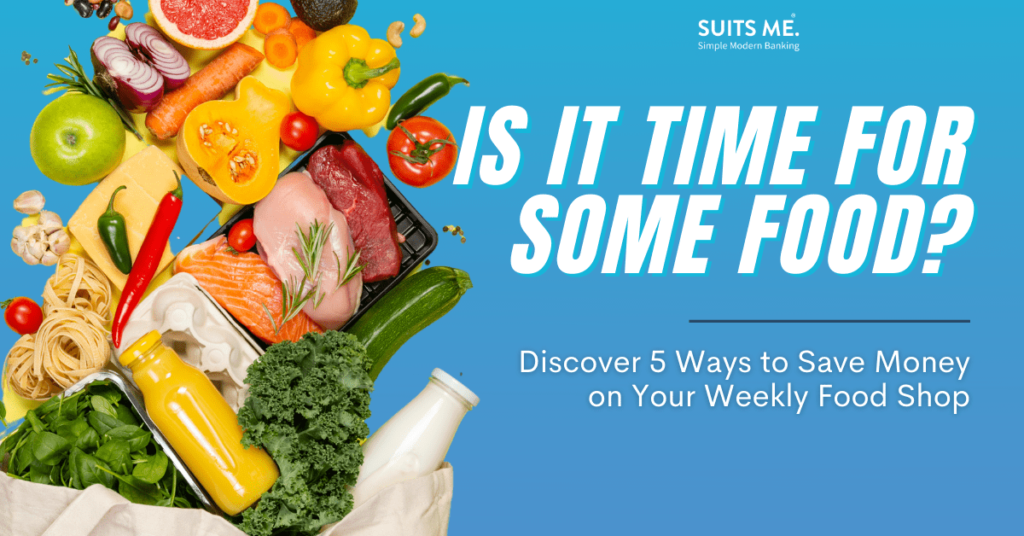 Food shopping is one of the more costly living expenses that we all need to budget for. If you're looking to save some money each month, cutting down on our food expenditure is one of the easiest options.
The key to saving money on your grocery shopping is by making clever substitutions, planning ahead, and being mindful of what you're spending your money on. Here are five ways that will help you to decrease your weekly shopping bill and save money on food.
1. Shop Local for Your Fruit & Veg
Local farm shops or market stalls are a great place to find cheap and good quality fruit and vegetables. Many market stalls have deals like 'three for a pound' on fresh produce such as avocados, which enables you to get far bigger discounts than you would in a supermarket.
Often, farm to table style shopping means the vegetables tend to be better quality and last a lot longer than the products you would find at your local superstore which has travelled hundreds, if not thousands, of miles to reach your shopping trolley.
Shopping locally also supports your local community and economy and helps to reduce food miles. So, by visiting your local market or farm shop, you can reduce your carbon footprint and help to protect the planet.
2. Meal Plans are Your Friend
Creating a meal plan means you to know exactly what ingredients you will need for the week and help to prevent any unnecessary spending on food you just won't get around to using. It sounds like a bit of a chore to create a solid plan but it's a surefire way of spending less money on your weekly shop.
Of course, it takes dedication and commitment, but it can help you to gain control over the amount you spend on groceries each month. Follow these steps to get started:
Think about what meals you love to cook
Make a list of the ingredients and see if you have any of the ingredients in your cupboards or freezer
Shop the ingredients
Batch cook as many meals as you can that you can just pull out of the freezer when mealtime comes around (batch cooking has helped people save £100 a month on food)
Make notes of any recipes or meal ideas that you want to cook the following week
Repeat
3. Head for the Reduced Section
When you visit the supermarket, head straight for the reduced section to see what discounts you can get to restock your freezer. It's also not uncommon to get reductions of up to 90% on those yellow sticker bargains!
According to Money Saving Expert, the best time to visit a supermarket to make the most of any reductions is between 7pm and 8pm on a weekday and Saturday or between 2pm and 3pm on a Sunday, or just before stores close. This is when the staff start to reduce items that they will no longer be able to sell.
4. Never Shop on an Empty Stomach
Okay, so this one may seem pretty obvious but if you're feeling hungry, you're more likely to add things that you don't need to your basket.
Speaking of baskets, if you're heading to the shop for a couple of essentials like bread or washing up liquid – don't pick up a basket when you arrive. Psychologically, if you have a basket in your hand you're more likely to fill it with strategically placed little extras that are dotted around the store to grab your attention.
5. Cut Down on Your Meat Consumption
Meat is a pricey item, actually, it's one of the most expensive items in our weekly shops. Healthier cuts of meat such as 5% lean minced beef or chicken breast can be very expensive and cost around £4 per 500g.
By swapping meat for protein-rich sources like grains, tofu and nuts you can often save over 50% on the cost of a meal by replacing the meat, however, you can still get the same, if not more, nutritional benefit.
Get Extra Discount without the Extra Effort
By planning ahead before heading out to get your groceries, you will have a better perspective on the products you need, rather than the products you want to buy (especially if they're on offer). From shopping locally to hitting the supermarket just before closing, there are all sorts of ways that you can make savings.
If you're a Suits Me® customer, another way to increase your supermarket savings is through our cashback reward programme to get extra discount on your weekly grocery shop simply by using your debit card in selected supermarkets.
To find out more, head to our cashback rewards programme and discover the extra savings you could be making on not only your supermarket shop but across a wide range of retailers.
Related Posts