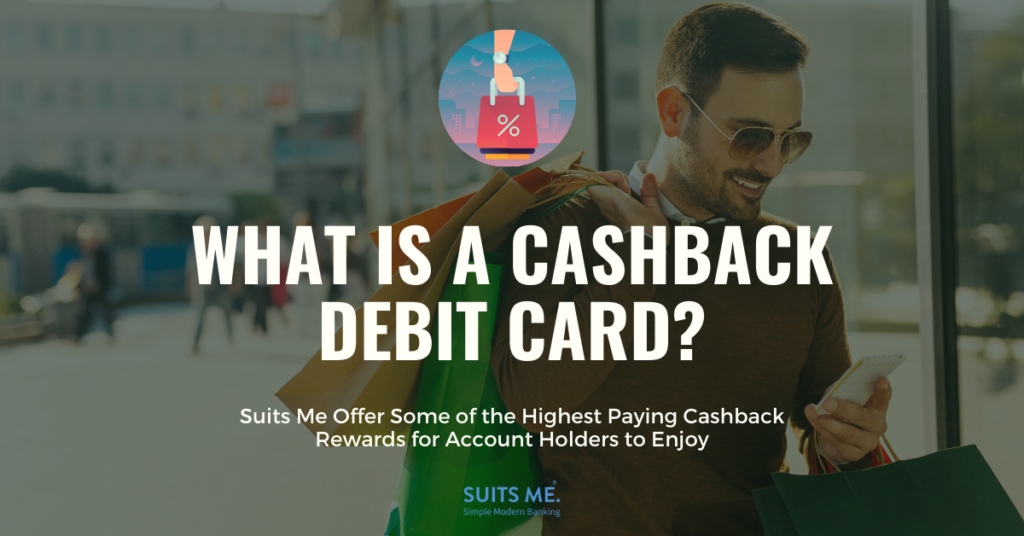 One of the main benefits of having a Suits Me® prepaid Mastercard® debit card is the cashback that you can earn every time you use your debit card with our retailer partners instore, online, and over the phone. You can use your Suits Me® card in more than 24 million places worldwide, but how exactly does the cashback process work?
What is Cashback?
Some banking providers partner with large retailers as an incentive to keep customers shopping with them, which is where cashback comes into play.
Cashback means you get a percentage of your money back when you shop with a specific retailer partner. There are many types of businesses which offer a cashback reward programme, each provides different percentages of money back and different retail partners you can shop with.
Cashback Rewards with Suits Me®
Your Suits Me® debit card comes with exclusive access to out cashback reward programme, which includes some of the biggest names on the high street. So, when you're shopping for groceries, clothing, gifts, or holidays, you can actually earn a percentage of your money back.
Our cashback rewards can be used on top of the discounts that retailers offer their customers. If a product is on offer and you pay with your debit card you'll save even more, but the cashback will be calculated on the price paid, not the original price.
If you shop online, you can sometimes save even more money. Most big high street retailers have lower prices on their websites and a Suits Me® card works just the same online as in-store or over the phone, racking up your cashback.
How Do You Get Your Cashback?
Once your debit card has been loaded with money, you can use it to shop and if you make a purchase with one of our partner retailers, a percentage of the amount you spend will be paid directly into your Suits Me® account. This is automatic and you don't have to do anything at all.
The team at Suits Me® counts up all the money you have spent at our partner stores and works out the correct amount of cashback that you're owed. This is then paid into your account. You can withdraw the money from an ATM, spend or save it – wherever you choose. You don't need to spend the money with the same retailers either.
What Else Does Suits Me® Offer?
Suits Me® is much more than a prepaid card. Suits Me® provides account holders with an account that is packed full of banking-like features including; transfers, direct debits, standing orders – everything you need to manage and organise your finances. 
All banking-like features can be managed using the online account and mobile app that is available in both the Apple Store and Google Play Store. All account holders also receive a contactless Mastercard® debit card that can be used in over 24 million places worldwide.
Applying for a Suits Me® account is quick and easy and only takes minutes using our online application form. Your account will be open within ten minutes of completing the application and you will gain instant access to your account and mobile app to start managing your money immediately. Your contactless Mastercard® debit card will arrive in the post within 3-5 working days.
Related Posts