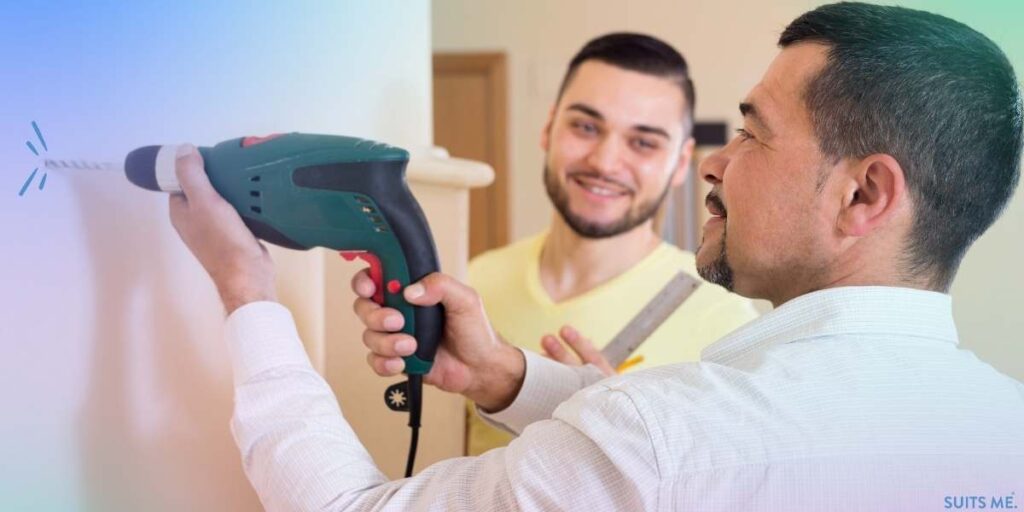 When you think of typical "Dad Skills", you may be brought back to a time in your life when you've learnt a valuable lesson?
Some may have learnt valuable skills from their father, granddad, uncle, or guardian who has encouraged them since they were little. Others perhaps, think of the skills passed on by a teacher or friend and let's not forget all those incredible women in the world who have played the role of both parents but still managed to teach their children the basics of how to succeed in life.
But as time goes on, skills passed on to us that are not frequently practised, can be easily forgotten, so, even if you're not a dad – or particularly skilful – here are some of the best skills that will help to save you money and prepare for your financial future.
#1 Basic Household Repairs & General DIY
This is probably the most typical dad skill that comes to mind, but when you think about it – some dads are either great at DIY or very bad at it.
However, you don't need to go on courses or spend money on books to understand the basics – just remembering to turn off the electricity when fitting a lightbulb or knowing how to use a spirit level can get you a long way in the world of DIY.
General handymen can cost easily upwards of £300 a day, but if you brush up on your skills and use platforms like YouTube as a resource, you will be the DIY god of your home before you know it.

We've partnered with B&Q to give all Suits Me® account holders 4% cashback when using their Suits Me® prepaid debit card online or in-store. This is a great opportunity to save some money on those newfound DIY skills!
#2 Setting Up the WiFi and Technology Around the Home
Okay, we know, we know, this one may seem simple to do – but have you ever successfully troubleshooted your internet router from your computer? (and it doesn't count if you work in engineering or IT!) – but, one thing is for sure, if you don't have the skills – it's not easy.
Technology has undoubtedly changed the world and is incredibly fast-evolving. Keeping on top of current trends in the world of tech is useful in preventing yourself from falling behind. The more you know about current technology, the easier it is to find fixes when your devices, or internet, is being tricky.
Just think of the time and money you'll save instead of trying to speak to an Apple Genius or Curry's Know-How expert to get to the route of your tech issue.
#3 Vehicle Maintenance
Whether you've got a car, motorbike, horse and cart, or skateboard, learning the basics of proper vehicle maintenance is key to ensuring you're covered if you were to break down. Fitting a new tire and mending an oil leak is just some of the basic skills which will save you waiting around in the elements, and money on calling a tow truck.
It depends on where you get it from, but some breakdown cover can cost you over £100 a year and come with hundreds of terms and conditions you must agree to. Plus, if you don't opt for breakdown cover, a one-off journey to a local garage using a tow truck can also result in you forking out hundreds of pounds.

Did you know that all Suits Me® account holders can get 7% cashback from our retail partner, Halfords, just by using your Suits Me® card to pay?
#4 How to Navigate the Wilderness
There's nothing more "manly" than successfully pitching up a tent, starting a campfire and cooking over an open flame. However, you don't need to be Bear Grylls – or a male – to look like you know what you're doing in nature.
YouTubers and bloggers alike have plenty of cool tricks and tips to make camping a breeze, even for a complete novice. Plus, the best part is that once you've got your gear sorted, you won't need to spend a penny to experience a night under the stars. You just have to pack up and go!
#5 Understand How Your Money Works
According to research conducted by Royal London, men are more confident than women when it comes to understanding their finances, budgeting, and making reliable long-term plans. This difference could be down to a number of reasons but may stem from the business and finance career paths historically offered to men, rather than women.
Either way, good money management is a skill we can't afford to miss out on. There are plenty of guides and resources available when it comes to budgeting your money (including our blog here at Suits Me®!) where you'll be able to learn the basics of managing your money like starting a budget, or escaping the cycle of debt.
Once you've mastered this financial skill, you'll be able to spot the areas where you can cut down on your spending and make positive choices about your financial future.
Alternative Accounts with Suits Me®
Whichever "Dad Skills" you decide to conquer, Suits Me® is here to save you money along the way with our exclusive cashback reward programme and 'always on' discounts. Our cashback partners are some of the biggest brands on the high street and will help you to save money by simply using your Suits Me® debit card to make a purchase online, or in-store.
But that's not all – our accounts are personal e-money accounts, that work similarly to a traditional bank account. You'll gain access to your online account and our mobile app, where you'll be able to manage your money on the go, 24/7.
We offer a whole variety of banking-like features including:
Opening a Suits Me® account takes 3 minutes and you'll gain access to your online account immediately so you can start managing your money. We don't ask for proof of address or run a credit check. We accept 99.8% of all applicants – so if you're looking for a suitable alternative solution apply today!
Related Posts