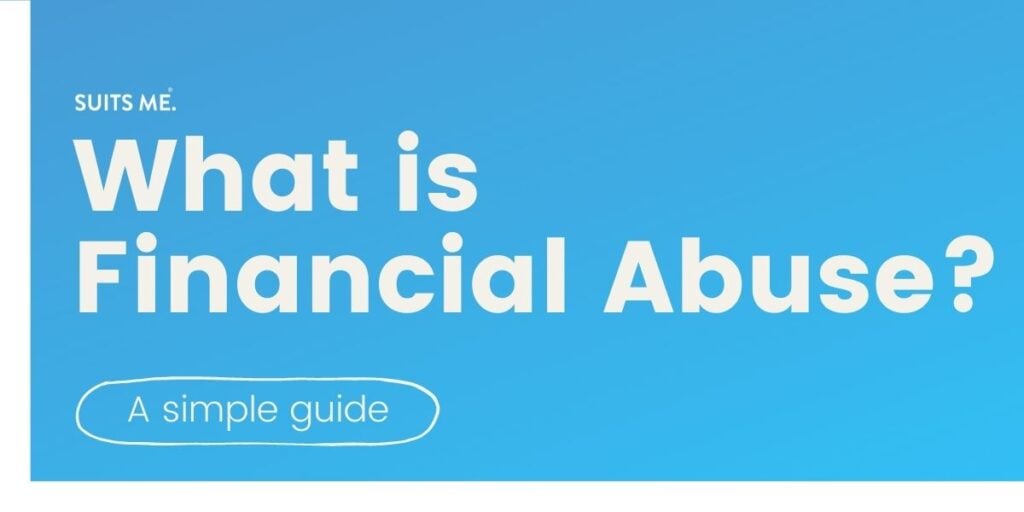 When it comes to abuse, most people automatically think of verbal or physical violence rather than abuse relating to money and finances. However, a 2020 report by the domestic abuse charity, Refuge, revealed that financial and economic abuse affects around 8.7 million people in the UK with 16% of adults experiencing this form of abuse in their current or previous relationships.
Within this blog post, we discuss everything that you need to know about financial and economic abuse – including how to spot the signs, the impact of financial abuse on individuals, and some useful resources on what to do if you are a victim, or suspect someone may be a victim of this hidden crime.
What is Financial and Economic Abuse?
Financial abuse can take many forms and can be hard to detect in individuals as the topic of money isn't often discussed within society. In its simplest term, financial and economic abuse is a form of coercive control, which includes controlling, degrading or threatening behaviour that restricts a person's freedom.
According to Women's Aid, financial abuse involves a person using or misusing money which limits and controls an individual's current and future actions in a bid limit their freedom of choice. It can leave individuals with no money for basic essentials, to repay large debts taken out in their name, and the inability to access their own banking accounts.
Is Economic Abuse the Same Thing?
Although financial abuse falls under economic abuse, it actually includes a much wider array of restrictions other than money and also includes restricting access to food, clothing, transport or denying a person's right to improve their economic stability. Perpetrators of economic abuse do this to limit their victims' choices, and therefore, their inability to escape.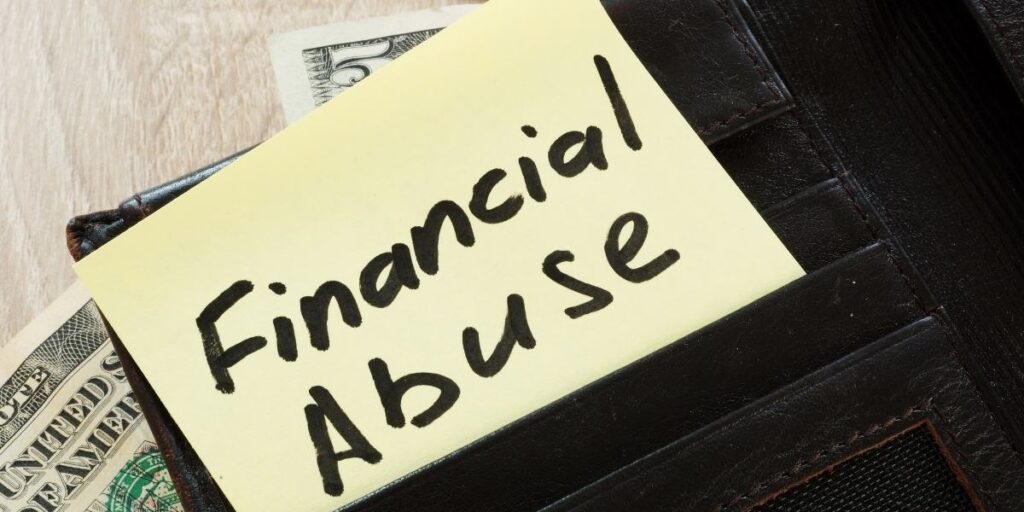 Types of Financial Abuse & Typical Behaviour Traits
When you think of financial abuse, it's not uncommon to associate this with those in a relationship – and whilst this is often the case, victims can also be financially abused by their parents, caregivers, neighbours, friends and even strangers.
There is no specific outline for what financial abuse looks like, as it can take many forms. However, some common behaviours which are associated include:
Controlling someone's purchases or access to money,
Borrowing money and not giving it back,
Taking or misusing someone else's money or belongs,
Taking pension or benefit payments away from an individual,
Stealing money or belongings,
Forcing someone to make changes to their will, property, or inheritance,
Taking loans or credit cards out in someone else's name,
Forcing someone to sell their belongings, home, or assets without consent,
Making threats to cut you off financially if you disagree,
Demanding that you seek permission from them before spending money.
However, just to reiterate, these are not the only forms that financial abuse can take, and any form of coercive behaviour should be considered abuse.
Understanding the Impact of Financial Abuse
This form of manipulation deprives people of the means they need to achieve financial independence. Here are just some of the ways financial abuse can impact a person:
In the short term, financial abuse can easily lead to other forms of abuse including violence, and emotional manipulation.
Leaving an abusive relationship can become harder as even basic financial assets are limited which prevents planning. Plus, it's incredibly challenging to find a safe environment that can provide survivors with all the essentials.
Those suffering from financial abuse can also experience mental health problems which can make it even harder to leave.
Even after a survivor has escaped their abuser, the devastating impact of financial abuse can still influence their daily life for many years to come. Some examples of how financial abuse can affect survivors include:
Patchy employment history – which can make it harder to get a job.
Ruined credit histories – which in turn makes it harder to use credit as a means of getting back on track, renting a property, or making large, essential purchases.
The impact of legal issues – mounting legal issues can cause stress and worry.
Debt – although credit providers should be more than understanding when it comes to supporting indebted survivors of financial abuse, it's not always the case and even long after the relationship ends, it's often up to the survivor to sort this out.
Mental health – after experiencing any form of exploitation and abuse, it can take time for survivors to learn to live with the experiences they faced.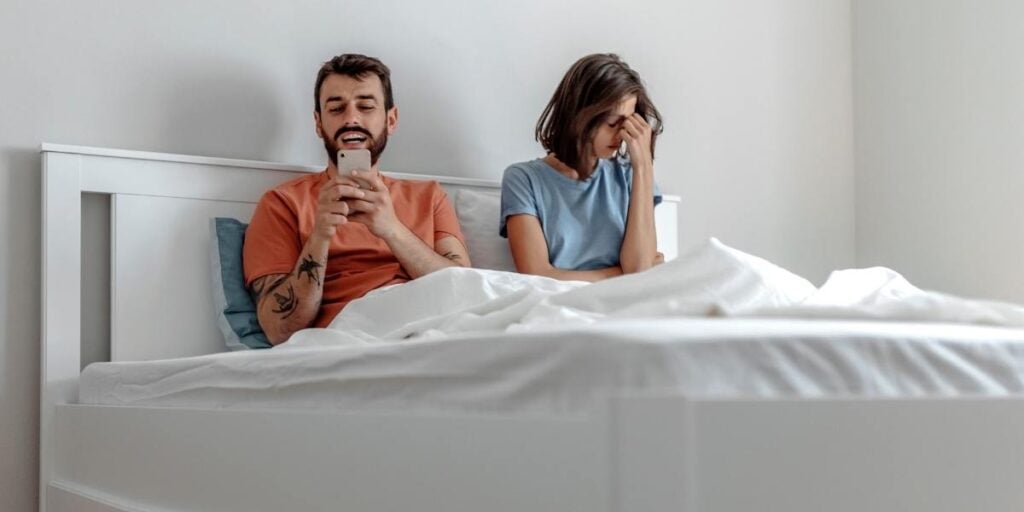 Who's Typically at Risk from Financial Abuse?
As previously mentioned, financial abuse can affect anyone, regardless of background, income, job role, sexuality, or gender. However, like all abuse, it tends to take place when there is an unequal balance of 'power'. So, it can often occur when:
Someone has a learning disability,
Someone is already living with another form of abuse,
Someone who lives with a medical condition or takes medication,
Someone who is isolated without a support network.
How to Spot the Signs of Financial Abuse
If you suspect that you, or someone you know, is being exploited, there are a few telltale signs and behaviours which may suggest someone is being financially abused. These include:
Unexplained loss of money,
Lack of money to pay for essentials like rent, bills, and food,
Changes in standard of living due to money. This also includes not having items that they would usually have,
Unusual or inappropriate purchases on bank statements or online banking,
Isolation from friends, family, and potentially work colleagues.
Find Resources, Advice and Information About Financial Abuse
If you've experienced or are currently experiencing financial abuse, you are not alone. Here are some organisations that can support you:
You can call the National Domestic Abuse Helpline for free on 0808 2000 247 between the hours of Monday-Friday 3pm-10pm, they also have a live chat service and can call you back at a time that works for you. They have a team of highly trained female advisors who are there to listen.
The Samaritans have a 24 hours helpline for those who need emotional support and are experiencing feelings of distress, despair or suicide. You can reach them on 08457 90 90 90
The Men's Advice Line can provide support, practical advice and suggest services that can provide survivors with specialist help. You can call them for free on 0808 8010 327
Women's Aid can help to get the help and support you need if you're dealing with financial abuse. There are different numbers to call depending on which country you live in the UK.
England: 0808 2000 247
Wales: 0808 80 10 800
Northern Ireland: 0808 802 1414
Scotland: 0800 027 1234
Related Posts