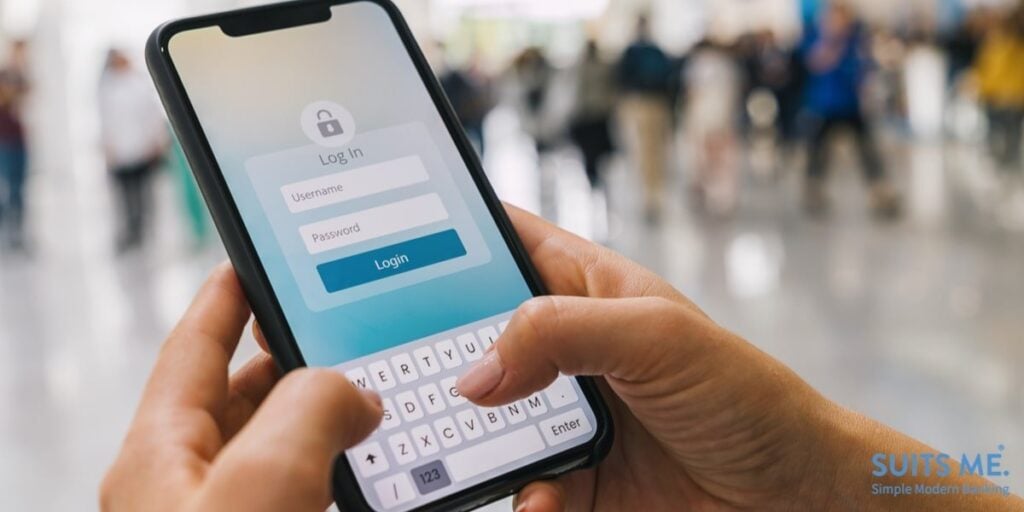 Remembering passwords is not always easy, especially when we're advised to create a different one for each customer account we have. Nowadays, passwords are automatically saved to our devices so it's easy for a password to slip our mind when we don't need to worry about remembering it. In this guide, we explain how to reset your mobile banking mPIN and give you some helpful tips for when your password is longer than five digits.
Creating a new mPIN Number for your Mobile App
An mPIN is a 5-digit code you can use to quickly log into your banking app. If you forget this, you can reset it directly through your Suits Me® mobile app.
To reset your mobile app, you will need your username. If you're unsure of this, give our customer care team a call who will be able to email you with this information.
Select forgot mPIN at the bottom right of the app
You will be asked if you've forgotten your internet banking or debit card pin number. Please select internet banking.
Here you will need to enter your username and password. Your password is the same as your online account password. If you're uncertain of this, please follow the steps below.
Now you can change your mPIN number and you'll be good to go.
When you go to log in, you will receive a one-time password (OTP) via an SMS text message that you will need to fill out to complete our security process.
Logging into Online Banking
If you've forgotten your online banking password, don't worry you can easily create a new password by following the below steps:
Go to the online account login page on the Suits Me® website here
Select your sort-code (this can be found on your debit card)
Click 'Forgotten Password?'
Enter either your username or long card number and your date of birth and click continue
Answer the security question and click 'Generate Password' and voila;
You will now receive a 'new password generation link' to the email address you used when creating your Suits Me account.
Follow the steps to generate your new password
You can also Register for Quick Login
Quick login uses your biometric fingerprint to access your mobile app. Our biometric login works by measuring your unique patterns, ridges and valleys on your finger – the same as your smartphone.
Using a biometric login to access your banking app removes the worry of having to remember your password or mPIN number (you will still need to remember your password to log in to online banking on a desktop) as your fingerprint carries all the data you need.
Tips for Creating Memorable (but safe!) Passwords:
Most passwords require you to have a mixture of letters and numbers, capital letters and special characters (such as: ! £ *. / -). Here are some tips to create a memorable password that only you'll remember.
If you're a fast typist, why not use an entire sentence which is meaningful like a quote or memory.
For example: "JKF.1961.EveryAccomplishmentStartsWithTheDecisionToTry."
As you can see, this contains numbers, capital letters and special characters.
Not all your password-protected accounts will allow an unlimited amount of characters. So, you could try and condense your quote by only using the first and last letter of each word and swapping numbers for words.
For example, if you take "Mobile Banking Passwords Are Hard to Remember"
It would be: MeBgPsAeHd2Rr
Here, you've only used the first and last letters of the sentence and changed 'to' into '2'.
A considerable part of creating a safe password is by relying on your common sense. It might sound a bit obvious, but if you're a dog lover and your Facebook profile has lots of images of your favourite dogs, then it might be best to stay away from a dog-related password.
If you're wanting to use more numbers in your password – stay away from your house number, mobile number or National Insurance Number.
Oh, and one final thing, 'Password' – Never makes a secure password, no matter how easy it is to remember!
When choosing a password, remember to choose something that you remember to avoid being in a constant loop of having to reset your password and fill in all your details every time you need to access your accounts. Now you can get back to managing your finances with your Suits Me® app! Open Your Account Today
Related Posts: