Living without a bank account in the UK can be very tricky as it can affect your everyday living. A personal account is generally required to do anything in today's modern society.
Moving Back to the UK
If you are an Expat and considering moving back to the UK, there is a lot that needs to be considered, one top priority is a UK bank account.
Searching for an expat bank account to suit your requirements can be tricky! Is there a best expat bank account? This is based on personal preference. If you're turned down for a personal bank account with a traditional UK bank, there are other options, including a Suits Me personal current account.
UK Banking for UK Expats
Opening a bank account if you are an Expat coming back to the UK can be challenging. Many high street banks require 3 months proof of address within the UK to open a bank account. Something that a UK Expat simply won't have when they return back to the UK.
Living within the UK with no personal account to manage your money and finances can prove difficult with everyday tasks such as paying for rent, utility bills, mobile phone payments, car finance and more.
Paying with cash for services doesn't only take extra time but can also become costly with some services adding an admin cost when not paying via bank transfer, standing order or direct debit.
Open Your Account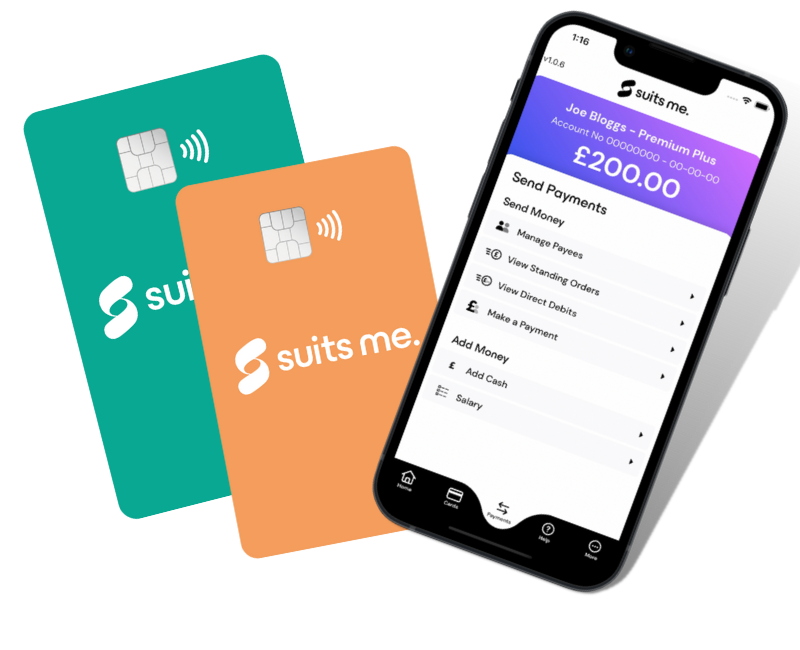 Current Account for Expats
At Suits Me, we understand how difficult it can be to not have a personal account to manage your finances. Especially when moving back to the UK is stressful enough.
Expat Account
All Suits Me accounts are perfect for UK expats and don't require a credit check or a proof of address to open.
We are here to help and offer personal accounts for all UK expats, providing a stress-free experience in setting up a personal current account in the UK.
Applying for a Suits Me account is quick and easy and takes just 10 minutes to open. Once your account is open, you'll gain instant access to your online banking account and mobile app, account number and sort code.
Open Your Account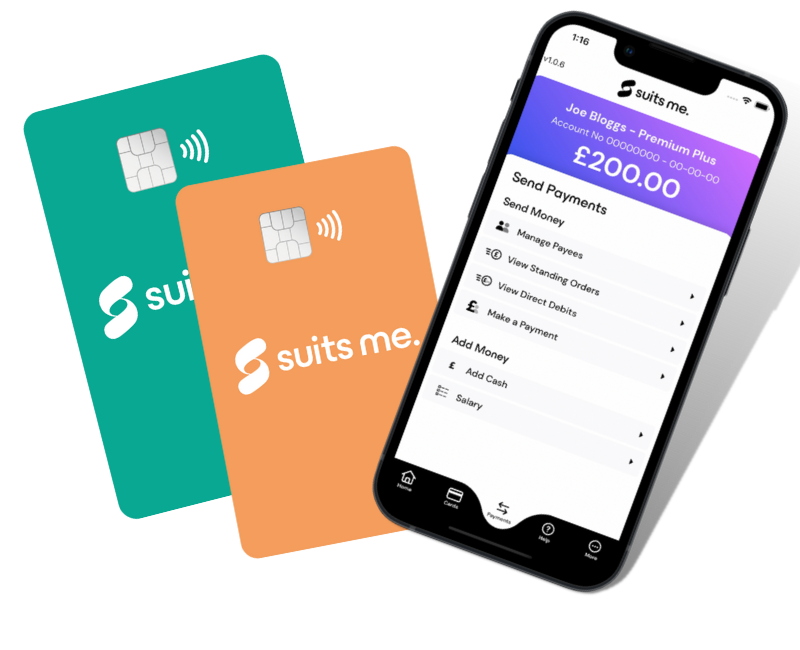 Financial Inclusion
Many UK expats are effectively financially excluded from many traditional high street banks as they can't meet the requirements needed to open a bank account.
At Suits Me, we believe in equality and financial inclusion and that anyone should be able to have access to a banking solution. We aim to provide the underbanked and unbanked access to fair and transparent banking solutions and financial services.
Suits Me Account Features
Once you have opened your Suits Me account, you will gain access to a multitude of money management features.
Suits Me
Are you an expat moving back to the UK and struggling to open a bank account with a traditional high street bank?
We are here to help.
Current Account and Mastercard® Debit Card
Open a Suits Me account in minutes today with no credit checks. Instantly receive your account number and sort code to start managing your finances with an online banking account and mobile banking app.
Get your free Mastercard® debit card in the post within 3-5 working days. 99.8% of all applications are accepted.
What is an Expat?
An Expat (Expatriate) is someone who has been living outside of their native country for any number of reasons, for example, work or retirement.A large number of UK Expats stay out of the UK for a certain period of time due to work commitments and plan to return back to the UK eventually. There are some UK Expats that choose to never return to their native country (Country of Citizenship).
What is the Best Expat Bank Account?
This depends on your personal needs and requirements and whether you need a bank account or are happy with a trusted alternative to traditional UK banking such as Suits Me.
What's the Difference Between Suits Me and a Traditional UK High Street Bank?
We are a UK based alternative to traditional banking, offering personal current accounts with additional benefits including exclusive cashback rewards and discounts to all account holders. You can do many of the same things with a Suits Me account as you would with a traditional bank account including;
Sending and receiving payments
Setting up and managing standing orders
Setting up and managing direct debits
Accessing your account 24/7 using online banking and a mobile banking app
Use your Suits Me contactless Mastercard® debit card to make payments, in-store, online or over the phone.
The main difference between Suits Me and a traditional bank is that Suits Me is an Electronic Money Institution, we don't have a physical presence on the high street or offer credit in any form such as loans or an overdraft.