Award winning personal accounts for International Students
Our accounts are available to students living in the UK over the age of 18. We provide you with a e-money account with no credit checks, so if you need a way to spend and save while you study, look no further.
Open your account
Our accounts are available to students living in the UK over the age of 18. We provide you with a e-money account with no credit checks, so if you need a way to spend and save while you study, look no further.
Open your account
It's easy to open a Suits Me® account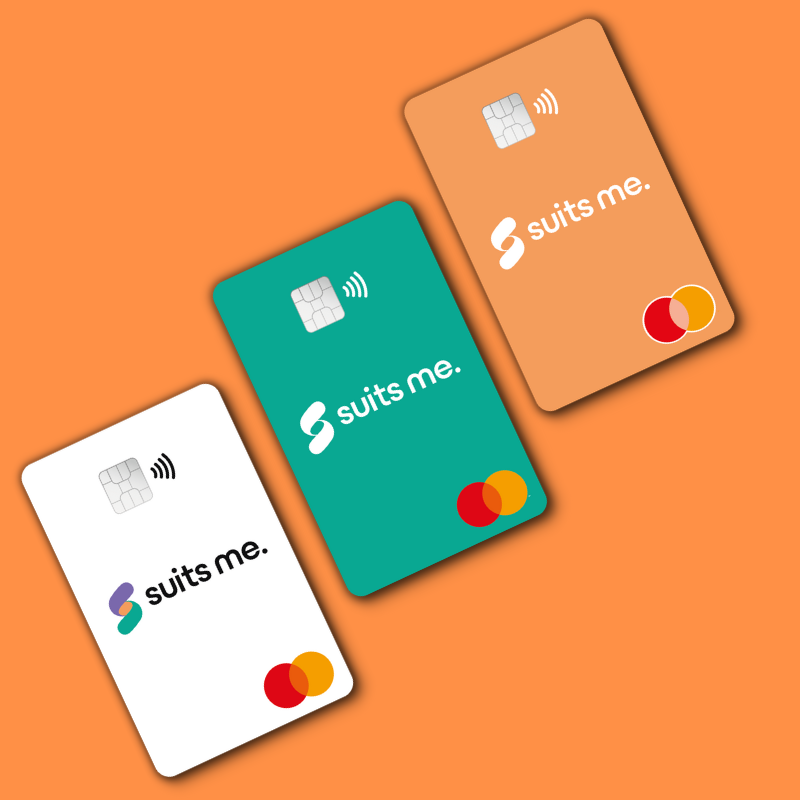 Choose an account to open
Let's figure out the best account for you. You can pick from our 2 accounts that we have:,Premium and Premium Plus.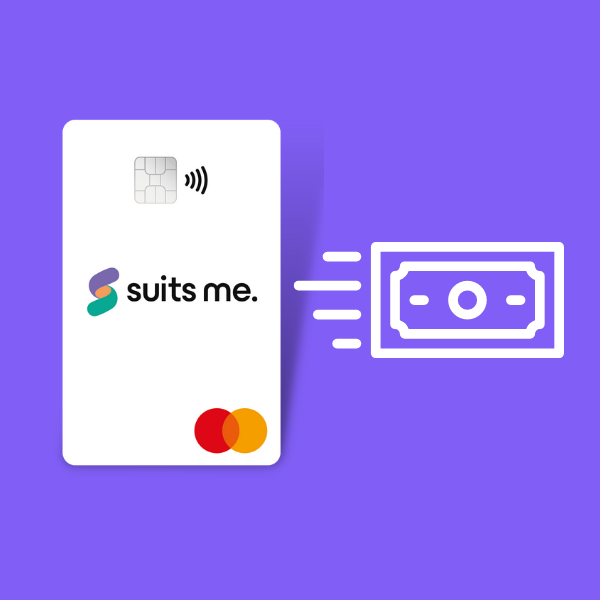 Apply and do your ID checks
All we need is your completed application form, selfie, and your ID to get you up and running. Remember, there's no credit checks involved with Suits Me®.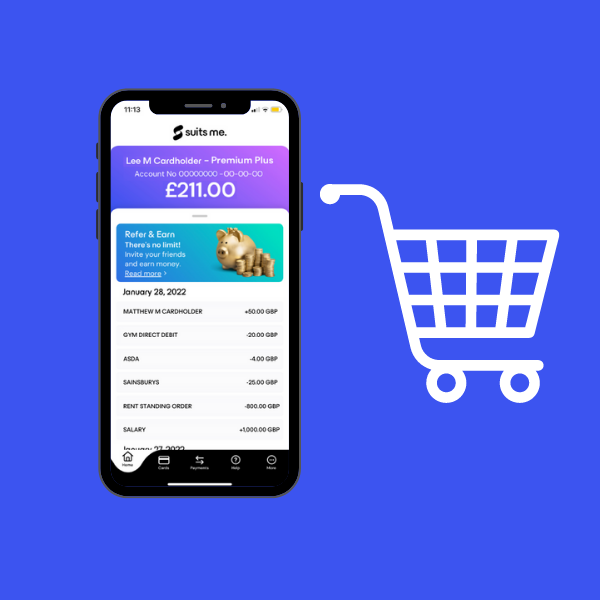 Account open!
Your Suits Me® application is now complete. You will receive an email confirming your account details, and your Mastercard® debit card will be with you in 3-5 working days.
How can Suits Me® work for you?
At Suits Me®, we're invested in making sure that our current accounts are packed full of features to make your experience with us one you enjoy. Here are some of the benefits you'll automatically gain access to when you open your Suits Me® account today.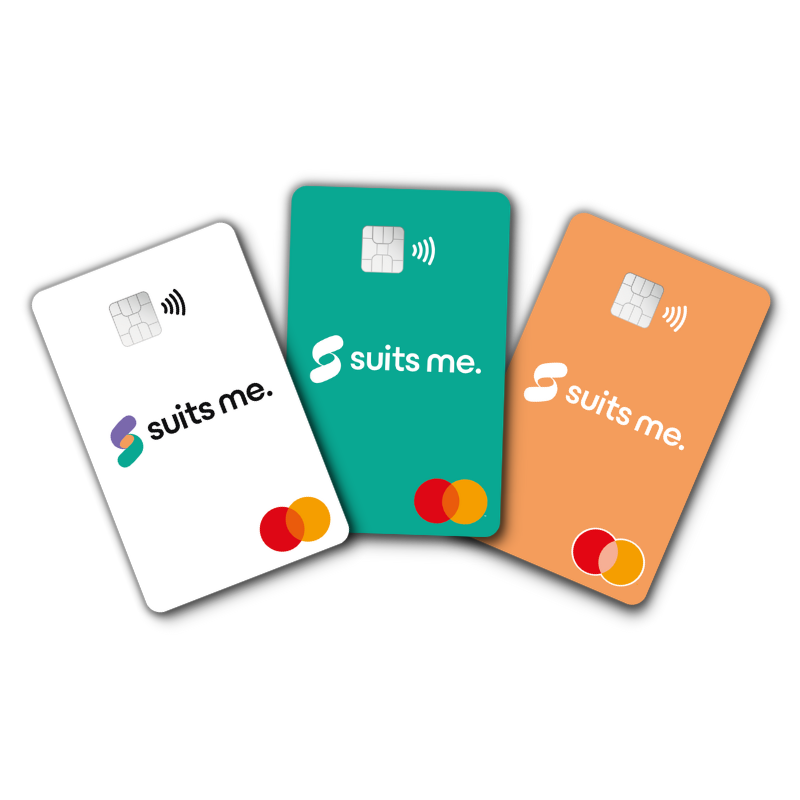 Easy to apply and set up
Unlike a traditional bank account, you can get a Suits Me® e-money account with no credit checks. You can either provide photo ID and a selfie or we accept lots of alternatives.
All you need to do is complete our application form, select your ID type and you will receive your account number and sort code in minutes. Your contactless debit card will arrive the next day.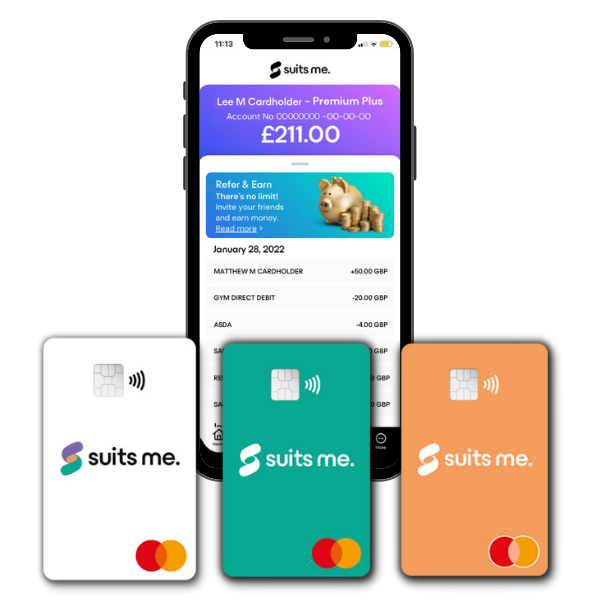 Great for easy budgeting
We know how important budgeting is when you are a student, which makes a prepaid debit card a great option as you can only spend what is loaded onto the card and can't go overdrawn. You can easily track your spending in our mobile banking app and view pending direct debits and standing orders.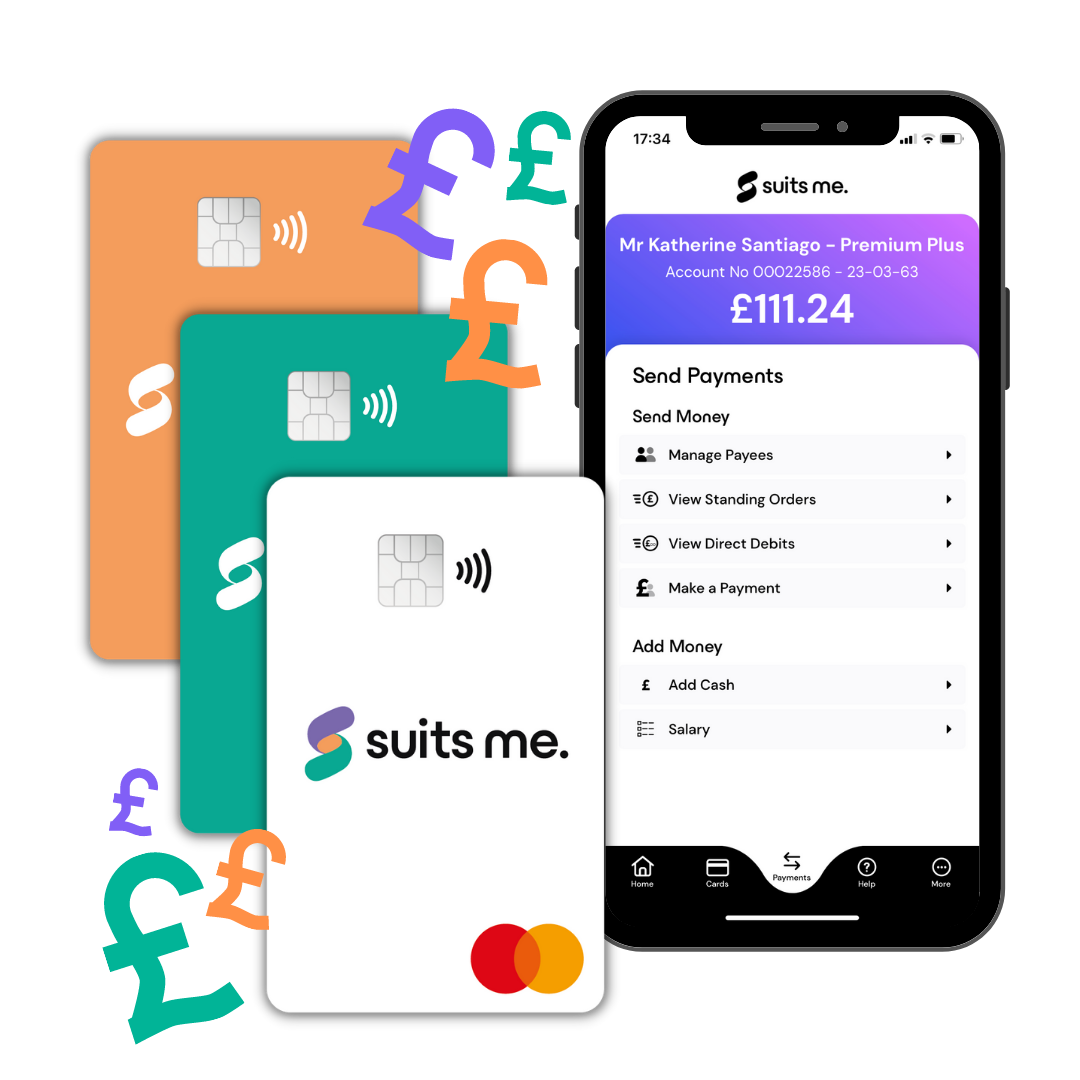 Accounts in your language
Our multi-lingual customer care team are dedicated to supporting your banking needs. Banking in your own language is one of the easiest ways to guarantee fair, secure, and accessible services in our sector, that's why we pride ourselves on having an extensive and skilled customer care team just one call away.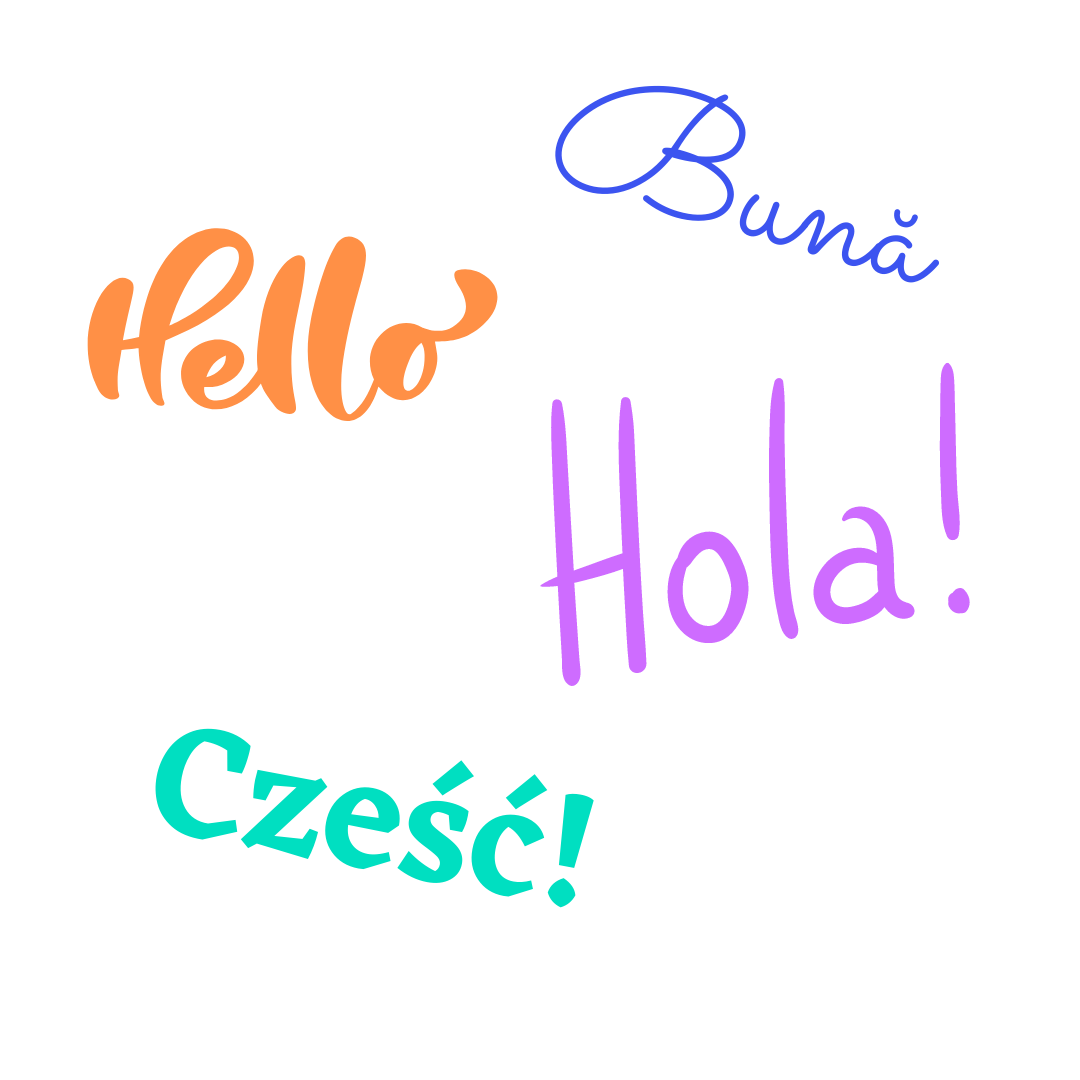 Save while you shop
We have all your shopping needs covered! Shop in-store, online or over the phone with your Suits Me® card at our cashback reward retailers and earn money while you spend. We've worked hard to create an exclusive cashback reward programme and also provide monthly discounts!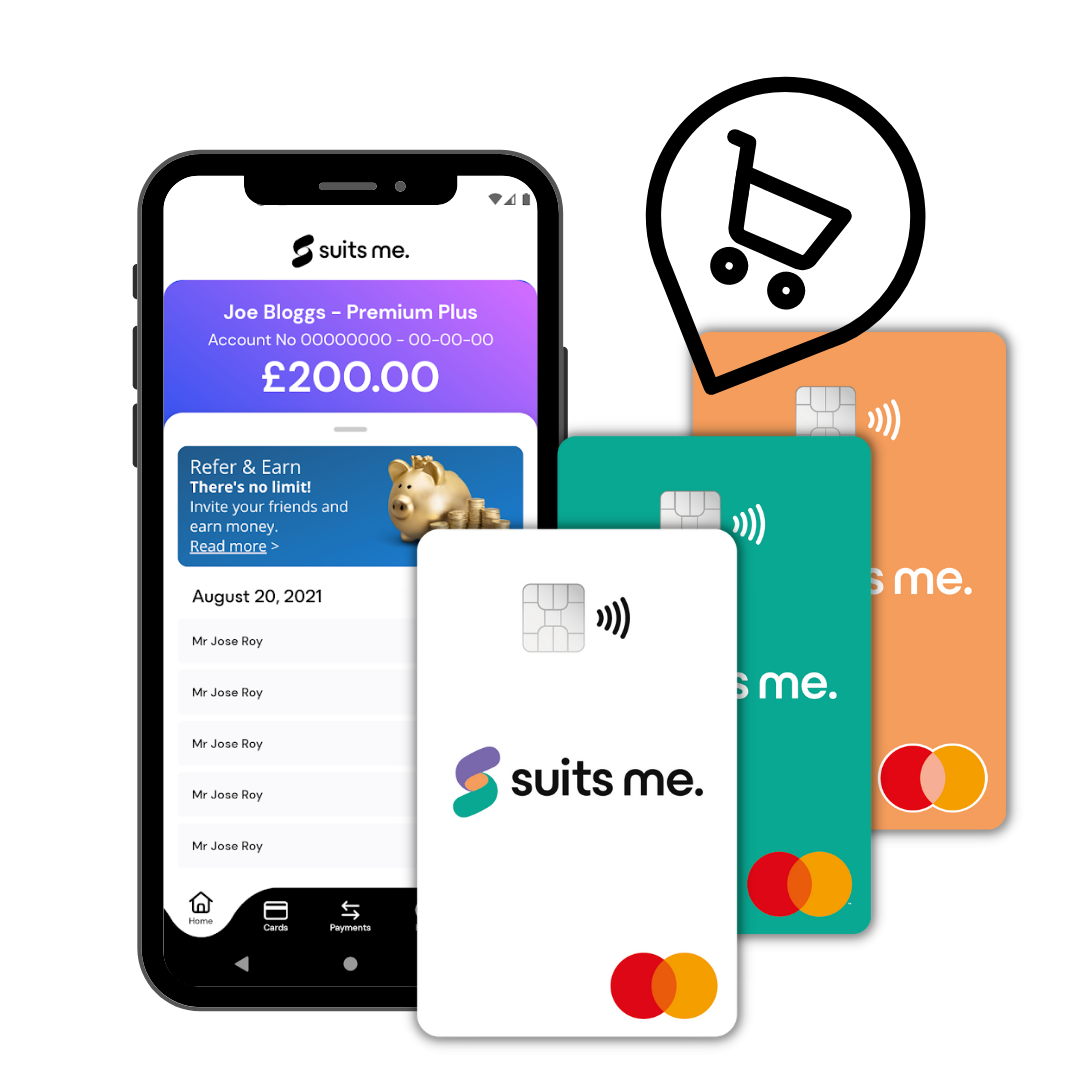 Open your account today!
If you are aged 18 or over, click below to open your account
Working while a Student
Many International Students are eligible to work part-time in the UK, however, a few factors affect this. It's best to check with your course leader first before applying for a job while you study in the UK.
Many employers in the UK require you to have a UK bank account or current account so they can pay your wage in to.
Banking for International Students
Finding a banking solution if you are an International Student in the UK can prove difficult as many traditional high street banks require three months proof of address and utility bills within the UK to open a bank account with them.
A personal bank account is also referred to in the UK as a current account.
Not having a banking solution while living in the UK can prove difficult with everyday tasks such as paying for rent, utility bills and mobile phone payments etc.
Paying with cash for services while in the UK doesn't only take extra time but can also become costly with some services adding an admin cost when not paying via bank transfer, standing order or direct debit.
Financial Inclusion
At Suits Me® we believe in equality and financial inclusion and that anyone should be able to have access to a banking solution. Especially in today's modern society that we currently live in where payments revolve around banking, online banking, bank transfers and direct debits to name a few. We aim to provide the underbanked and unbanked access to fair and transparent banking solutions and financial services.
Being an international student in the UK can be both very exciting and initially quite stressful when it comes to organising documentation and paperwork. We want you to enjoy your time here in the UK with the financial freedom to experience all that you possibly can.
Suits Me® Account Features Once you have opened an account with us, you will gain access to a multitude of banking features including;
Direct Debits
Saving and Budgeting (coming soon)
Each feature of the Suits Me® e-money personal account can also be managed within the free Suits Me® Mobile Banking App.
Useful Information