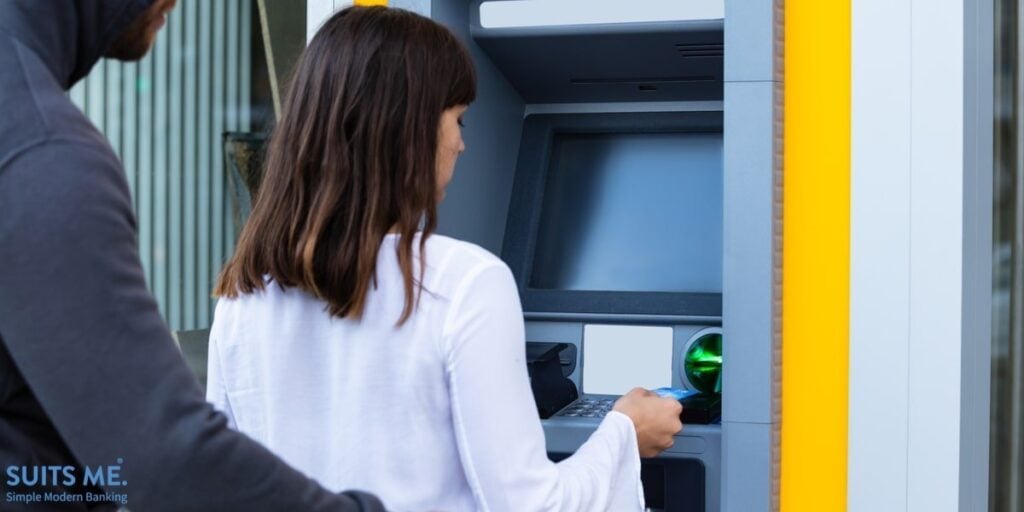 In 2019, criminals successfully stole £1.2 billion from unsuspecting consumers. Although most banks and fintech banking platforms heavily invest in high-level security features to protect their customer's information, there are still plenty of methods criminals use to scam you out of your debit card details.
Here are three scams that you need to be mindful of in 2020 and how you can keep your debit card details secure.
1. Distraction Theft
Distraction theft is when very skilled and versatile scammers will try to get your attention whilst you're taking money out of an ATM or posing as an authoritative figure such as a policeman or car park attendant and stealing your debit card or money. They use various tactics such as:  
Talking very loudly and with urgency whilst waiting in the queue or stood at the ATM next to you,
Working in pairs; one person to distract you, whilst another person takes your money from the machines,
Standing unusually close to you, drawing your attention to money on the floor or asking for directions,
Putting a newspaper in your face and stealing the money when it's being dispensed by the machine
When using an ATM it's important to stay wary and vigilant. If you are suspicious of an ATM machine, or the behaviour of someone stood near it you should avoid using it completely. If you are worried that someone has gained access to your debit card details you should cancel your card immediately.
2. Card Skimming
Card skimming involves criminals using a small device that captures and stores the details in the card's magnetic strip. These details include the card number, expiration date and the card holder's full name. Research by Compare The Market revealed that one in ten people had fallen victim to this type of crime in 2019, with victims losing £846 on average.
In order to copy your card details thieves can:
Place tampered card readers over the slot where you enter your card details,
Use hidden cameras to capture your PIN code,
Use a "Lebanese Loop" which traps your card in the machine which the fraudster can retrieve at any time.
Fake keypads to read your PIN which is then sent to the fraudsters remotely.
To protect yourself from card skimming you can carry out some basic checks of the ATM before inserting your card.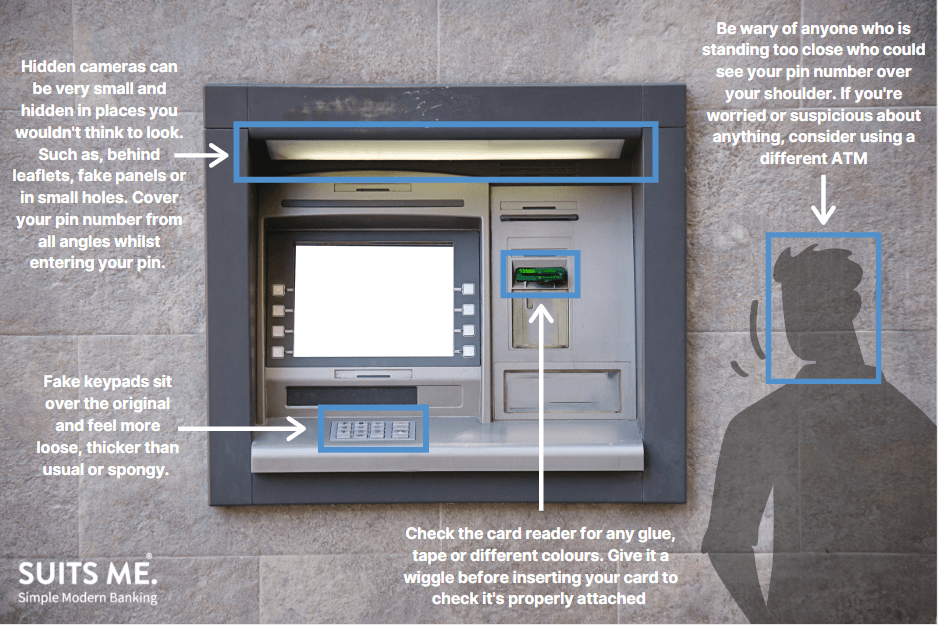 Additionally, for more information, the Metropolitan Police have created a useful YouTube video about common scams that take place at ATM machines.  
3. Contactless Debit Card Fraud
Each year we roughly make over 700 million contactless card payments in the UK alone. Contactless debit cards work through both a chip and an antenna that is used to carry out a transaction. When you hold your card next to a card reader, a signal is transmitted from the reader to the chip in your card which contains all the information about your bank account. The reader then processes the payment up to a maximum of £100.
Contactless card fraud only equates for three percent of the total fraud cases in the UK as scammers cannot access all of the required card details needed to make online purchases such as the CVV and name on the debit card.
However, one method that scammers use is by standing close to someone in a crowded area and can actually using a card reader to process card payments through a person's clothes or bag up to the value of £100. Additionally, research conducted by Totally Money, reveals that 1 in 12 people admitted that they wouldn't spot a rogue £20 on their statement or balance.
You can protect yourself from contactless card fraud by ensuring you:
Don't leave your credit or debit card in pockets that are easily accessible,
Keep your cards in your front pocket, rather than back,
Line your wallet, purse or cardholder with tin foil to block any signals reaching your card.
When having a conversation in a public area, be mindful of what information you mention out loud such as your full name, address or date of birth
Things Your Bank Will Never Ask You
Some scammers pretend to be from your bank to get access to more of your personal details or to transfer funds. However, banks will never ask you:
Transfer money to a new account,
Phone you to ask for your card PIN number or online banking password,
Send someone to your home to collect money for safekeeping
Ask you to purchase goods using your card
If you're ever asked any of these questions, it's best to hang up the phone, wait five minutes and call back your bank from a trusted phone number from their website or banking document.
It's Always Best Practice to be Alert
Overall, if your bank card is lost or stolen or if you suspect any fraudulent activity, you should contact your bank immediately so your card can be cancelled. Remember to regularly check your credit and debit card statements for any unusual payments or transfers. If you remain vigilant and take precautions when using your debit card, it will make it harder for criminals to steal your money.
Suits Me® Mastercard® Debit Card
At Suits Me®, we provide all of our account holders with a contactless Mastercard® debit card to make payments, online, in-store and over the phone. Our accounts also come with a mobile app, online account where you can manage your money and set up direct debits and standing orders.
Our accounts also come with an exclusive cashback reward programme where you will get money back when you use your Suits Me® debit card in one of our many retailer partners.
Related Posts