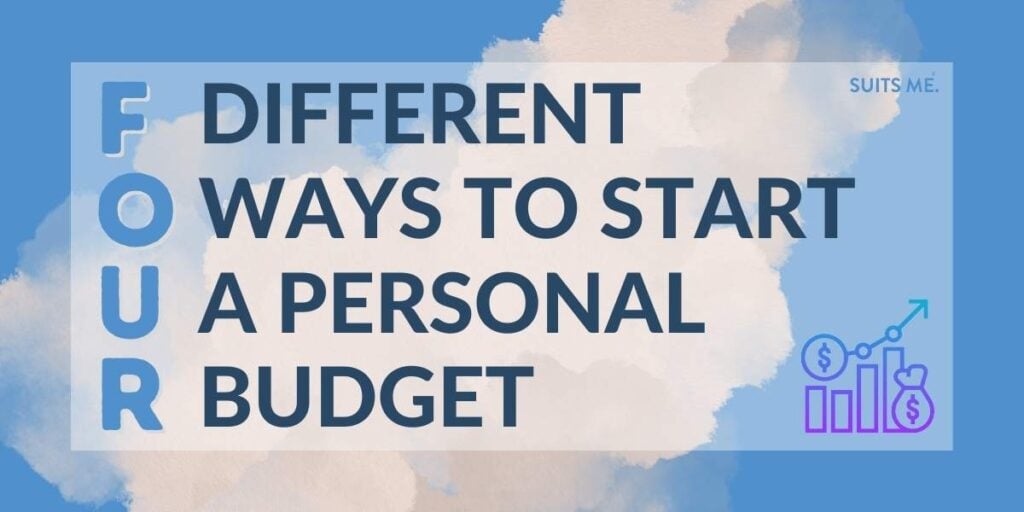 Budgeting. An accountants dream. Why? Because it's their job to organise the finances of the company or person they work for. They're able to see what money is available to spend, save, or invest to keep the business on track. Now, when it comes to our own personal finances – not many of us have the luxury of an accountant to help us keep our money organised. So, that leaves us with one option – we have to become our own accountants.
Now, we don't mean you have to take a course or earn a qualification – but you will need a calculator and somewhere to write your financial commitments down. Plus, because we know that everyone works differently, we've put together 4 different ways you can create a solid budget to stay in control of your financial wellbeing.
#1 Zero-Based Budget for Those Wanting to Save More
A zero-based budget involves deciding exactly where every penny of your income is going. With this budget, you'll take into account not only your bills and recurring payments but also your daily living expenses like food, transport, entertainment and savings.
This budget allows you which areas you could be spending too much which you could use to increase your savings. According to Compare the Market, you should aim to save around 20% of your income each time you're paid.
#2 The 50/30/20 Bucket Budget for a Simple Solution
Whilst we've already mentioned putting 20% of your income aside for future savings – the balance money formula could also be a suitable budgeting option to maximise the amount of money you're saving.
This method is pretty straightforward and involves dividing your budget up into three 'buckets':
50% of your income will go towards your fixed expenses. Including, rent, debt repayments, and utilities.
30% will go towards your lifestyle expenses. This includes groceries, clothing, entertainment, self-car and transport.
The remaining 20% will go towards your future outgoings. This includes your rainy-day fund, holiday savings, house savings and any investments and ISA's.
Dividing your income up into these three separate buckets will allow you to create a sense of balance. Of course, if saving 20% of your income will mean that you're struggling to make other payments, then you may need to change the percentage of money being added to each bucket. Remember, paying off debts is more important that saving for a holiday.
#3 Cash-Based Budget for Overspending
This is a good idea if you struggle with overspending as you'll be able to physically see your money.
The idea is that when you're at the supermarket, for example, you will be only able to spend that specific amount of cash that you've budgeted for groceries. If you want to purchase something extra, you won't be able to as you physically don't have the money to hand.
However, it is worth noting that this method of budgeting does run does involve risk, as you don't have the same levels of protection with cash as you do with your banking account if you were to misplace your money.
#4 Let a Budgeting Tool do the Work for You
If you're not confident with creating your own budget or you don't think you'll keep track of it, there are plenty of digital tools that can do the work instead when it comes to organising your money.
Thanks to the advancement of Open Banking, tools such a Mint and Plum, will track your money for you and send you alerts when you're close to reaching your spending limit. This method of budgeting requires little effort as everything is done for you.
👉 For more information on finding a budgeting tool that could work for you, check out our blog post on 5 Helpful Financial Tools for Your Banking Account.
Payment Features and Budgeting with Suits Me®
Of course, one of the fundamental rules of successfully managing your money is to write your income and expenses down so you've always got a rough idea of what you can afford to spend.
With Suits Me®, we can help to take the stress away from budgeting with our mobile app, so you can stay on top of your finances, 24/7 from anywhere in the world. Our accounts are personal e-money accounts that work similarly to a traditional bank account. 
We offer a whole variety of banking-like features including:
The ability to set up standing orders and manage direct debits,
Send money within the UK via a transfer, international transfers are available via a partner in the Suits Me® app,
Gain access to our exclusive cashback reward programme where you'll automatically get a percentage of your money back when you use your Suits Me® debit card with our retail partners.
Opening a Suits Me® account takes 3 minutes and you'll gain access to your online account immediately so you can start managing your money. We don't ask for proof of address or run a credit check. We accept 99.8% of all applicants – so if you're looking for a suitable alternative solution apply today!
Related Posts