What is a Direct Debit?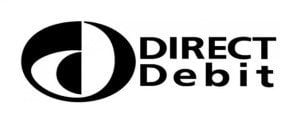 A Direct Debit is where you give permission for an organisation to collect varying amounts of money from your online money account, as long as you're given some notice of dates and amounts. Once agreed, the organisation can automatically deduct the money from your balance.
You can use your Suits Me® e-money account to set up and manage Direct Debits, the simplest and most convenient way to pay for essentials like bills and utilities.
How to setup a Direct Debit
To set up a new Direct Debit you need to contact the company or organisation you want to pay. Usually, you'll be asked to do this online, but you can also set up Direct Debits by post or by phone.
When setting up a direct debit, you'll be asked to do two things. First, you'll be asked to sign a Direct Debit mandate. The mandate is given to you by the organisation and asks for permission to access your current account and withdraw agreed amounts of money on prearranged dates. We receive a copy of the mandate so we know you've let them take some money out of your account.
Sign this to proceed with the Direct Debit set up.
Then you will be asked to give your bank details. For a Direct Debit you will be asked for:
Your name and address (the one you registered with us)
Your bank's name and address (for some Direct Debits)
Your account number
Your Sort code
These are the only details you need to send, you don't need to use your debit card to set up a Direct Debit.
How to manage your Direct Debits
A list of your active Direct Debits can be found by logging into your Suits Me® online money account or mobile app. You can download the app or log in to your online money account by clicking the buttons below:
Once you have logged into your account, you can keep track of your direct debits so you know exactly which companies you're paying and when by click the 'Payments' button and 'View Direct Debits'.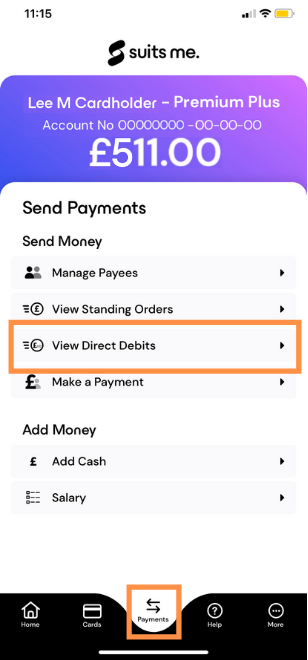 According to the Direct Debit Scheme, it's your responsibility to check your Direct Debits to ensure you're the one who set them up. To cancel a Direct Debit, you can do so within your online money account, mobile app or by calling our customer care team.
You can cancel a Direct Debit at any time, though we recommend you notify the organisation to cancel any subscriptions or utilities/rent first. If you cancel a Direct Debit at least three working days before your next direct debit is due the money will not be removed from your account.
Customer Care Opening Hours
Phone: 0333 015 1858
Email: hello@suitsmecard.com
Monday – Friday: 9am – 5pm
UK public holidays: Closed
Useful Information