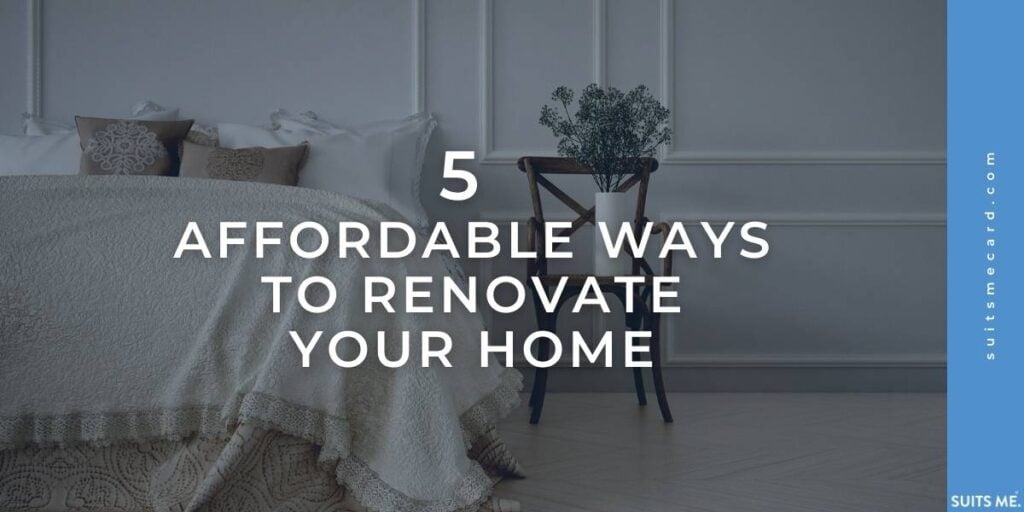 After being stuck inside for over a year, you wouldn't be the only person to think that your home could do a little renovation – especially after looking at the same walls day in and day out, whilst we've been in lockdown.
Of course, if money is no object, you can just outsource all the hard work to a professional but for many of us, that's a luxury we can't afford. So, we've put together some quick, and most importantly, cheap hacks to give your home a facelift without having to spend a small fortune.
Oh, and If you're renting, just remember to check with your landlord if you're renting before whipping out your paintbrush, hammer and nails to avoid losing your deposit.
#1 Vinyl is the Cheapest Flooring
Sheet vinyl flooring is one of the best low-budget ways you can update your home. It's easy to maintain, durable (on average will last up to 15-20 years), and is water-resistant. It works on most floors, even those which are uneven or cracked.
Nowadays, you can get wood, tile, and stone effect vinyl flooring so you won't be stuck with just one option if you're looking to upgrade. Plus, an average-sized room will cost you between £150 and £300 to completely cover, compared to hardwood flooring which can cost in the region of £800 – £1500.
If a carpet is what you've got your heart set on, why not check out our cashback partner Storey Carpets. Here you'll save a huge 10% by using your Suits Me® debit card online or in-store.
#2 Upcycling is Your Friend
Not only is it more environmentally friendly than buying new – but refurbishing an old piece of furniture can also be incredibly rewarding and make your home feel less IKEA showroom and more personal to you.
You can either, upgrade your existing furniture, or head to the local car boot sale or charity shop to dig out old, unwanted pieces that just need a little TLC. Here are a few quick tips to help you on your upcycling journey.
If you're painting furniture, check you're using the correct type of paint.
Painting with quality paint brushes will help to prevent streaks, making your job easier.
Sanding old furniture down will help your paint to stick better and look less streaky.
Follow YouTubers who upcycle for a living, so you can get a helping hand when you need it.
Simple hacks like adding a frame around a mirror or painting the backsplash in the kitchen are also great ways to upgrade your home but on a smaller scale.
Pinterest is your friend – you'll find amazing renovation hacks, tips and tricks dotted all over the social media platform. Oh and, whilst you're at it feel free to follow Suits Me® on Pinterest too!
#3 A Pot of Paint May Just do the Trick
Looking at the same paint colour day in, day out can become tiring. So, why not freshen up your home by giving it a lick of paint. It's fairly easy to do and won't break the bank, with a basic pot of paint costing around £15 to £20.
Cooler paint colours like grey and blue help to make walls recede which will make the room feel lighter and more spacious. However, warmer shades like yellow and terracotta can help to add a nice sunny hue to any dark space. Plus, according to Home Logic, painting your home can help to improve the value by around 2%.

Why not treat yourself to some extra discount by using your Suits Me® debit card with our retail partner, B&Q? Simply use your debit card online or in-store will get you 4% in cash back, which will automatically be applied to your balance at the end of the month.
#4 Just Upgrade Cabinet Doors
Giving a facelift to old cabinets will transform any area of your home, without needing to rip out all the existing storage. However, this trick doesn't just apply to the kitchen. You can upgrade, bathroom cabinets, built-in wardrobes and even nightstands and console tables using this same method.
Paint, peel-and-stick products, and wallpaper, will all do the trick but remember to clean them down beforehand so you don't get any bumps, grease, or dust trapped underneath.
#5 Your Home Exterior is Important Too
Inviting guests around became a thing of the past during lockdown but as things are moving back to normal and loved ones are allowed in the garden, this is an area of the home which is easily forgotten during a renovation. Here are some quick ways you can create an outdoor space you won't want to leave.
Paint the fence – Garden fences are generally brown as standard. Why not freshen up your outdoor space by choosing a bright colour such as light grey or duck egg blue to open up your outdoor space.
Jet wash your patio – if you've got a patio area, jet washing it will make it appear brighter and remove those pesky weeds which grow in between the cracks.
Add fairly lights – adding some outdoor lighting to your garden will create a nice warm and welcoming atmosphere ready for any occasion. Just be sure to use lights suitable for the outdoors to protect against the elements.
Paint your front door – this is a quick trick to instantly upgrade your home. Plus, when it comes to your front door – no colours are off-limits! So, choose your favourite colour and start painting!
Alternative Accounts with Suits Me®
Whichever way you decide to upgrade your home, Suits Me® is here to save you money with our exclusive cashback reward programme. Our cashback partners are some of the biggest brands on the high street and will help you to save money by simply using your Suits Me® debit card to make a purchase online, or in-store.
But that's not all – our accounts are personal e-money accounts, that work similarly to a traditional bank account. You'll gain access to online account and our mobile app, where you'll be able to manage your money on the go, 24/7.
We offer a whole variety of banking-like features including:
Opening a Suits Me® account takes 3 minutes and you'll gain access to your online account immediately so you can start managing your money. We don't ask for proof of address or run a credit check. We accept 99.8% of all applicants – so if you're looking for a suitable alternative solution apply today!
Related Posts