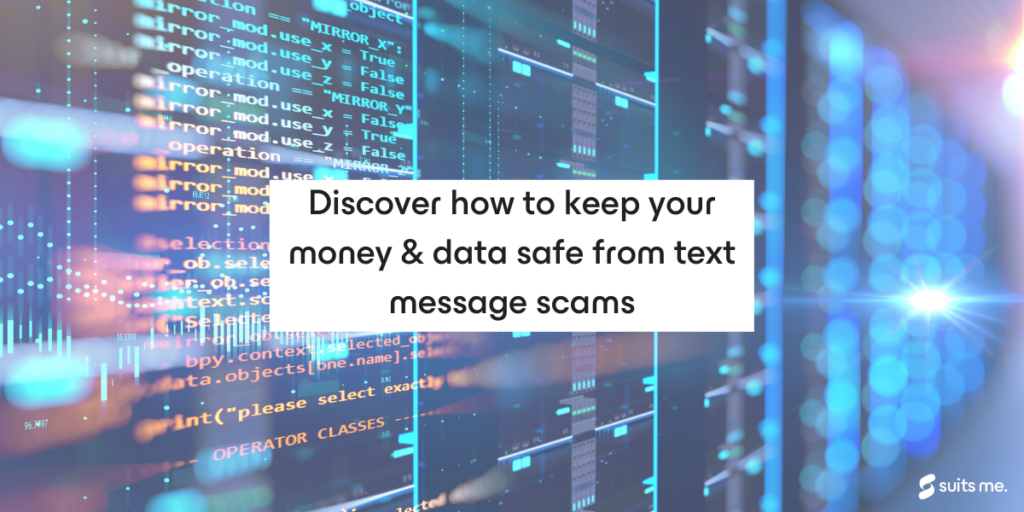 For many of us, our mobile phones make up a huge part of our lives. From using it as an alarm in the mornings to paying for goods and services in replace of a debit card – they're never too far away from our side
However, this has meant hackers, fraudsters and scammers are no longer just targeting vulnerable people, but anybody who has a mobile phone. Unfortunately for us, these criminals are quick to learn and are investing in increasingly innovative ways to steal our data and our money by sending a simple text.
In this blog post, we explain some typical schemes criminals will try and get their hands on your cash, how you can protect yourself and what to do if you become a victim of a text message scam.
How do Text Message Scams Work?
A text message scam involves a fraudster sending you a fake text message, usually from a reputable company or government organisation, to try and trick you into giving them your personal information or bank account details.
Also dubbed as "smishing" (SMS plus Phishing), SMS scams are sent by scammers to obtain information about your life, which gives them the tools to build a picture of you and ultimately steal your identity.
Criminals will also attempt to infect your mobile phone with viruses, malware, and spyware as another malicious way of taking your information, which is why it's vital you don't download any files or click on any links (but more on that later).
Examples of Text Message Scams
Scammers will try and target you in a number of ways, here are some examples of some typical scams that they could try and catch you out with.
Personal Injury Claims
Scammers will often lure victims in with the promise of money for an accident, obviously it's unlikely you'll reply if you've not been involved in one.
However, they usually include a button to STOP receiving these messages, which can request you enter your email address and name. Plus, this will show the scammers that the mobile phone number is valid.
Competition Scams
You may be sent a text message that encourages you to enter a competition to win a prize. To claim your winnings, you may be asked to call a number where you'll be charged a premium rate and be kept on the line whilst your mobile is being charged an extortionate amount.
Legitimate Companies Requesting You to Make a Payment
These types of scams can come in many forms and from a whole range of companies which have been falsely interpreted – some you may have an account with – such as your mobile phone provider – some you may never have heard of before.
These fake texts will ask you to either provide sensitive information via text "to identify your account" or request payment for an outstanding bill.
Some won't require you to send any information via text but will send you a link to a web page, which can look official but is designed by the scammer in a bid to get you to enter your account details.
Verifying your Latest Bank Card Transactions
Cybercriminals will pretend to be your banking provider when they send you a text. They will ask you to potentially confirm a recent transaction by replying Yes or No to their text. Once you reply they can then call you, pretend to be from your bank and trick you into divulging more of your personal information.
What to do if You've Been Scammed Via Text
If you've replied to a scam text message it will let the scammer know that the phone number is a genuine one, they can then sell this information to other scammers who may then bombard you with useless information to try and get you to open a link or enter your details to "win a prize".
If you still have the message, it's worth reporting it as spam. You can usually do this by opening the text message and clicking the options. You can follow this up by deleting the suspicious message from your phone.
If you've given out any of your personal information such as your account passwords, you will need to change your password immediately and contact the company and explain the situation.
If you've given out your bank account details, it's important you call your banking provider immediately and make them aware of the situation. They will be able to put measures in place to prevent any fraudulent transactions taking place.
Tips on How to Protect Yourself
Don't Reply to Numbers You Don't Recognise
Even giving out your sensitive information to someone you trust is risky, so if an unknown number sends you a text, it's even more important to not reply to this message – even if they're not requesting anything you deem as suspicious.
Call the Company Instead of Texting Back
A surefire way to ensure you've received a legitimate text message is to call the utility provider, bank, or company who has supposedly text you. Yes, it will take a little bit of time out of your day, but it will allow you to know for certain whether it was a scam or not.
Plus, by speaking to a person, you may also be able to ask some follow-up questions and clarify any details you may be unsure of.
Can Your Mobile Provider Offer a Text Blocking Service?
Most major service providers are able to offer a call and text blocking option which prevents you from receiving text messages from unknown or blocked numbers.
Contact your provider to see if they offer this and if they don't you can usually find an app that will offer these functions for a small fee.
Don't Click on any Links Within a Text Message
As we touched upon before, clicking on a link within a text message can download malware onto your phone (the same applies to links within emails).
It can load fake websites and search engines which look legit but will steal the information straight from your phone and also reduce your phone's performance. This information can then be sold to marketers or identity thieves.
When it comes to protecting your personal information and data, it's important to remember: if it's too good to be true, then it probably is.
Related Posts