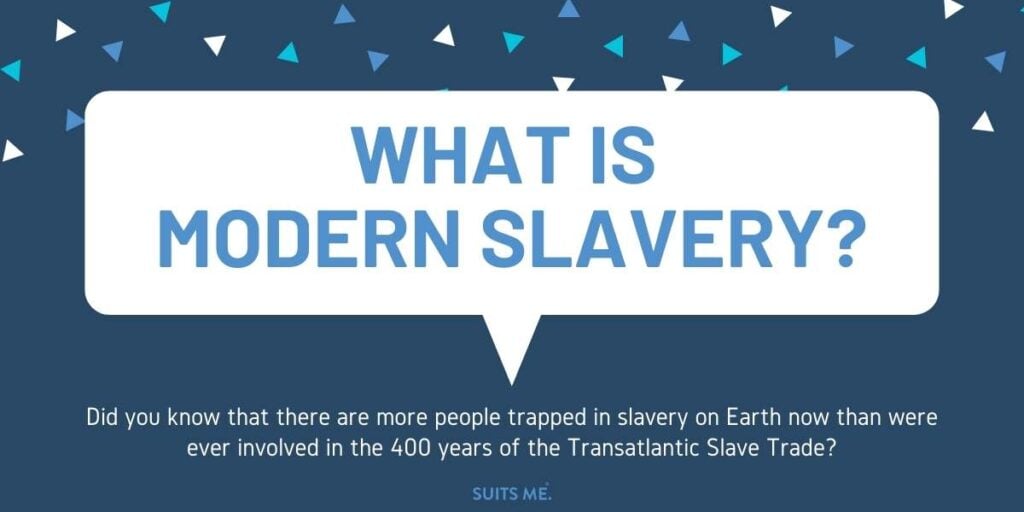 Modern Slavery is the severe exploitation of others for personal or commercial gain. It's all around us, in many different industries, but it's often out of sight.
From the outside, it could look like a victim is just working a normal job – but they're often controlled through threats of violence, are trapped by unpayable debt, and have their passports and personal items confiscated so they can't escape.
Did you know that internationally, there are as many as 40 million people trapped in modern slavery meaning there are more people in slavery on Earth now than were ever involved in the 400 years of the Transatlantic Slave Trade?
Additionally, according to research from the charity Anti Slavery, almost one in four of the 40 million trapped in modern slavery are children and three quarters (71%) are women and girls. A truly shocking set of statistic which highlights just how widespread modern slavery is in the 21st century.
How Many Victims of Modern Slavery in the UK are There?
In the UK alone, it's estimated that between 10,000 and 13,000 individuals are trapped in modern slavery and that number is only on the increase.
Developed countries, like the UK and the EU, profit more from modern slavery and forced labour than Africa, Latin American and the Caribbean and the Middle East combined, making it one of the world's top three crimes, along with drug trafficking and counterfeiting.
One of the ways the UK is trying to combat the detrimental impact of slavery is through the Modern Slavery Act (2015).
What is the Modern Slavery Act?
The Modern Slavery Act (2015) is a piece of legislation aimed at preventing modern slavery and human trafficking. It includes a number of measures to combat slavery and has given the police power to enforce the measures in place to protect victims.
Parts of the act require businesses to develop slavery and human trafficking statements each year and should showcase what organisations should do to ensure modern slavery is not taking place in their business or supply chains.
What Forms of Modern Slavery Exist Today?
Prevalent forms of Modern Slavery include, but aren't limited to:
Human Trafficking: Unlawfully transporting or coercing people for the profit or benefit of criminals. Victims often face exceptionally dangerous conditions when entering the UK illegally under the watch of border authorities.
Forced Labour: Where people are forced or threatened to undertake a certain service or job in fear of being punished. In the UK, this is notorious amongst European migrant workers, but also applies to UK citizens and anyone illegally trafficked.
Debt Bondage: Victims are falsely tricked into thinking they owe their employer or exploiter a debt, who then force them to work for little or no money until it's repaid. It's not uncommon for these victims to be threatened if they try to get help or spend the money, ultimately losing any financial independence until the so-called debt is repaid. Traffickers might say that the victims owe them money for their transport, accommodation, and food.
How Can We Put a Stop to Modern Slavery?
Highlighting the importance, raising awareness, and reporting modern slavery is key to breaking down the barriers and stopping criminals in their tracks.
👉 To learn more about the potential signs current victims may exhibit, we've put together a useful blog post, that gives advice and tips about how to spot the signs of modern slavery.
If you suspect that any modern slavery related activity is happening within your business, place of work, or any areas of your life, the best course of action is to tell The Gangmaster's and Labour Abuse Authority (GLAA) as soon as possible.
Their advice is to contact them and wait for their guidance, do not try to resolve the issue yourself. Attempts to take matters into your own hands could be dangerous for the safety of yourself or your workers.
You can learn more about our commitment to preventing modern slavery by viewing our Modern Slavery Policy.
Related Posts