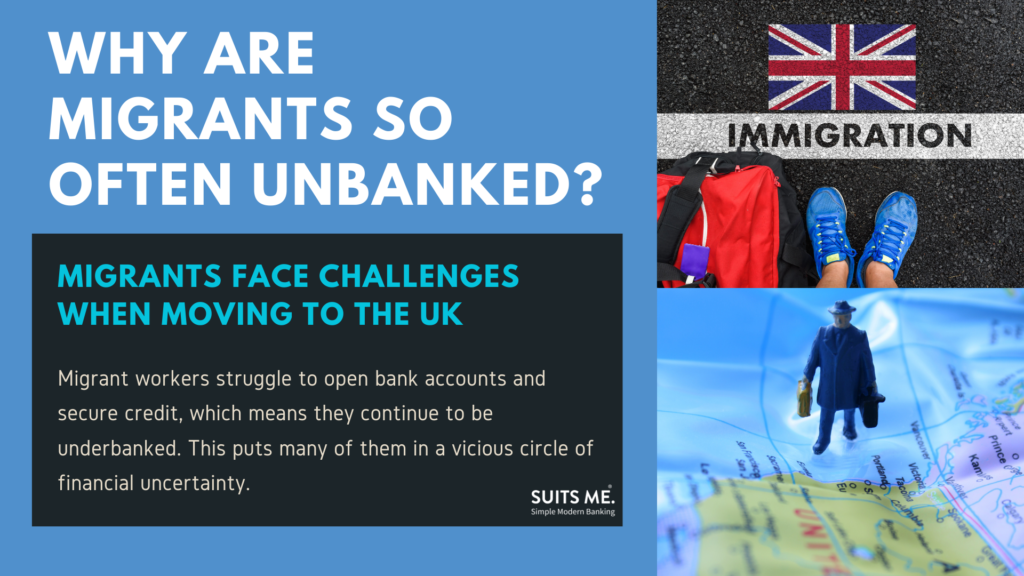 Moving to a new country to set up a new life can be a pretty daunting prospect. Migrant workers face many challenges when moving to the UK and one of the major difficulties is gaining proper access to financial products.
Migrants struggle to open bank accounts and secure credit, which means they continue to be underbanked. This puts many of them in a vicious circle of financial uncertainty.
Why are Traditional Banking Options Often Unavailable to Migrants?
Opening a bank account in the UK requires you to go through a credit check. This is not only to access your borrowing history but also to verify your identity.
Most banks will require applicants to be able to prove that they have lived at their stated address for more than three months. They are often asked to produced utility bills with their name and address on them as proof they are living there.
This can be problematic for migrants who have only recently moved to the UK and can't provide the necessary documents to prove their identity and address.
Another reason why migrant workers can be turned down for traditional bank accounts is that they haven't built up enough credit history in the UK. Many bank accounts come with overdraft facilities and many banks offer credit cards to customers who have current accounts with them.
It's not just a poor credit history that can rule an applicant out. If they have not used any form of borrowing in the past, a credit agency won't be able to provide an accurate picture of how they may use credit in the future.
Most migrants will fall into this category because they will not be able to prove a history of borrowing and repayment in the UK due to only being in the country for a limited time.
Why is it Important for Migrants to Have Access to Banking?
Getting migrants into the banking system is important for several reasons. By not having a bank account, they are more likely to be paid in cash and in some cases more susceptible to illegal practices such as people trafficking and exploitation.
Having a banks account can help formalise their employment in the UK and allows them to access other facilities, such as benefits and housing.
Having a bank account also allows them to set up direct debits and other regular payments to pay expenses, such as rent, utility bills and mobile phone subscriptions. Even where some organisations still take cash payments, there can be additional fees attached to that process.
What Banking Options are Available to Migrants?
One option open to migrant workers is opening a basic bank account. This is an account offered by a bank that does not come with an overdraft or credit card option. There is no element of borrowing involved, so they will not have to pass a credit check to be successful.
A basic bank account will allow a migrant to have a debit card, which allows them to pay for goods and services, access to online banking and the ability to set up regular payments to their bills.
Suits Me® – A Payment Solution for Migrant Workers
At Suits Me® we understand how difficult it can be to not have a payment solution to manage your finances.
We are here to help and offer a payment solution with an e-money current account, contactless Mastercard® debit card and online account facilities for all migrant workers in the UK.
With your Suits Me® account you'll be able to set up standing orders and manage your direct debits to pay your bills, transfer money in the UK, use our mobile app to manage your finances 24/7 and withdraw cash from ATMs, plus plenty more. International transfers are also available via a partner in the Suits Me® app.
Applying for a Suits Me® account is quick and easy, takes 3 minutes and no credit checks or proof of address are required. 99.8% of all applications are approved and receive instant access to their online account, account number and sort code.
Related Posts