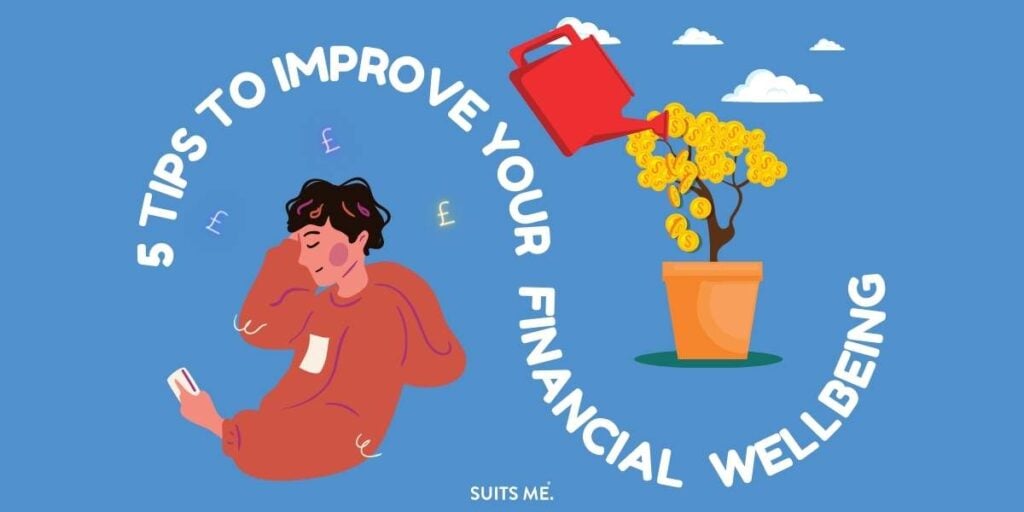 Financial wellbeing, what does that mean? Well, it could mean getting out of debt, saving enough for a deposit on a house, even just sticking to a budget each month. The fact of the matter is, financial wellbeing should be about achieving a sense of control and peace of mind over your money and how secure your money is, and will be, in an unknown future.
However, sometimes that's easier said than done. Like with most things in life, getting your finances to a place where you feel comfortable takes time, effort, and self-discipline. This is further emphasised by the fact that less than one-third of adults in the UK have more than £600 saved for emergencies and 41% of Brits don't have enough money saved to live a month without income, according to research by Finder.
So, to get the ball rolling on your journey to achieving financial wellbeing, we've put together some essential tips to help you develop some healthy habits with money that will last. Remember there's no right or wrong way to go about achieving your financial wellbeing so, feel free to adapt any bits of information you find useful to suit your lifestyle and let's get started!
1) Create a Simple Budget
Probably one of the easiest ways to start your financial wellbeing journey is by creating a budget. Not only will this help to get organised but will allow you to see your financial commitments at face value.
Creating a simple budget that works for you is easy, start by listing all your income and create a list of all your expenses. You should have an area for debt repayments and savings. As a rule of thumb, you should aim to save around 20% of your income, each month or week – depending on how frequently you're paid.
👉 For more information on budgeting your money, check out these five financial YouTubers who will help you to manage your money & regain your financial freedom
2) Tackle any Outstanding Debts
Whether it's your credit card, a finance agreement or you just can't seem to escape your overdraft, repaying your debts on time and in full, is a vital and necessary step if you want to achieve financial wellness.
There are a number of ways you can do this, however, the best place to start is by assessing how much you're paying each month and how much interest each debt carries, and your outstanding balance. This will enable you to build a clear picture of your most pressing debts, which will allow you to see which debts you should pay off first.
The trick is to pay more than the minimum payment to get it sorted. Choose one debt at a time, you can start with the biggest debt with the highest interest rate or smallest debt to see some quick results to help boost your motivation.
👉 If you're wanting to take control of your debts, check out our helpful guide to dealing with debt on a tight budget.
3) Understand How the Factors in Your Credit Report Work
It seems if you want to make any important financial decisions in the world today, then your credit report is involved somewhere down the line.
Your credit score allows lenders to see how likely it is you will repay any credit they loan you. The better your credit score, the more likely it is that you'll be accepted for finance, mortgages, loans, and credit cards – and at the best rates. This is why it's important to regularly check your score and check to see if there are any factors that could be optimised.
👉 Check out our quick and easy guide which explores the factors that influence your credit report.
4) Can You Cover Unexpected Emergencies?
Say for instance that your fridge broke in the middle of a heatwave, or you needed to replace a part on your car in order to get to work? Do you have enough money to get them sorted? If not, this is where a rainy-day fund can help.
A rainy day, or emergency fund, allows you to cover those unexpected costs that can catch you off guard. It means that if you need the money to fix something, you don't need to rely on borrowed funds or payday loans. Plus, if you were to lose your job, you should aim to have enough to get by until you find another source of income.
When creating a rainy-day fund, you should aim to have two to three month's salary covered. However, a good starting point is around £1,000 for most households. You should open a separate, easy access savings account or pot to keep the money you save safe (and to make it harder to dip into it!). Focus on building good habits by regularly adding to your rainy-day fund whenever you're paid.
👉 Our support guide on how to create an emergency fund will help you to get started!
5) Ask for Help if You Need It
There's no problem in asking for help from your lenders if you feel like you need to. Facing financial difficulties happens to the best of us – the trick is dealing with it before it gets too out of hand and impacts your mental wellbeing.
Your lenders and service providers have policies in place to ensure they're not adding to somebody's financial struggles and may be able to offer you payment holidays or reduced payments whilst you get back on track. Be aware, this could have an impact on your credit score – so it's worth speaking to them about all the options that could work for you.
Additionally, if you don't feel comfortable speaking over the phone, a lot of companies now offer a live chat service that offers the same support. However, be sure you understand all the terms of agreements you have in place to see if there are any associated costs involved with deferring or reducing your payments.
Alternative Accounts with Suits Me®
By utilising these tips, you're actively improving your financial wellbeing – whether you're starting a budget or educating yourself about personal finance you're well on your way to taking control of your money. Remember, it's not a race and will take time and effort but there is a light at the end of the tunnel. You just need to make the first step.
At Suits Me®, our accounts are personal e-money accounts that works similarly to a traditional bank account. You'll gain access to your online account and our mobile app, where you'll be able to manage your money on the go, 24/7 allowing you to stay in control.
We offer a whole variety of banking-like features including:
The ability to set up standing orders and manage direct debits,
Send money within the UK via a transfer, international transfers are available via a partner in the Suits Me® app,
Gain access to our exclusive cashback reward programme where you'll automatically get a percentage of your money back when you use your Suits Me® debit card with our retail partners.
Opening a Suits Me® account takes 3 minutes and you'll gain access to your online account immediately so you can start managing your money. We don't ask for proof of address or run a credit check. We accept 99.8% of all applicants – so if you're looking for a suitable alternative solution apply today!
Related Posts