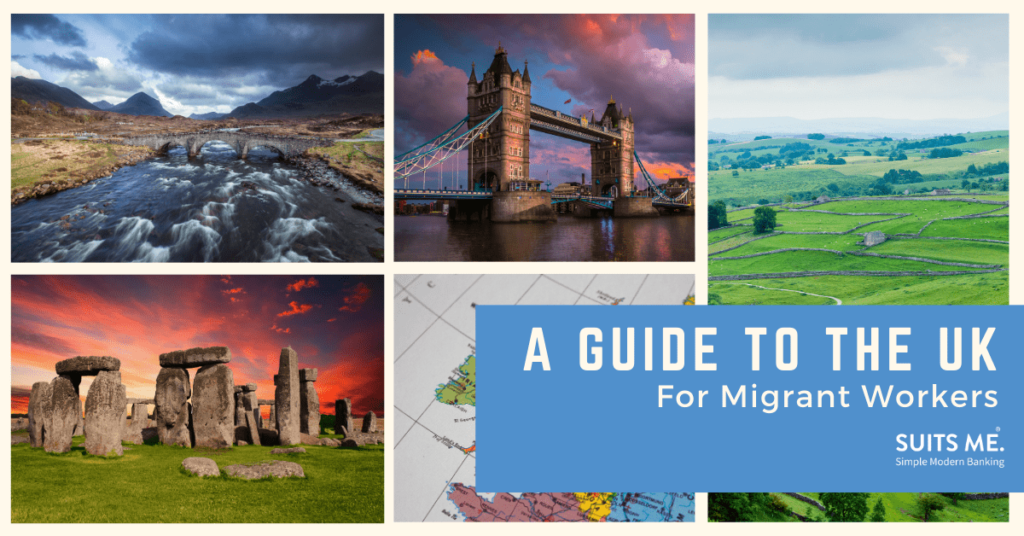 Hi and welcome to the UK! We hope you enjoy your time working here and if you choose to stay, even better. For such a small island, we have a lot to offer and plenty of opportunities across the country for you to make the most out of.
Not only is the UK a popular tourist destination but we also have a whole range of cultures and experiences for you to enjoy – that's not just exclusive to our capital, London.
From the best places to visit on our tiny island to the common UK lingo you won't find anywhere else in the world, we've put together a useful guide which covers all the essential things you need to know about living, working, and enjoying your life here within The United Kingdom.
Understanding the Counties & Countries Within the UK
This is one that confuses a lot of people but worth making a note of. The United Kingdom is made up of four countries: England, Wales, Scotland and Northern Ireland whilst Great Britain is made up of England, Wales, and Scotland. Ireland contains both Northern Ireland and the Republic of Ireland and all territories are a part of the British Isles.
To make it easier, this breakdown may help:
The British Isles is made up of England, Wales, Scotland, Northern Ireland, and the Republic of Ireland.
The United Kingdom is made up of England, Wales, Scotland, and Northern Ireland
Great Britain is made up of England, Wales, and Scotland.
The British Isles don't just contain Great Britain and Ireland but there are actually over 6,000 smaller islands which surround them. Some you may have heard of include the Isle of Man, Isle of Wight, and Skye. However, England remains the largest country across the isles.
Within each country or sovereignty, there are a number of counties (not countries) – of which there are 27. They all vary from in size, with the largest being North Yorkshire and the smallest being Buckinghamshire.
The Beauty of the UK
Across the UK, there are many glorious places to visit in rain (we get a lot of that) or shine. Here are a few things you should know.
Average Temperature within the UK
Did you know, the average temperature in summer generally ranges from 18-25 Celsius (64 to 77 Fahrenheit) with July generally being the hottest month. In the winter months, the average temperature ranges from 0-7 Celsius (32-45 Fahrenheit).
When the sun shines within the UK, it's practically a national holiday. You'll see packed beaches, beer gardens filled to the brim (COVID dependant) and people wearing shorts even if the temperature isn't that high.
Must-see Places to Visit Within the UK
The UK is roughly X miles (including Northern Ireland), so if you're up for an adventure, it's possible to see the whole of the country whilst you're over here. Here are some of the best places to visit:
England
The largest country within Great Britain, England shares its land borders with Wales to the west and Scotland to the north.
Eden Project – Eco-park containing new domes filled with a large diversity of plants, Cornwall.
Stonehenge – England's iconic and prehistoric stone circle based in Wiltshire.
Buckingham Palace – Home of the Queen and headquarters of the monarchy, London.
Lake District National Park – Includes glacial lakes, Scafell Pike (the highest mountain in England) and coastal areas, North West England.
Shambles – a historic UK street with original medieval buildings, York (Yorkshire).
Wales
Wales is a country in southwest Great Britain which is known for its national parks and coastline. Cardiff is the capital city.
Snowdonia National Park – Welsh mountain region featuring Mount Snowdon, North-western Wales.
Pembroke Castle – Huge 11th-century fortress where Henry VII was born, Pembrokeshire.
Great Orme – National area with sea and mountain views, North Coast of Wales.
Brecon Beacons National Parks – a large area of protected and scenic landscape, South Wales.
The National Showcaves Centre (Dan-yr-Ogof), – a 17km long underground cave system, Swansea.
Scotland
Scotland is a country that covers the northern part of the Island of Great Britain and has a 96-mile-long border with England to the south. The capital of Scotland is Edinburgh.
Edinburgh Castle – old fortress with views of the capital city, Edinburgh.
Loch Ness – freshwater loch known for the folklore monster, Scottish Highlands,
Ben Nevis – Famous landmark mountain perfect for hiking, Inverness-shire.
Fairy Pools – Beautiful blue and green waterfalls, The Isle of Skye.
Skara Brae Prehistoric Village – ancient Neolithic settlement older than the pyramids, Orkney.
Northern Ireland
Northern Ireland is located in the northeast Ireland, with the capital being Belfast. It's relatively small in comparison to the bordering Republic of Ireland.
Giants Causeway – a unique hexagonal landscape feature with an interesting backstory to match, County Antrim.
Glenariff Forest – a vast recreational forest with waterfalls, County Antrim.
Dundrum Castle – a ruined fortress with a scenic location, County Down
The Peace Maze – The world's second-largest hedge maze, designed to commemorate the peace reconciliation efforts in Northern Ireland, Castlewellan.
Portstewart Strand – golden sand beach perfect for surfing and swimming, County Londonderry.
Languages of the UK
The national language within the UK is English but that's not the only native or official language. You will hear people speak welsh in Wales, Gaelic, and Scots in Scotland, Irish and Ulster Scots in Northern Ireland and occasionally Cornish in Cornwall.
However, the UK is very multicultural. In London alone, it's estimated that there are over 300 spoken languages across immigrant communities, the millions of international students, and migrant workers.
Lingo in the UK so You Can Fit in with the Locals
UK sayings and slang tend to vary depending on what region you're in. Something that's well known in Scotland will mean something completely different within the UK. However, this is mainly something you'll pick up on as you get to know the area you're living in.
A few well-known favourites include:
"A penny for your thoughts" – This is a way of asking someone to share their thoughts with you.
"An arm and a leg" – a phrased used to over exaggerate the price of something e.g. "That costs an arm and a leg"
"Cost a bomb"– expensive
"The ball is in your court" – basically means it's your decision to make the next move.
"Barking up the wrong tree" – means you're looking in the wrong place or accusing the wrong person of something.
"Beat around the bush" – means you're avoiding the topic of discussion on purpose.
"Best thing since sliced bread" – an older saying meaning a good invention/innovation.
"Hit the nail on the head" – means you've done or said something exactly right.
"Speak of the devil" – when you're talking about someone and they appear right on cue as if they were aware.
"Chock-a-block" – when something is rammed or filled to the brim (usually a location).
"Faff" – to mess around e.g. "He's faffing around"
"Innit" – an abbreviation of the word 'isn't it' e.g., "that's good, innit"
"Minging" – basically means gross or unpleasant.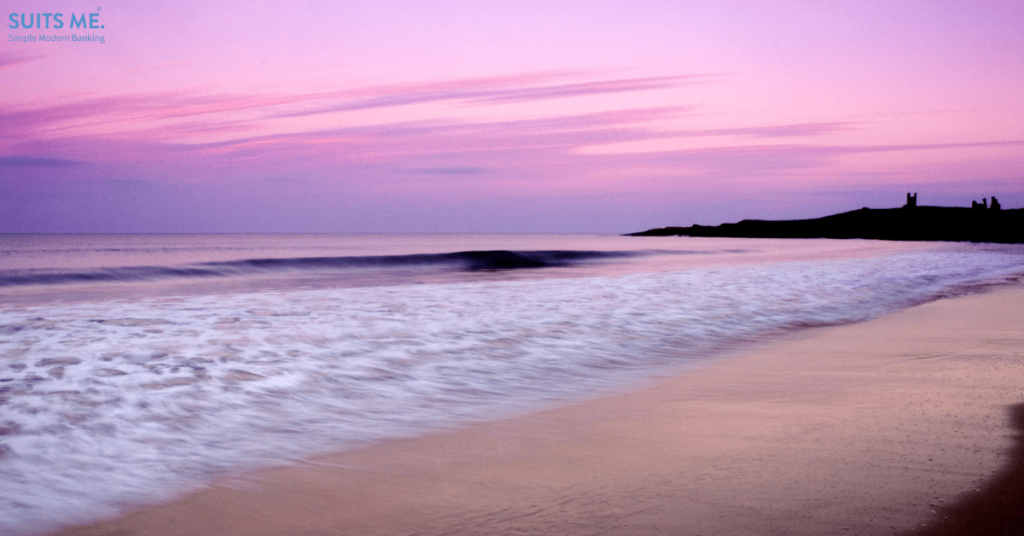 UK Culture & Customs
When people think of the UK, they often think of people drinking tea, eating fish and chips, and going to pubs but there are many more traditions to consider when living in the UK.
Driving in the UK
In the UK and the Republic of Ireland, we drive on the right-hand side of the road – the opposite to our other European neighbours. Additionally, we also use the imperial system in our road signs which means 1mph is equal to 1.61kph.
We have something called the highway code which sets out detailed requirements for all road users, which is in place to protect drivers and passengers.
If your vehicle is insured in the EU, Andorra, Iceland, Liechtenstein, Norway, Serbia or Switzerland, you will need an insurance green card or other proof of insurance in order to drive your vehicle in the UK.
Any country not within the EU or listed above will need an insurance green card (if your country is within the system) or to insure your vehicle in the UK.
Typical UK Working Hours
In the UK there are around 5.9 million businesses in the private sector, with around 75% of jobs within the service industry, this includes hotels, restaurants, travel, shopping, and finance.
Typically, the working week begins at 9am and finishes at 5pm – however, now a lot of companies offer flexible working hours between the hours of 8am and 6pm and we do not work more than 48 hours per week by law.
The minimum wage in the UK (as of April 2020) stands at £8.72 for people over the age of 25, £8.20 for people aged 21-24, £6.45 for 18-20 year-olds and £4.55 for under 18's.
Cost of Living Within the UK
One of the most daunting financial aspects of moving to The UK is the price of rent and accommodation. The UK is one of the priciest places to live in the world, especially if you're moving to London where the rent for a one-bedroom apartment costs around £13,000 a year – with average prices only increasing.
However, if you're moving to another city such as Birmingham or Leeds, the cost of rent becomes significantly cheaper. It's true that the cost of living in the north of the UK is generally more budget-friendly.
The general cost of living varies from city to city and region to region, but the overall cost of living is pretty high compared to other places across the globe. In 2020, Mercier's Cost of Living Survey ranked London as the 19th most expensive place to live in the world. Compared to Glasgow, one of the main cities in Scotland which ranked 141st.
It's estimated that a single person living in the UK has a monthly living cost of £2,150 per month – including rent, transport costs, groceries, utility bills, eating at restaurants, and healthcare.
Healthcare in the UK
Within the UK, healthcare services ranging from a doctor's appointment to major surgery is free through the NHS (National Health Service). Dental and eyecare do carry a cost, but it's can be subsidised if you choose an NHS registered dentist.
Prescriptions in the UK are not free, but every prescription carries a fixed price of £9 making it affordable for most.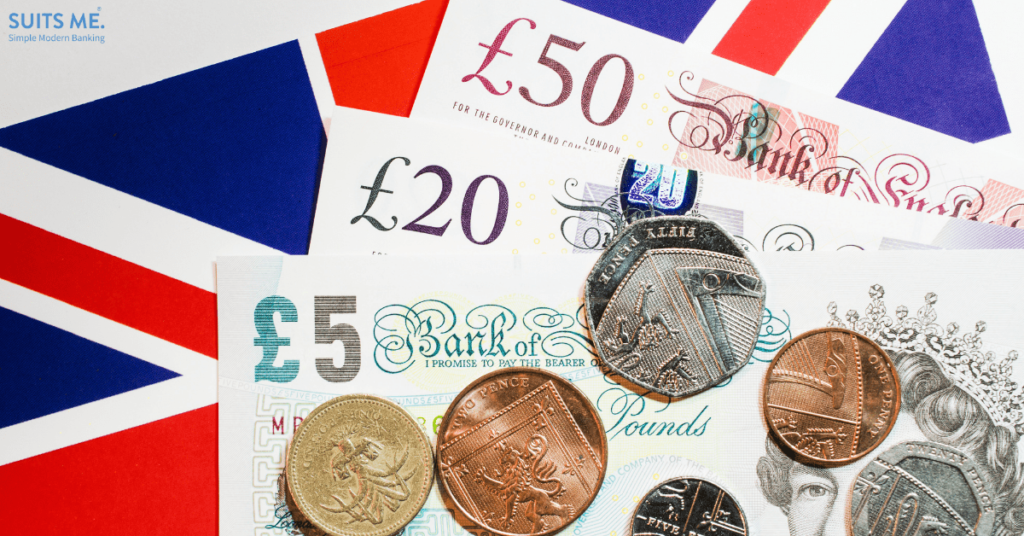 A Guide to UK Currency: The Great British Pound
In the UK, we use the pound (£) – also known by locals as "quid's" – as our currency. We're the only nation in the world to use this. All of our notes and coins feature a picture of the Queen on one side. Currently, as of December 2020. One pound is equivalent to €1.09 euros and $1.32 dollars.
Over the recent years, the value of the pound has dropped meaning it's cheaper for tourists to visit the UK and spend time over here.
One pound is equivalent to 100 pence (p) and the coins we use include 1p, 2p, 5p, 10p, 20p, £50p, £1 £2. Notes are available as £5, £10, £20, £50, – however, the latter is less common. Luckily, our notes are easily recognisable as they all have their own distinct colours and sizes – the larger value notes are bigger in size.
In 2016, we updated our notes and made them more difficult to counterfeit due to added security features. Our new notes are also made from waterproof plastic.
Spend & Shop Easily Using a Prepaid Card
If you're new to the UK, you will need a banking account so you can easily manage your money on the go. Most employers will require these details in order to pay your wages or salary.
However, it can often be difficult to gain access to a bank account with a high street bank as you're often needed to require proof of address. This can be tricky for new migrants who may not have all the documentation required to open an account when they move over.
Although, there's no need to be discouraged as a prepaid card can easily make a suitable alternative. There are many different varieties of prepaid cards that you can choose, however, the one you'll need should come with a banking account which can be used much like a debit card.
Compared to a debit card, a prepaid card needs to be loaded with money before you can use it to spend in shops or online. This can be done through your wages, by using a PayPoint or via a bank transfer. There is no overdraft facility attached to a prepaid account which can help to prevent overspending.
Access to Alternative Accounts with Suits Me®
At Suits Me®, our prepaid accounts offer so much more than a traditional prepaid card.
With Suits Me®, you'll have access to an online account and our mobile app. Here, you'll be able to manage your payments and set up standing orders and direct debits, withdraw cash from an ATM and receive our contactless Mastercard debit card.
Additionally, we have an exclusive cashback reward programme which gives you a percentage back on the money you spend with our retailer partners. You'll automatically receive the discounts you've made into your account.
Opening a Suits Me® account takes less than ten minutes, and we don't ask for proof of address to open one. All you will need is your national ID card or Passport to prove your identity.
Related Posts