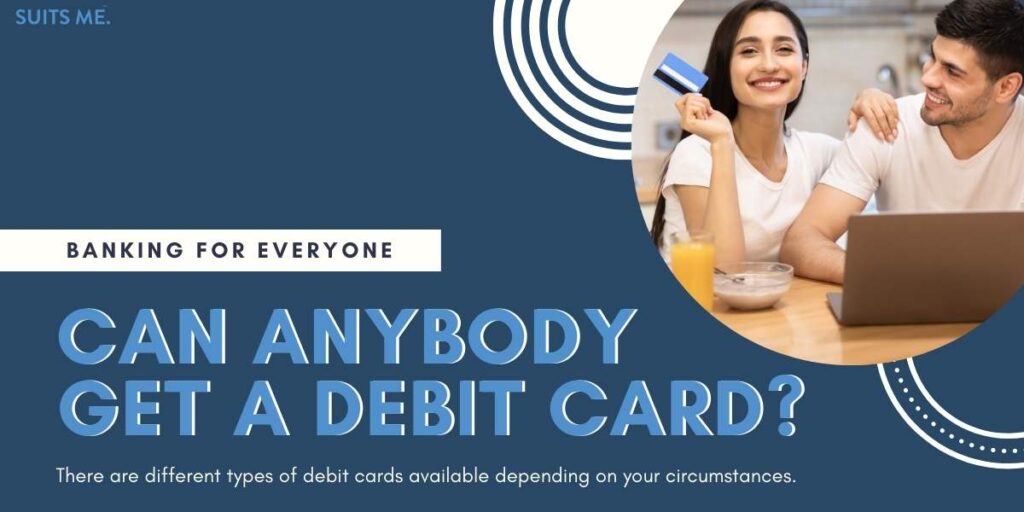 A debit card is a versatile piece of plastic with several uses and is usually easy enough to get hold of. Most debit cards are linked to a bank account, and a cardholder can only spend the amount of money they have in the account at that time.
Debit cards can be used to withdraw cash from ATMs, make purchases online or in-store or set up regular payments for bills or subscriptions. 
Who can get a Debit Card?
A regular debit card is linked to a bank account, so anyone eligible to open a bank account can also get a debit card. To be eligible to open a bank account in the UK, you must be 18 or over and be able to prove your identity through credit checks and providing documentation that links directly to you, such as a rental agreement or utility bill.
👉 To learn more about debit cards, check out our Beginner's Guide which contains everything you need to know.
How do I apply for a Debit Card?
To apply for a debit card linked to a bank account, you need to fill out an application form. The easiest way this can be done is online, through a banking providers website or by using a comparison site.
You will be asked to provide a form of identification, such as a passport or driving licence, and may also be asked to supply proof of address. A recent utility bill with your name and address on it is usually an acceptable proof of address.
If you have difficulty getting proof of address, there are other options open to you when applying for a debit card. You can get a letter written to verify your identity from a responsible adult such as a teacher or doctor. Verifying your identity can allow a bank or building society to carry out a full credit check on you before allowing you to open an account and get a debit card.
However, if you have a low credit history or have difficulty proving your address, you may be able to open a basic bank account. This does not require a credit check as there is no overdraft facility but will allow you to get a debit card.
Digital Banking & Debit Cards
You can apply for a debit card through banks which only exist online. These are usually referred to as fintech banks, challenger banks or e-money account providers.
It can be much easier to open an account with these banks as you just need a form of ID, and the processing of applications is usually much quicker. They will issue you with a physical and virtual debit card, which will allow you to make transactions.
Prepaid Debit Card
If you want a debit card, but can't or don't want to open a bank account, then a prepaid debit card is a good option. You can apply for a prepaid debit card online, and because there is no borrowing element involved, you will not be subject to a credit check.
A prepaid debit card allows you to load money or have the funds paid onto it by a third party. You can then use it to withdraw cash from ATMs, make purchases online or in-store, or set up regular payments like direct debits and standing orders.
Alternative Account with Suits Me®
Here at Suits Me®, you'll receive one of our contactless Mastercard® debit card, perfect for shopping online or in-store. Our accounts are personal e-money accounts that work similarly to a traditional bank account. You'll gain access to your online accounts and our mobile app, where you'll be able to manage your money on the go, 24/7.
We offer a whole variety of banking-like features including:
Send money within the UK via a transfer, international transfers are available via a partner in the Suits Me® app,
Gain access to our exclusive cashback reward programme where you'll automatically get a percentage of your money back when you use your Suits Me® debit card with our retail partners.
Opening a Suits Me® account takes 3 minutes and you'll gain access to your online immediately so you can start managing your money. We don't ask for proof of address or run a credit check. We accept 99.8% of all applicants – so, if you're looking for a suitable alternative solution apply today!
Related Posts