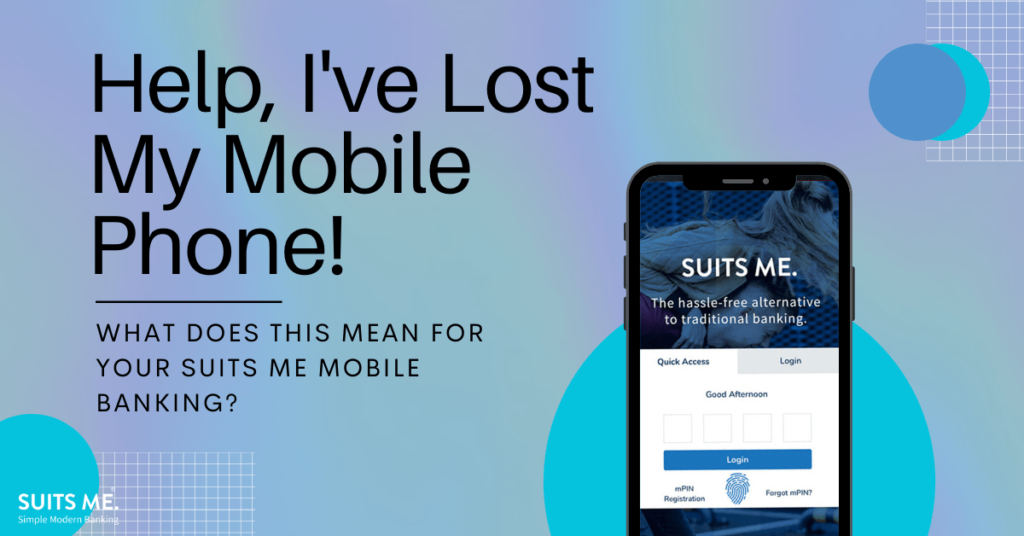 Most of us use our mobile phone all day, every day – let's face it, they're basically handheld computers which contain pretty much our whole life. But – and it happens to the best of us – sometimes mistakes can happen and phones get lost or broken. I'm sure the one thing we can all agree on, is that misplacing or breaking our mobile phone is just the worst.
So, if you're a Suits Me® customer and this unfortunate event happens to you, here's what you can do to ensure you don't lose access to your mobile app.
Speak to Your Phone Provider Immediately
If your phone is lost stolen, the first thing you should do is call your mobile phone provider and ask them to block both your sim card and phone immediately.
Your phone provider will blacklist your IMEI number (International Mobile Equipment Identity) which prevents the device from accessing any network. This works to prevent criminals from reselling your stolen phone down the line and in some cases, this number can help return a phone to its rightful owner.
Is my Money Still Secure?
With the Suits Me® mobile app, your account information isn't stored on your phone at all and it's protected through a number of security measures. These include your username, password, PIN and biometric security (if your phone has this option).
Your information shouldn't be at any immediate risk unless it was stolen whilst you had your mobile app open and your phone unlocked. In this case, head over to a computer, log in to your online account and closely review your recent transactions to ensure nothing is out of the ordinary.
If you're worried about this and would like to change your details, you can do so using your online banking account. If for any reason you've forgotten your password, please contact us and we will send you a temporary username and password for you to access your online account.
What Should I Do When my New Phone Arrives?
This depends on whether you're using your old or existing phone number, or you have a new one.
If your number is the same, all you need to do is download the Suits Me® app from your app store and log in as usual. Your username and password will be the same. If you've forgotten the password, you'll be able to reset this by clicking the "forgotten password" option within the app.
If you have a new phone number, you will need to update your contact details before you'll be able to log in. You can do this by giving us a call or through your online account. Even if you rarely use your mobile app, it's always worth updating your details to avoid any confusion or identity issues should you ever need help with your Suits Me® account.
If You Need Us, We're Here
If you're not 100% sure what to do, feel free to give us a call and we will try our very best to solve any problems. Our multilingual customer care team is more than happy to clarify any questions you may have so, head over to our live chat (bottom right corner on our website), give us a call or drop us an email.
Related Posts