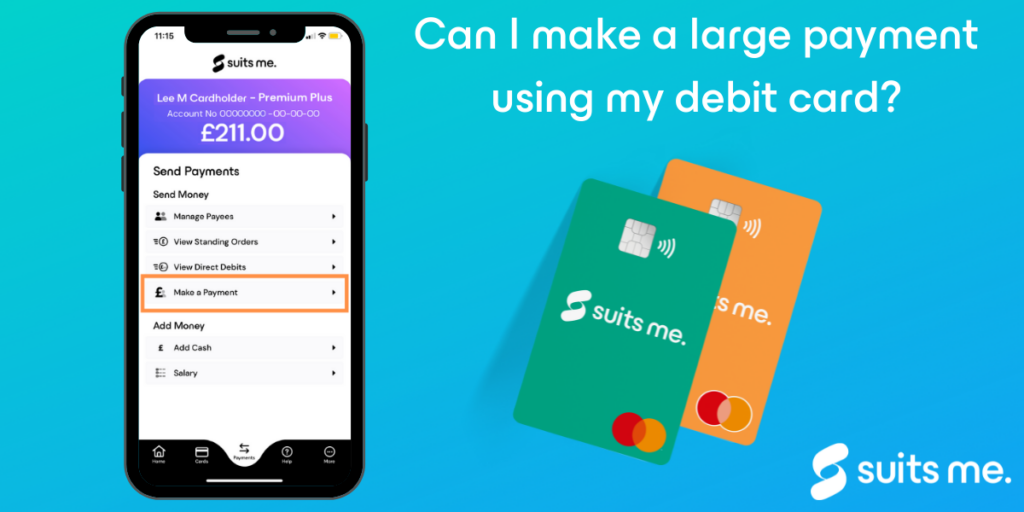 If you're looking to make a large payment, everyone will always advise you to make the payment on a credit card to get the purchase protection, which makes a lot of sense, but not an option available to everyone. So, can you use your debit card instead?
In short, yes, you're more than able to use a debit card, including your Suits Me® card for larger payments, however, there are some things to consider or a few steps you may need to take to ensure you have no issues in doing so.
Is there a spending cap on your account?
Spending limits are a useful way to stay in control of your spending, however, can be a pain if you need to make a larger payment. Some current accounts come with spending limits – either a limit that you have set yourself or one that your banking provider or credit union may have in place.
Before making the payment it's worth if this could be the case for you. You should be able to check if you've got a limit in place using your banking providers mobile banking app. If you're concerned that your bank may have a limit in place it should be clear on their website – if not, give them a call to get the information you need.
It's important to note that if your account has a maximum balance, like £5000 for example, then you won't be able to make a payment larger than £5000 in one single transaction.
Have you made this type of payment before?
In some cases, banking providers will actually decline a genuine payment as they believe it could be fraudulent. This usually happens if you've never had to make a larger payment using your debit card before or you've made a lot of transactions over a small period of time.
One solution would be to contact your banking provider beforehand and let them know to accept the payment. They can then pre-approve any payments that are due to leave your account, so it doesn't get flagged as potential fraud.
Making payments with your Suits Me® debit card
You can use your Suits Me® card to make large payments in shops and to make a payment transfer from your account. It won't cost you anything to purchase larger value items, compared to your everyday spending. There's no fee for making a large purchase, you just need to ensure you have the funds in your account.  
Using your Suits Me® debit card to make a large payment transfer is quick and easy and there are two ways you can go about it.
Firstly, you can use online account or your Suits Me® mobile app. All you will need is the name, sort code and account number of the person or company you want to send the money to and you can send money to another account in the UK. International transfers are also available via a partner in the Suits Me® app.
Related posts