Suits Me® has been created to bridge the gap for those who do not qualify for a UK High Street Bank account. Due to the application process oversees workers or those with poor credit history often have problems applying for an account with the High Street Banks. This article looks at why UK banks do not want to serve these customers and the hidden costs of 'free' banking.
What you need to know about UK Banking
To obtain a credit bearing account, from a High Street Bank in the UK you must pass a strict application process which amongst other things looks at your credit history, income and residency. Passing the application, you will be offered a debit card, overdraft facility, cheque book, and you may well also be offered a credit card, loan or insurance products. The Bank only makes money by you 'purchasing' debt when you take out a loan, mortgage or overdraft. So, if you are new to the UK or have poor credit history, your application will probably be rejected. Quite simply the large UK High Street Banks want to make profit so do not want customers who would fail the loan criteria.
The UK Government insists that all High Street Banks offer a basic bank account. These cannot go overdrawn and have many restrictions attached – banks do not want to offer this as there is no possibility to generate money from them and all the time you are using the card, they are being charged fees in the background. Although at first glance you may see them as 'free banking', with our aim of being fully transparent, below you will find Table 2 outlining some of the fees High Street Banks apply in comparison to Suits Me® – please read this and make an informed choice.
In the table below we have also added the requirements to obtain an account with some of the UK High Street Banks. In many cases, they require proof of a UK address and to have lived in the UK for at least three months. Two require proof of a National Insurance number, which can take between three to six months to obtain.
OK – so you can't get a High-Street Bank account just yet…pay me by cheque instead. Unless there is in place a local cheque cashing arrangement, Table 1 outlines what it would cost you weekly, and the savings you could be making with a Suits Me® account.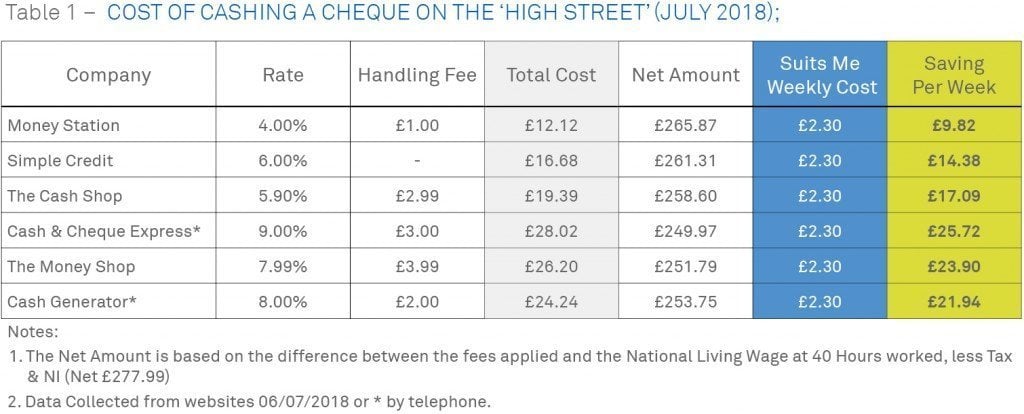 We believe that Suits Me® offers a competitive and much needed financial product. Yes, there are charges to the account (Terms and Conditions) and these we hope you will offset by using our Cashback rewards programme. Although we do have many account holders that have been with Suits Me® for years, for many Suits Me® is a short-term solution that enables you to receive your pay in an efficient and safe way, whilst at the same time gaining residency time in order to apply to a High Street Bank.
Useful Articles