At Suits Me®, we believe everyone should have access to a safe and secure account, somewhere they can safely keep their money helping to avoid debt, poor credit and poverty. Factors like a credit score or an unstable income shouldn't be a barrier to getting an account, especially in today's modern society.
We are working towards financial inclusion by offering an e-money account that has provided a service to thousands who would otherwise be left out.
There are still around 1.2 million people in the UK without access to banking. Recent events have almost certainly affected the situation. The latest data, from the University of Birmingham in 2017, shows that a huge number of people in the UK are unbanked or underbanked and therefore financially excluded.
Since then, seismic changes to employment and the fintech industry has changed how easy it is to get access to banking, for the better and the worse.
What's Financial Exclusion?                                             
Financial exclusion is a global issue, a trend where people still do not have a standard account. People are also underbanked if they are blocked from accessing standard bank features like credit cards and overdrafts.
To have the opposite, financial inclusion, every person or business must have at least one transaction account with somewhere to safely store some value with the prospect of accessing other financial services.
The World Bank in its 2016 Financial Inclusion report said that the "drivers of access and usage" to make universal banking access possible were:
Transaction account and payment product design
Readily available access points
Awareness and financial literacy
Leveraging large-volume recurrent payment streams
To tackle financial exclusion, these "pillars" must be in place. The aim of the 2016 report was to have full financial inclusion by 2020, we are yet to see this. At Suits Me®, we're best to educate our customer's whilst giving a service that's as transparent and accessible as possible so we can meet those expectations.
Who are the Unbanked and Underbanked in the UK?
A concerning number of people in the UK still do not have access to a regular high street bank account. Most of the reasons behind someone's financial exclusion is beyond their control or difficult to get out of, some of which can only be solved by getting an account they are barred from having.
Freelancers, Temporary Labour Workers or Migrant Workers
All struggle to get standard accounts due to their unstable incomes. Banks with minimum monthly deposits, those with £500 minimums, for example, block these workers from accessing them. Migrant workers without a fixed address are also seen as too risky for some banks.
Poor Credit History
This is, of course, a massive factor, but not only for the obvious reasons. Extremely cautious people might be equally looked down upon. If a bank sees that you have been frugal with your spending, they are less likely to make money from interest. This excludes you from standard credit.
Bankrupts
Are another clear victim of financial exclusion. Whilst they are regarded as bankrupts their assets are frozen, for some access to a banking solution might be the only way out of the problems they've encountered. Those in Individual Voluntary Agreements (IVAs) or Debt Management Plans (DMPs) face similar issues.
How it's got Harder
Coronavirus
Coronavirus has impacted every sector in some manner, consequently making matters worse for the unbanked and underbanked.
Irregular incomes are a contributing factor to exclusion and the pandemic has inflated this issue. The Office for National Statistics has found that the number of weekly hours worked up to April 2020 was down a record 94.2 million (8.9%).
Vacancies also took a hit, there was a 60% decrease in vacancies from March to May leaving temporary labour workers in a difficult position.
Wirecard
Wirecard AG's insolvency in Germany sent shockwaves through the financial technology (fintech) industry, further adding to the struggles of unbanked and underbanked citizens.
The company has several UK partners that provide alternative banking solutions to numerous underbanked people. Their services don't require credit or address checks.
The FCA temporarily Wirecard's UK subsidiary's activities for a short period in June 2020. This meant that just after payday thousands of customers were unable to use their accounts for several days. This may have repercussions for months or even years to come as people become cautious of fintech's associated with the German firm.
Our Responsibility to Bring about Financial Inclusion
The government's 2018-19 Financial Inclusion Report said that whilst the numbers of adults without bank accounts were at an all-time low, they were still unacceptable. The report analysed how the UK financial sector has battled financial exclusion.
The easiest way to avoid financial exclusion is to set up a basic bank account without extreme overdrafts and credit facilities. This allows people to slowly and safely build their credit history, financial literacy and their trust in financial services. Since 2015 Britain's nine largest banks have been required to offer fee-free basic accounts to allow for this.
Financial technology (Fintech) firms have been leading the way in offering alternatives to potentially exclusive high street banking solutions, the government said fintech can offer "key role in tackling financial exclusion" and "develop innovative ways to increase customer access to financial services". Companies like Suits Me® have allowed people without fixed addresses or poor credit history to open online accounts.
Our accounts don't offer credit so we don't need to perform credit checks or confirmation of a fixed address and can be set up in moments. Being an alternative, we have unique features and customer support that traditional alternatives might not have.
Small business owners have a responsibility to help their workers out of financial exclusions. Employers who might have inadvertently rejected applicants without a bank account can now refer them to an online alternative in minutes, doing their part to stop exclusion.
Apply for a Suits Me® Account
We won't force you to jump through hoops when you open your Suits Me® e-money account. We don't require proof of UK address and we don't carry out a credit check. If you apply today your account will be open in under 3 minutes.
As soon as your account is open, you'll gain instant access to your sort-code and account number, an array of banking like features and online money account and mobile app to be able to start managing your money and finances. Your Suits Me® Mastercard® debit card will then arrive in the post 3-5 days later.
It's

easy

to open a Suits Me® account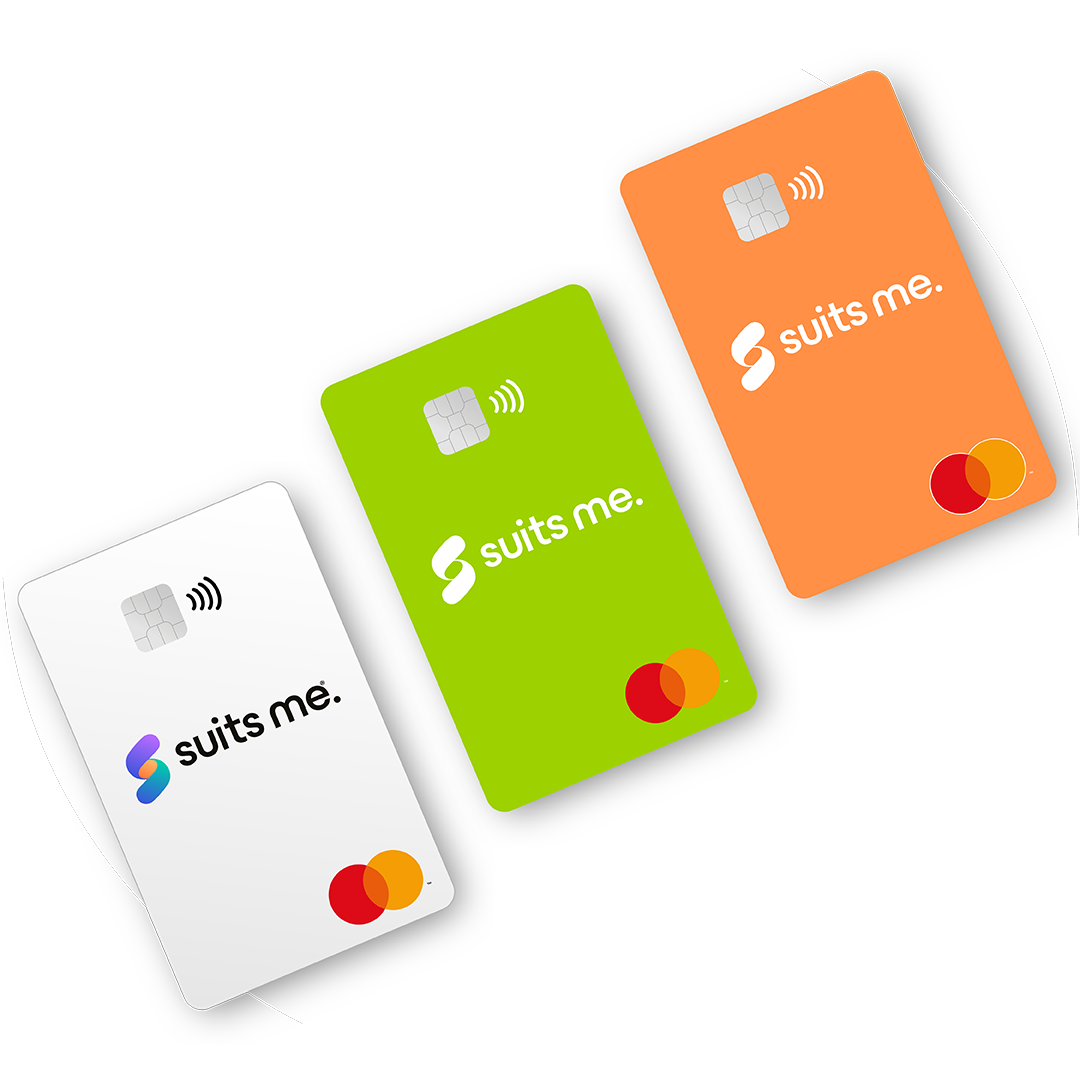 Choose an account to open
Let's figure out the best account for you.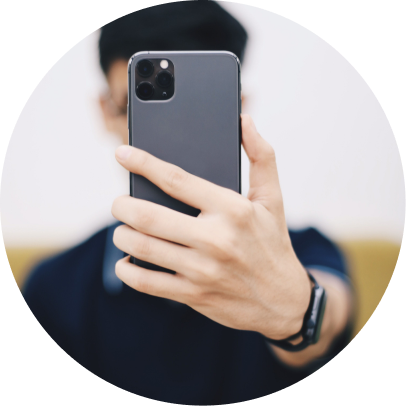 Just 10 Mins and a selfie to open your account
All we need is your completed application and your ID to get you up and running.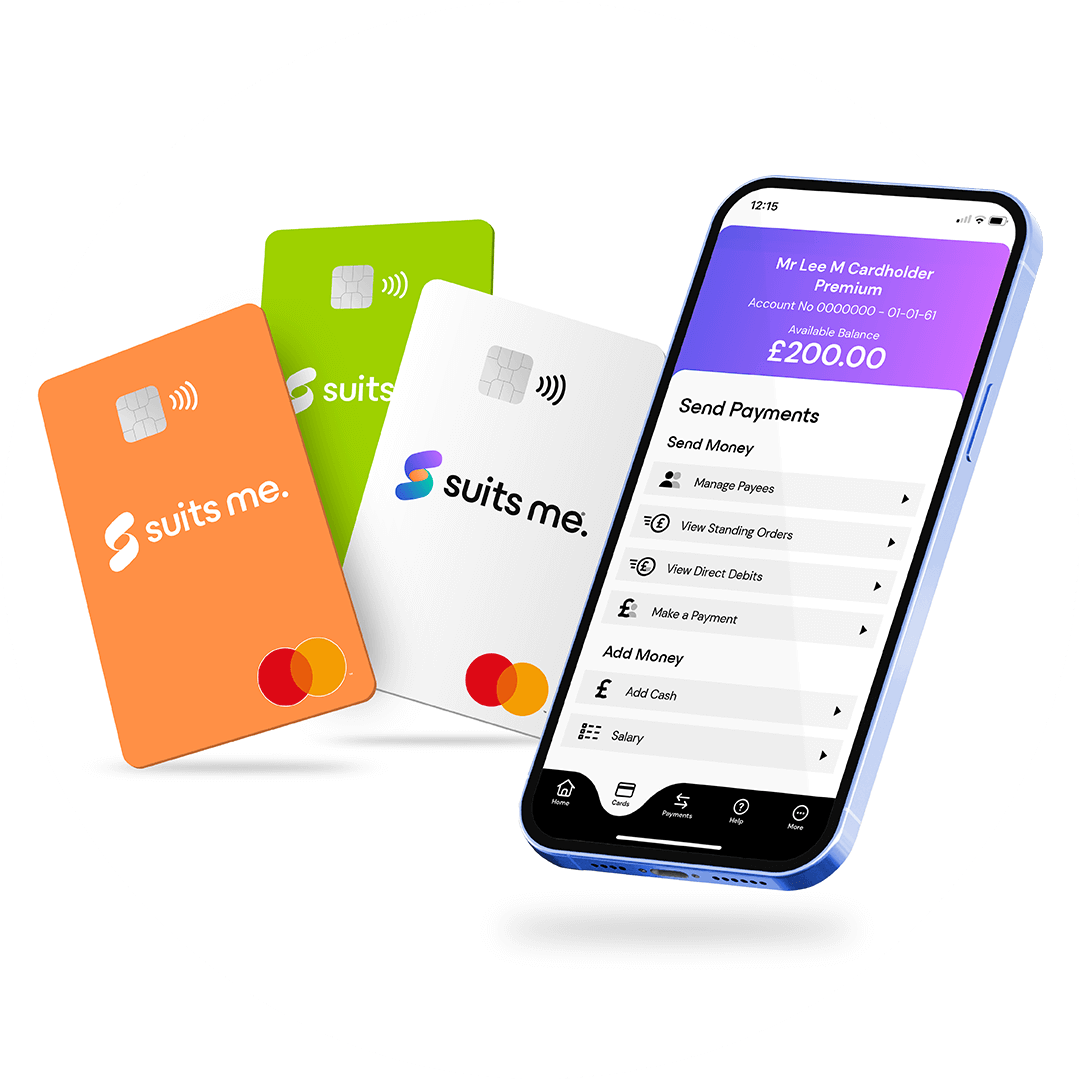 3 Ways to manage your finances
A contactless Mastercard® debit card and access to online money account and mobile app.