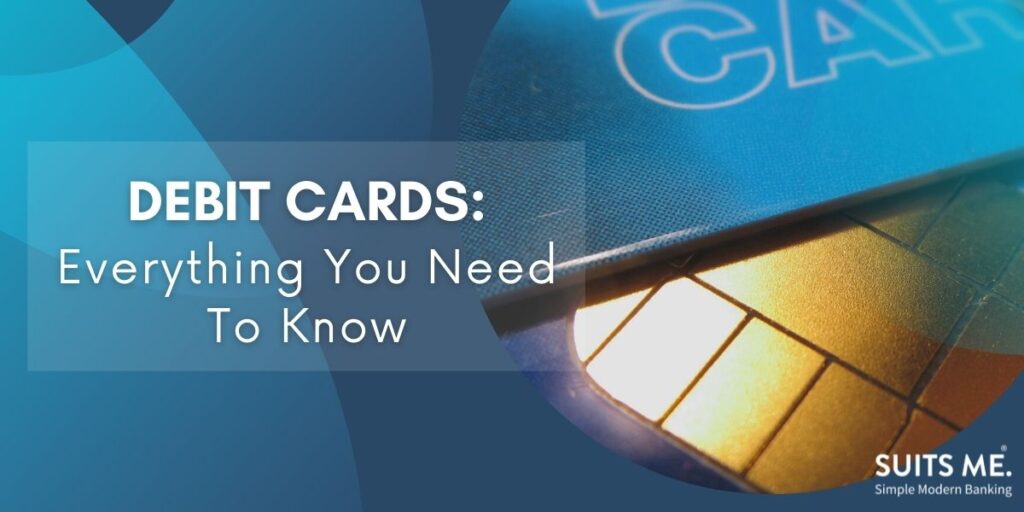 Debit Card vs Prepaid Debit Card
Suits Me® is a modern solution that provides customers with prepaid Mastercard® debit cards and E-moeny accounts. The main difference between the Suits Me® prepaid debit card and a high street bank debit card is that you can only spend money that you have preloaded into your account. This means there are no overdrafts or loan facilities, and you cannot spend more than you have. But because credit is not offered, a credit check is not needed, making Suits Me® cards and e-money accounts accessible to everyone.
If you're curious about the difference between a debit and a credit card, check out our other blog: What are the Differences Between a Credit Card and a Debit Card?
How Do Debit Cards Work?
When you open a Suits Me® account, you will be sent a plastic Mastercard® debit card in the mail to the address you used when opening your account. This card provides you with electronic access to your Suits Me® account, allowing you to spend money in your account using your card. The transaction is made immediately, deducting the money directly from your account to the vendor.
Using A Debit Card: Advantages and Disadvantages
Debit Cards are a great way to spend the money in your account, or pay your bills, without having to carry around all of your cash. But that's not the only advantage! Here's our list of pros and cons for using a prepaid debit card:
The Pros
Widely accepted form of payment
Easier to carry than cash
Safer than carrying cash
Can be replaced if it gets stolen or lost
Shop online or over the phone
Great cashback rewards with Suits Me®
Helps you manage your money
The Cons
Can't take out credit
Can't get an overdraft
Whilst not being able to take out credit or have an overdraft can be seen as a disadvantage, these are helpful limitations if you struggle with money management, or are trying to break the cycle of debt.
Making Payments with Your Suits Me® Debit Card
Once you have received your Suits Me® Mastercard® Debit Card in the post, you will need to activate it. This stops anyone from intercepting your post and potentially using your card. Once it is activated, you can start to spend the money in your account immediately. The great advantage of using a debit card rather than cash is that you can also make payments online or over the phone.
Paying Online
Your Prepaid Debit Card can be used to make payments online, but be sure to only make purchases from safe websites that you trust. One easy way to check if a website is secure is to look for the padlock next to the website address in the URL bar. For more tips on how to check if a website is safe, check out our blog: How To Check If A Website Is Safe To Use.
Paying Over The Phone
When making a payment over the phone, make sure it is to a trustworthy seller. They will talk you through the details they need, and the process is very straightforward.
Contactless Payments
Contactless payments are made by simply tapping your card onto the card reader. There is no need to use your PIN, but there are limits on how much you can spend when using contactless.
Cash Withdrawals
To withdraw cash from your Suits Me® account, you can ask for cashback at a shop checkout, or head to any ATM, PayPoint, or Cash Point that accepts Mastercard®. Follow the instructions displayed on the screen to withdraw your cash. If you're using an ATM, we have put together a handy guide on How to Use an ATM.
Refunds to Prepaid Mastercard® Debit Cards
Refunds can only be made by the merchant you paid with your debit card. To request a refund, you will need to directly contact the merchant you would like a refund from. Once this has been approved by the merchant, it can take up to 14 days for a refund to come back into your account.
Being able to make payments and request refunds without handling cash is a very helpful and secure way of managing your money. But what if you can't open an account with a high street bank because you have poor credit or no proof of address?
What If You Have a Poor Credit Score?
It can be extremely difficult to open a bank account when you have a poor credit history. This is because banks take your credit score as an indicator of your ability to manage your money and make payments, regardless of the reasons for your poor credit score. But don't worry, at Suits Me® we are inclusive and do not perform credit checks, meaning you can open an account with Suits Me® regardless of your credit history.
What If You Have No Proof of Address?
Another common stumbling block when opening a bank account is proof of address. Unfortunately, if you cannot show proof of address for several months prior, it can disqualify you from opening a bank account. This is a huge problem if you have only just moved to the UK, or if your name was not on utility bills (for example, if you lived with your parents).
Suits Me® knows this is a big problem for so many people in the UK, whether you are just moving to the UK, are coming to work here temporarily, or if you have just moved back to the UK after living abroad for a period of time. That is why we do not ask for proof of address. All we need is a UK address to send your Suits Me® debit card to.
How To Get a Debit Card with Suits Me®
Ready to get your Prepaid Mastercard® Debit Card? Open an account with Suits Me® in just minutes, giving you instant access to your account number and sort code, and a debit card through the post in just a few days!
Related Articles: