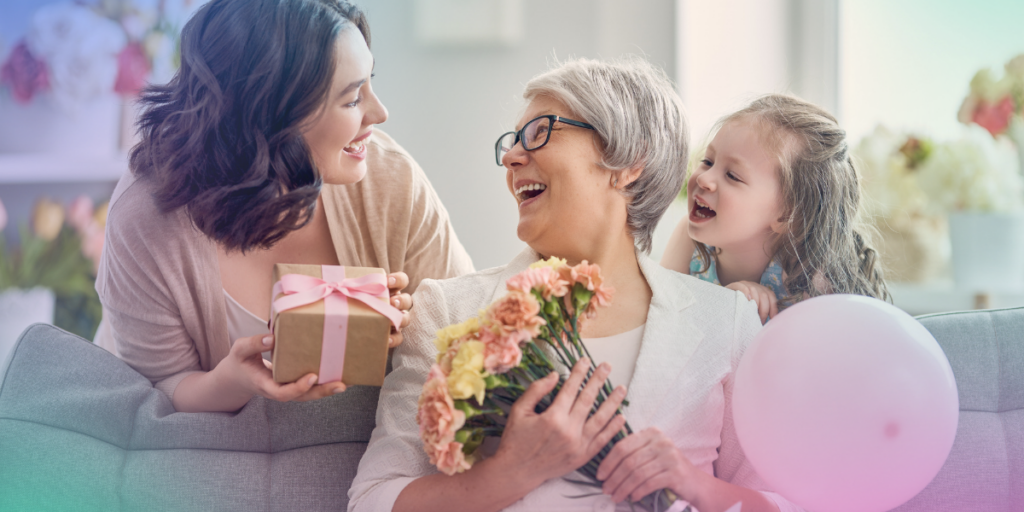 Gifts can be pricey but spoiling and celebrating your mum on her dedicated day of the year is a priority for many of us.
So, with Mother's Day just around the corner, we've put together some priceless ideas on how you can spoil your mum this year – and when we say 'priceless', we truly mean that they won't cost you a penny, but will create some lasting memories for your mum.
After all, most parents would rather spend our money on ourselves than yet another store-bought gift. So, it's time to get creative with these sophisticated, homemade gift ideas that are so easy you don't need to worry about being a DIY genius to pull them off.
#1 Sweet Cupcake Bouquet
If your mum loves cupcakes and flowers, then you're on to a winner. If you know your mum's favourite sweet treat, then you can incorporate those flavours into your cupcake recipe for some extra brownie points.
Simple, whip up some cupcakes of your choice, let them cool, and top with a light and fluffy buttercream applied using a piping bag. If you're unsure how to pipe in a flower using buttercream, this tutorial will help to get you started.
Next, take a plant pot and fill it with oasis, foam, or something which can securely hold your cupcake sticks. Now, you simply need to pierce the cupcakes with a clean wooden stick and insert it into the oasis. Remember to take care when positioning the cupcakes so they're secure and in place.
#2 That Special Succulent
Got an old tin to hand? Don't throw it away, turn it into a new home for a simple succulent – that generally doesn't need a lot of attention.
There are plenty of different ways you can decorate your succulent planter, so the choice is really yours on which style would be best for your mum. However, some popular ideas include:
Designing a label online, graphic design programmes such as Canva will help you to create a lovely Mother's Day label, which you will simply need to print and stick to your tin. Alternatively, you could paint the tin with acrylic paint, for a simple but effective look – choose three shades of the same colour and create an ombre effect going from the lightest shade to the darkest.
Then, simply allow your decorated tin to dry, fill with houseplant soil halfway, place your succulent inside and fill the remaining spaces with more soil.
#3 Coffee Syrup to Make Your Mums Morning Sweeter
If your mum is a fan of coffee – especially from Costa or Starbucks, why not whip up a batch of coffee syrups. You can use a capped glass bottle or an old wine bottle with a stopper to store your syrup but remember to sterilise it in boiling water before filling it with your syrup.
To make the syrup the possibilities are endless, however, a simple honey syrup is probably the easiest. Measure 1 part honey to 1 part water (1:1 ratio) and simmer for 20 minutes. If you're adding different fresh ingredients like lavender, vanilla, or hazelnut you will need to strain the mixture before adding it to your bottle of choice.
#4 Breakfast in Bed for a Special Sunday
For those of you currently living at home with your mum, making her breakfast in bed is the ultimate gift that will really show her that you care. After all, most mums are rushed off their feet in the mornings so it will make a nice change for her to be able to stay in bed and just relax.
Source her favourite ingredients for breakfast and cook up a storm. Whether it's pancakes, a full English, a smoothie, or cereal – no one knows what your mum likes to eat for breakfast more than you! So, whip her up a storm filled with love for a failsafe Mother's Day treat.
#5 Luggage Tags for Future Trips Together
So, this one may be perfect for those of you who haven't been able to see their mum in a while due to the pandemic – especially if you're both living in different countries. A personalised, homemade luggage tag could make a special gift and give your mum something to look forward to when the travel restrictions die down.
In fact, this is probably one of the easiest DIY gifts you can make for your mum. It simply involves taking an existing luggage tag and painting it in a style you know your mum would like. Depending on the material of your chosen tag, you will need to find the appropriate paint that sticks.
For leather tags, the best paint to choose is acrylic. For tags made out of card, it's best to go with acrylic or artiste paint. If you want to add a touch of glamour feel free to add some embellishments such as sequins or even glittery nail polish would do the trick. Plus, if you want to create more of a geometric design, washi tape – purchased from most craft stores – will help you to achieve this.
Alternative Accounts & Mother's Day Cashback Rewards with Suits Me®
If you would still like to purchase your mum a lovely gift this year for Mother's Day, at Suits Me® we have an exclusive cashback reward programme, where we've partnered with popular retailers who offer a range of gift ideas for your mum.
Why not treat your mum to some beautiful jewellery from Goldsmiths?
Where you'll get a cashback reward of 12% by simply using your Suits Me® debit card online and instore. So, if you spend £100, you'll save yourself £12, which will be automatically added to your balance.
If jewellery isn't your mum's thing. How about some clothing, wine, or flowers from M&S?
With Suits Me® you'll get 3% cashback! So, if you spend £100 on your mum, you'll automatically save yourself £3.
However, we also offer a wide range of banking-like features perfect for your everyday spending. Our accounts are personal e-money accounts which work similarly to a traditional bank account. You'll gain access to your online account and our mobile app, where you'll be able to manage your money on the go, 24/7.
Some of our banking features include:
The ability to set up standing orders and manage direct debits,
Send money within the UK via a transfer, international transfers are available via a partner in the Suits Me® app,
Gain access to our exclusive cashback reward programme where you'll automatically get a percentage of your money back when you use your Suits Me® debit card with our retail partners.
Opening a Suits Me® account takes 3 minutes and you'll gain access to your online account immediately so you can start managing your money. We don't ask for proof of address or run a credit check. We accept 99.8% of all applicants – so if you're looking for a suitable alternative solution, apply today!
Related Posts