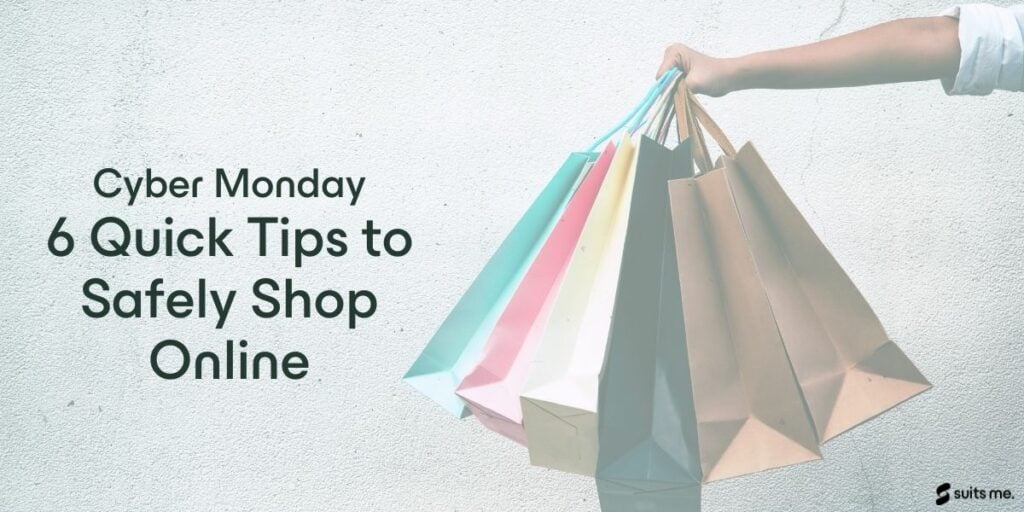 Cyber Monday began in America when after Thanksgiving people would head back to work and shop from their office computers. In recent years, the yearly event has made its way across the pond to the UK.
It's well known that Cyber Monday brings some of the best deals of the year and allows many people to get some great discounts on their Christmas shopping. However, it's easy to allow a good offer to cloud our judgment – something which scammers try to take advantage of.
So, if you're one of the many shoppers taking advantage of the Cyber Monday sales this year, we've put together some valuable tips to ensure you (and your money) stay secure whilst you're splashing the cash.
1. Public WiFi Should be Avoided
To ensure your personal banking details are kept safe and secure it's best to avoid public WiFi networks when purchasing anything.
A secure network connection, such as your broadband at home, will help to prevent your information from being hacked. Exposing your private passwords, billing information and payment methods on a public network can leave you at risk.
If you need to use a public network, it's best to use a VPN or only use this for window shopping – you can always make a purchase at a later date.
2. Phishing for Your Money
Nowadays, we're bombarded with emails from companies advertising their latest products, deals and discounts – often from retailers we've purchased from before. However, in some cases, these could be phishing attempts.
Phishing is when a scammer will try and bait you into clicking a link, entering your details or falling for a fake deal in a bogus website they've created to capture your information.
To learn more about phishing, check out our blog post on how to spot an email scam – which will give you all the knowledge you need to protect your private information.
3. HTTPS – The 'S' is Important
Websites missing the letter S on the HTTPS at the start of the URL means the network is unsecured and could be at risk from being hacked.
This means any personal information you've entered on the site (such as your contact details, passwords and debit card information) could be stolen and used fraudulently.
Often, search engines will alert you to any unsecured websites you visit – but it's always worth double-checking that the 'S' is there to be on the safe side.
4. Be Wary of Shopping on Search Engines
Search engines such as Google, now offer a shopping section but it is wise to shop here with caution. Fraudulent companies can crop up all over these shopping search engines.
This usually occurs with items that sell out quickly, such as Nike Trainers. Scammers will target those looking for a cheap deal and slightly underpin the legitimate brands encouraging people to make a purchase with them.
You can avoid this by researching the company, avoiding shopping on a search engine and only using reputable brands, even if you have to pay slightly more.
5. Shopping Apps can Improve Your Protection
Both Google Play and the App Store have very strict processes in place before approving an app to ensure it's legitimate. Legitimate companies will also work hard to keep their app updated. Usually, an app has routine updates and bug fixes to prevent any security issues.
However, it's worth reading the "permissions" requested by the app and note whether they make sense. For example, does the shopping app want access to your camera but not let you go any further without accepting these permissions?
In this case, it's worth reading the reviews and only downloading apps with a high rating in case an app has slipped through the app providers security measures.
6. Use Third Party Review Sites
If you're unsure whether a deal on a website is real or not. There are some checks you can make to assure you're not caught short. Checking the reviews is always a good start (not the star rating or reviews alleged on the website but) via a trusted source like Trustpilot.
Now, it's important you investigate the reviews to make sure they've not been faked. If all the reviews are five stars, short in length and look very repetitive, this is a red flag. Always read the one-star reviews and assess the types of comments being made.
Keep your Wealth & Health in Check
Even if we can't our digital wallets, you need to keep them secure like you would your physical wallet or purse to avoid the stress of being scammed.
The worldwide web certainly helps to remove the stress of shopping in crowded stores but staying vigilant is much more important than saving a few pounds with a deal that's too good to be true.
Related Posts